Main Event
Day 5 Completed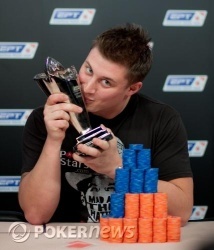 It took him a while, but in the end 22 year old pro Anton Wigg from Stockholm picked himself up a few nice souvenirs from here in Copenhagen - his first ever EPT cash, the shiny trophy, the endless admiration of poker players everywhere - and of course, the massive stack of lovely Danish kroner.

Coming back with nine players today instead of the usual eight, it was always going to be a long day - but nothing could have prepared anyone for the epic heads-up battle that would eventually play out.

Wigg was involved in more than one big preflop showdown and he always seemed to have the best hand, but luck was not going his way and at one point in the heads-up match his opponent Francesco de Vivo had a 12:1 chip lead over Wigg.

Nevertheless Wigg recovered and and at more than three and a half hours it was beginning to rival the marathon heads up between Tim Vance and Soren Jensen here two years ago when Wigg's hand finally held up to deliver him the title and trophy he so thoroughly earned here today.

We understand that the bar is still open, and everyone here at the Casino Copenhagen deserves a drink following another enormously successful EPT. So until next month in Berlin, it's goodbye from all at the Casino Copenhagen, PokerStars, and PokerNews.com.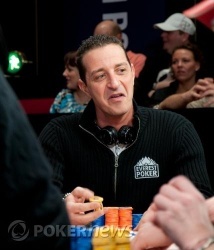 Anton Wigg made it 285,000 on the button only for Francesco de Vivo to make it 800,000. Wigg announced all in, de Vivo called all in, and they were on their backs. Again, Wigg was ahead.

De Vivo:

Wigg:


Board:


This time the best hand held up. The wait is over.
We picked up the pot when it got interesting on the turn. The board showed
, and Wigg stuck out a bet of 475,000. De Vivo made the smooth call, and the
filled out the board on fifth street. Wigg reached for chips again, and he stuck another 845,000 of them into the middle. Without much delay, De Vivo called.

Wigg flipped over
for the running two pair, and it was the best hand. That's the largest recent pot, and it bolsters Wigg back into the chip lead for the first time in a long time.

Wigg - 7.18 million
De Vivo - 5.36 million
Both Wigg and De Vivo checked through a flop of
, and the
finally brought some action on the turn. When Wigg checked a second time, De Vivo made a bet of 300,000. After a quick moment of thought, Wigg called.

The river came the
, and Wigg passed again. De Vivo fired again with 600,000 chips, and Wigg made a quick call this time. De Vivo showed up
for trips, and it was the winner.

De Vivo - 7,465,000
Wigg - 5,080,000
Overheard on the live broadcast: "Can I ask you a question, Nick? What if this never ends? I mean seriously, what if this never, ever ends?"

The guys are getting a little punchy over there; check out the EPT Live broadcast if you're not already.
Wigg raised to 285,000, and de Vivo made it one million. Back to Wigg, who made it All In for 5.175 million. De Vivo looked rather unhappy and folded.

We play one.
That's right, we're 260 hands into this marathon final table. True to form, Hand #260 was a simple raise-and-take, so we won't waste your time.
First hand back and Wigg was all in again.

Wigg:

De Vivo:


Board:


De Vivo flopped a flush draw but the absolutely blank turn and river meant that Wigg doubled up again.

The stacks are once again almost even as we head into level 31.
Level: 31
Blinds: 60,000/120,000
Ante: 0