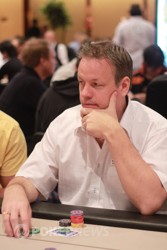 Christer Johansson had raised a bet of 2,200 on a
flop to 5,800 against the UTG player who had been the initial raiser (the former Irish Open Champion having called on the button). We missed the turn action because of watching the events unfold in the Jeff Williams hand (see below) but on the river UTG had checked and Johansson bet 11,000 - just a little less than half his opponent's stack.
UTG looked in total agony, taking several minutes before eventually calling.
"Ace high," said Johansson softly and his foe turned over
triumphantly. Johansson dropped to about 110,000 having previously been at the lofty heights of 160,000.