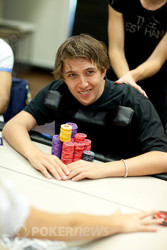 Day four of the European Poker Tour Tallinn has come to a close and the chip leader is still Swiss pro Ronny Kaiser with 2,394,000 chips.
When the day started, eight hours ago, there were 24 players remaining from the original starting field of 282. The chip leader, Ronny Kaiser, started the day in exactly the same manner as he ended day three - by sucking out on opponents with huge stacks. His victim this time was Michael Graydon and the price was half a million chips and a 24th place finish for Graydon after his pocket kings were cracked by Kaiser's ace-king when he turned a straight on a
board. That pushed Kaiser up to around 1,800,000 in chips and put almost one million between him and second place Grzegorz Cichocki.
The seat draw had rather uncannily matched Kaiser and Cichocki together and they clashed a lot in the early levels with Kaiser winning the majority of the pots. Before you knew it Kaiser was up over 2,000,000 and EPT Tallinn was starting to feel like a one horse race. But as we all know poker is a topsy-turvy ride and Grzegorz Cichocki kept his composure eventually finishing a hairs breadth away from Kaiser with 2,059,000 chips.
Here is the final chip counts and seat draw for the final table, which starts at 12.00 Estonian time.
| Table | Seat | Name | Chips |
| --- | --- | --- | --- |
| Table 1 | 1 | Grzegorz Cichocki | 2,059,000 |
| | 2 | Raigo Aasmaa | 904,000 |
| | 3 | Jani Sointula | 769,000 |
| | 4 | Stuart Fox | 514,000 |
| | 5 | Arvi Vainionkulma | 258,000 |
| | 6 | Sami Kelopuro | 1,325,000 |
| | 7 | Erlend Melsom | 326,000 |
| | 8 | Ronny Kaiser | 2,394,000 |
| | | | |