Main Event
Day 1a Completed
Player
Chips
Progress

Kristijonas Andrulis

162,600

Philippe Ma

162,200

Elie Payan

141,800

600

Julien Claudepierre

128,200

Marchel Masaladzhiu

114,600

14,400

Yoann Amaudry

111,600

Denis Patout

102,500

Pavel Perfilov

100,300

Pierre Barthelemy

99,800

Jean Marc Rigaill

97,400

-3,600

Pierre Milan

96,900

Leonard Truche

96,600

Pierre Fehner

95,500

45,050

Xavier Lorin

94,500

Joseph Benchimol

93,300

Eeki Ruponen

93,000

Sergio Castelluccio

92,800

Sebastien Comel

91,100

Michael Bjorn

90,600

Paul Guichard

90,000

Jason Hallee

89,900

Georgios Kapalas

86,900

Arthur Claudet

86,000

Pierre Cecco

83,300

Chris Brammer

80,700

24,700
Level 8 : 300-600, 75 ante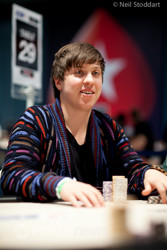 After eight levels, Day 1a of Season 8 EPT Deauville has come to an end. Roughly 220 players remain from the 339 that began the day and on top of the counts is Kristijonas Andrulis. He bagged up a stack of 162,600 and is followed by Philippe Ma (162,200) and Elie Payan (141,800). Also returning on Thursday's Day 2 will be James Dempsey (50,900), Paul Berende (40,100) and Kara Scott (38,200). Surviving Day 1a for Team PokerStars were Henrique Pinho, Marcin Horecki, and France's own Arnaud Mattern.
Team PokerStars Pro Jonathan Duhamel hit the rail at the end of Level 6. Two consecutive hands saw Duhamel go from a 108-big-blind stack to zero. First, he ran
into Fabrice Gouget's
. The following hand extended into the break as Duhamel got his chips into the middle with
with the board reading
. Pierre Canali looked him up with
and dodged Duhamel's many outs when the
river missed Duhamel.
Others that did not survive Day 1a include last year's runner-up Martin Jacobson, Constant Rijkenberg, Shaun Deeb, Sam Chartier, Mathew Frankland, Jan Collado, Adrien Allain and Jon Spinks.
Day 1b will commence tomorrow at noon, so be sure to keep it here at PokerNews for all of the exciting action. Until then, good night from Deauville!
Level 8 : 300-600, 75 ante
With 11 minutes in the level, the tournament staff has announced that three more hands will be dealt to each table.

Elie Payan has spent the day building one of the biggest stacks in the room.
Even after making it 1,525 from the hijack in a recent hand and folding when the cutoff replied with a raise to 3,625, he still sits over the 135k and among the late leaders.
Player
Chips
Progress

Elie Payan

137,000
Eagle-eyed Chris Brammer is up to 56,000 chips after winning a pot, shortly after spotting an opponent dodge his big blind.
The player in question, who we won't name, was on his way to the table with a short stack when he saw he would join in the big blind. He turned about and took a diversion to ensure he would miss posting it. Brammer was the only player to spot it and informed the floor. A ruling was made that the player would receive a two-hand penalty.
Moments later Brammer three-bet to 4,200 from mid position after Gilbert Diaz opened from second position. Diaz called and then led for 3,000 on the
flop. Brammer raised to 7,500 and claimed the pot after Diaz tank folded.
Jon Spinks has been moved into the seat where Jonathan Duhamel and Mathew Frankland used to live, and we all know what happened to them. The Brit has a little less than an hour to try and outlast the curse that lives within those four legs.
He did lose a small pot though when he made it to the river with a board that read
. Only 6,500 had made it into the middle and Spinks' heads-up opponent bet 5,000. Spinks thought for a while and called. His opponent though it right to mutter a sentence or two to his neighbour before opening
for trip kings. Spinks mucked.
Jean Marc Rigaill opened the action with a raise and Gabriel Morin three-bet to 3,000 from middle position. The player in the hijack seat called, as did Rigaill, to land a
flop to the board.
First to act, Rigaill fired 11,500, a bit more than the size of the pot. Morin took about 20 seconds before popping it to 30,000, forcing the hijack seat out. Rigaill re-raised all in for 46,200 and Morin quickly called.
Rigaill:

Morin:
Morin's timing was off as his flush draw was demolished by Rigaill's top pair and flush draw. The
turn locked up the pot for Rigaill, making the
river irrelevant.
Player
Chips
Progress

Jean Marc Rigaill

101,000

52,000

Gabriel Morin

49,000
Level: 8
Blinds: 300/600
Ante: 75

You can't miss Parisian Michel Leibgorin at a poker table as he sits with several pieces of lighting and magnifying equipment in front of him to better see the cards with.
However, poor eyesight hasn't hurt his game one bit as he's earned better than $600k in live tournaments with scores dating all the way back to 1995.
Here in Deauville, it appears he's not running into any problems either as the Frenchman just raised it up from the small blind, stealing the big to push his stack up and over the 62k mark.
Player
Chips
Progress

Michel Leibgorin

62,200