A Short Day for Moneymaker

Level 9 : 400-800, 100 ante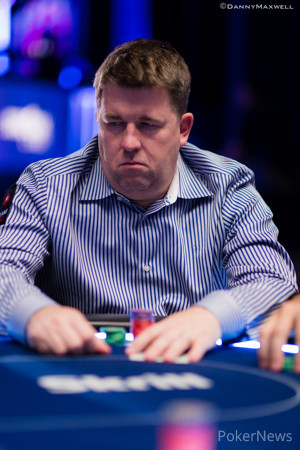 We caught up with Team PokerStars Pro Chris Moneymaker before the start of play, and he seemed hopeful and ready to go. Little did he know that his Day 2 experience would be short and not at all sweet.
We saw Moneymaker in the hall, and he caught our glance. "One hand, flopped the nuts," Moneymaker explained without having to be asked.
We explored what happened a bit more, and according to his former table mate and fellow Team Pro George Danzer, Moneymaker actually fell over the course of two hands.
The first was when he flopped the nuts with
on a
board. Both he and his opponent checked, and the
turn put two diamonds on the board. Moneymaker checked, his opponent over bet, and Moneymaker three-bet, which left him just 10,000 behind. His opponent called and then Moneymaker, who actually had the bigger stack, moved all in in the dark. A third diamond hit the river, and his opponent called off with a rivered flush.
Moneymaker then raised from the button and called off after the big blind shoved all in. Moneymaker held the
, but needed to improve as the big blind turned over
. The
flop gave the big blind a full house, and that was all she wrote for Mr. Moneymaker.