The poker world is digesting yesterday's play-of-the-day, or maybe even the play-of-the-year after Krisztian Gyorgyi's bluff-shove with seven-deuce. One player who got a front-row seat to the play, as well as a high-five at the end of it, was Patrik Antonius.
Today Antonius is playing at his third EPT final table, and in doing so has broken the record for longest period of time between a player's first and most-recent EPT final tables. The record was formerly held by Victoria Coren-Mitchell, with 3,492 days separating her two EPT triumphs, but with Antonius' first EPT final table coming way back in Season 2, the new record is 4,612 days.
Shortly before the start of play today he spoke about the atmosphere at the tables and the group of players that he has been playing against at this final table.
"When I play, I like to enjoy when I play," he said. "Yesterday we actually had a nice group of players. It only needs one or two players who want to be a little bit social and have a conversation or talk.
"It is good for the poker, it makes the game more fun, and it kind of loosens up all the other players."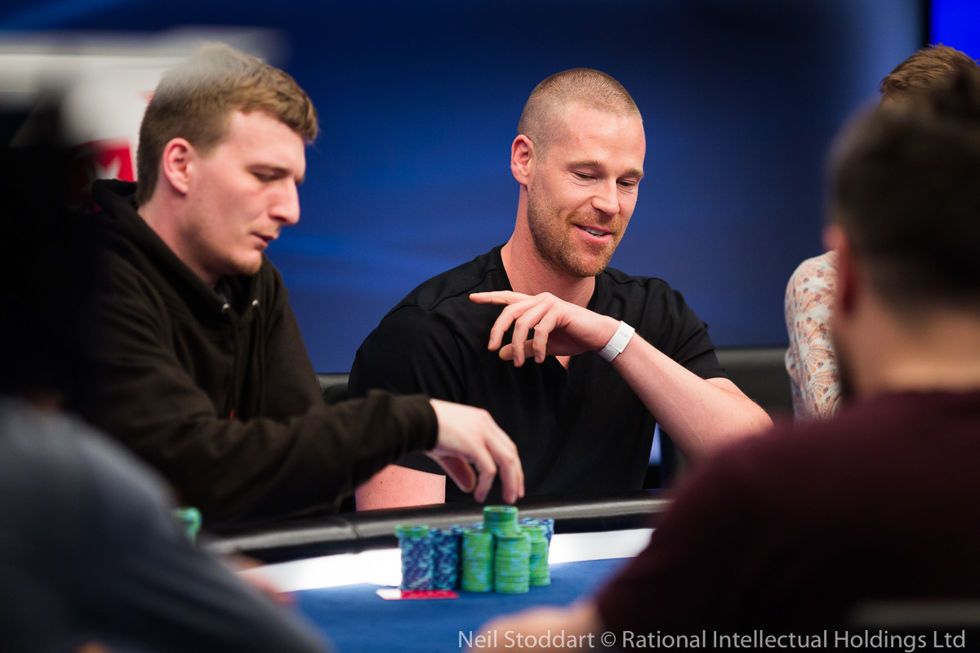 Antonius said that this sort of atmosphere does sometimes end up inducing crazy plays, but even a player with his experience, both live and online, could have predicted the hand that took place yesterday.
"We had a couple interesting plays at the table yesterday, but there was one hand I think everyone will remember for a long time. It was more than just a crazy bluff!
"We can have poker like this, or we can have poker where people don't say a word and they take a long time, and it is not really enjoyable to play and not entertaining to watch either. I prefer this type of poker."
Patrik Antonius EPT/PCA/PSC Results
| Event | Date | Position | Payout |
| --- | --- | --- | --- |
| PCA | January 2005 | 12th | $34,600 |
| EPT Barcelona | September 2005 | 3rd | €117,000 ($145,067) |
| EPT Baden | October 2005 | 1st | €288,180 ($343,365) |
| EPT Barcelona | August 2015 | 71st | €18,320 ($20,853) |
| PSC Monte Carlo | April 2017 | 79th | €9,540 ($10,390) |