After a rollercoaster day in the PokerStars and Monte-Carlo©Casino EPT €25,000 High Roller, Albert Daher emerged victorious after a three-way ICM chop saw him take home almost €600,000.
Returning fourth chip counts with eight players remaining, Daher's stack at one point was down below eight big blinds, before two doubles in quick succession saw him move into the chip lead, only for him to slip once more. However, Daher would be responsible for two of the last three eliminations, meaning that as the last three looked at the numbers and agreed a deal, it would be him walking away with the lion's share of the spoils.
Here are the results after a three-way deal:
| Position | Name | Country | Payout (€) | Payout ($) |
| --- | --- | --- | --- | --- |
| 1 | Albert Daher | Lebanon | € 595,386* | $714,463* |
| 2 | Shyngis Satubayev | Kazakhstan | € 492,768* | $591,322* |
| 3 | Mark Teltscher | UK | € 416,845* | $500,214* |
| 4 | Oleksii Khoroshenin | Ukraine | € 259,000 | $310,800 |
| 5 | Joao Vieira | Portugal | € 208,700 | $250,440 |
| 6 | Julian Thomas | Germany | € 164,535 | $197,442 |
| 7 | Yan Shing Tsang | Hong Kong | € 126,000 | $151,200 |
| 8 | Wouter Beumers | Netherlands | € 94,500 | $113,400 |
*results reflect three-handed deal
"It's pretty insane," said Daher after the deal was done handing him the title, "I guess I was fortunate enough to win some all-ins and flips when I was short-stacked. Then I started to play pretty aggressive, built up my stack into the chip lead after getting into some post-flop pots with Oleksii [Khoroshenin]; I guess I won most of these pots.
"I took another big hit in a flip against Mark [Teltscher]; It was a very swingy day but I'm happy."
Daher already has one title this week, which he picked up in the €1,100 Hyper-Turbo Freezeout, but will now take home an extra piece of silverware after taking down the €25,000.
"The Hyper-Turbo wasn't that huge of a tournament, but a win is a win. You always feel satisfied even if you win a small one because of the feeling of beating a field of over 100 people; maybe it's not big money but it gives you a boost of confidence in your game.
The Lebanese player admitted that after such an emotional and rollercoaster day, he was happy to secure an ICM deal with the other two players.
"I do like to play short-handed and heads-up, but it gets very flippy. After today, I'm tired; my stack just went up and down - from short stack to chip lead, to short stack to the chip-lead. I'm just happy to lock €600k"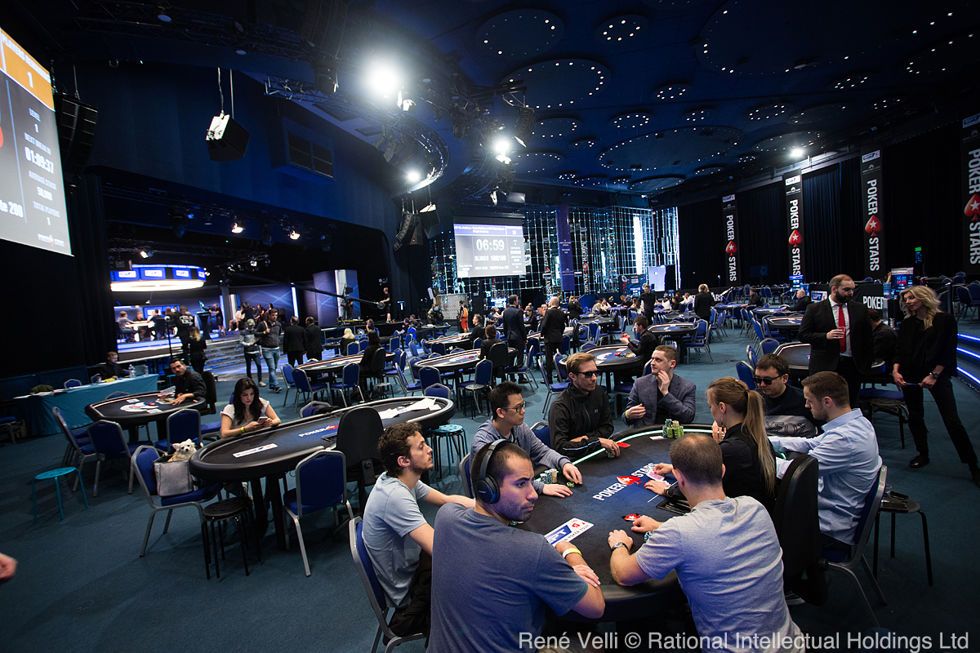 Final Day Recap
Oleksii Khoroshenin came into the final day as chip leader, but suffered an early setback after Shyngis Satubayev doubled through him within the first 15 minutes of play. Wouter Beumers came into the day as the short stack, and with less than 15 big blinds he moved all in with ace-nine, and looked set to double through Satubayev who had king-queen. That was until the queen came on the turn and Beumers was eliminated.
Satubayev continued to close the gap to overnight chip leader Khoroshenin after his early double, and the Kazakh player eliminated another player when he flopped an ace holding ace-seven against the pocket queens of Yan Shing Tsang.
Albert Daher would double twice to move back into contention and would be second in chips by the first break. Mark Teltscher had been quiet so far, and he would double first through Satubayev, and then through Daher to put the Brit on top.
Six-handed was where the action really began. Daher shoved all in from the small blind into short-stacked Julian Thomas in the big blind, only for the German to wake up with jacks. Daher was in terrible shape with queen-jack, but flopped a queen to reduce the field to five.
Minutes later it would be Joao Vieira with the jacks, and a pre-flop raising war meant he got them in against Daher. This time, however, the Lebanese player was in much better shape holding pocket queens, and they would hold boosting him into the chip lead and eliminating Vieira.
Then, on the very next hand, Khoroshenin moved all in with ace-queen, only to be called by the ace-king of Satubayev. Satubayev flopped trip kings and they were down to three.
The last three players paused the clock to look at the numbers of a possible ICM deal, and they didn't take long to come to the following agreement:
| Name | Country | Chip Count | Big Blinds | Payout (€) | Payout ($) |
| --- | --- | --- | --- | --- | --- |
| Albert Daher | Lebanon | 3,415,000 | 85 | € 595,386 | $714,463 |
| Shyngis Satubayev | Kazakhstan | 1,625,000 | 41 | € 492,768 | $591,322 |
| Mark Teltscher | UK | 900,000 | 23 | € 416,845 | $500,214 |
The three agreed to the deal which would hand Daher the trophy, while simultaneously meaning that Satubayev moved into first place on the Kazakhstan all-time money list. For Teltscher, this is the former EPT champion's best result since a runner-up finish in an EPT Barcelona €25,000 High Roller three years ago.
Thanks for tuning into updates from the last big High Roller here in Monte Carlo. There's still a €10,000 Single Day High Roller going on in the Salle des Etoiles, and we'll be bringing you some updates from that when we can.