€1,100 EPT National
Day: 1c
€1,100 EPT National
Day 1c Completed
After a fifteen-hour day in a densely packed Casino Barcelona, all Day 1's of the €1,100 EPT National at the PokerStars European Poker Tour Barcelona have come to an end. On Day 1c, a whopping 1,864 players showed up to take a shot at the already gigantic prize pool of over four million euro. Together with the 844 players that registered for the late night Day 1d turbo, a total of more than 4,300 entries were made in this event, just shy of last year's record-setting number of 4,557 entrants. The official number of players and payout will be confirmed at the start of Day 2.
Like all other starting days, Day 1c played down towards the final 15% before play would be suspended for the night. 280 players would eventually survive and will all start Day 2 directly in the money. It took over 17 full levels of 40 minutes each before that number was reached, which featured an instantly classic bubble hand with [Removed:328] and Foeke Deinum claiming the lead roles. Holding pocket kings, [Removed:329] was looking great to double through Deinum's queens. A queen on the turn all but ended it, but a king on the river gave [Removed:329] the winner, which was met by a thunderous roar from the crowd. David Hearn would proceed to bubble in the following hand, which paved the way for the other 280 towards the cash.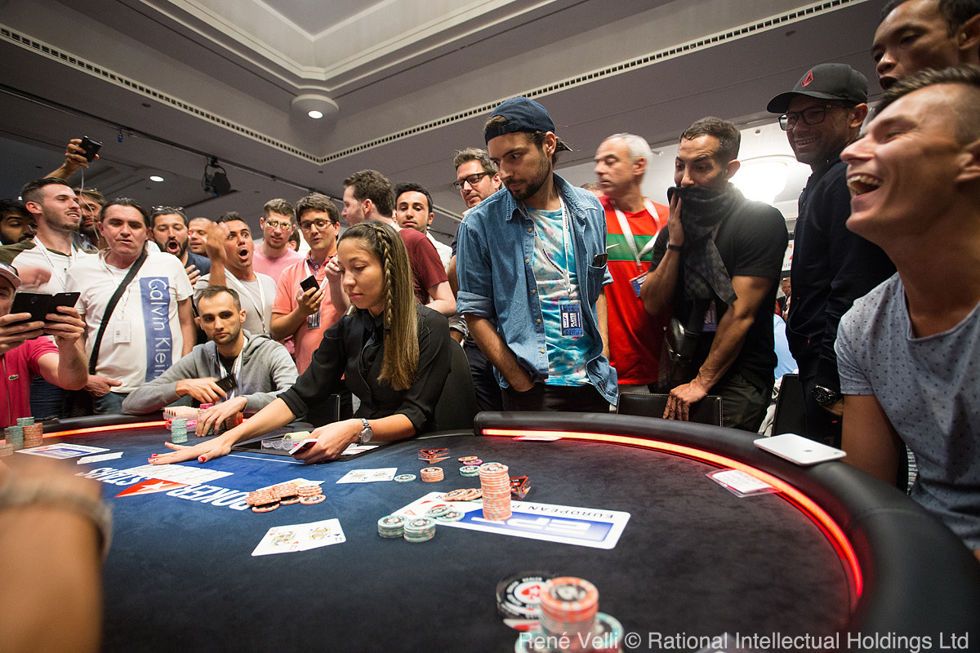 [Removed:388] was top dog after the 17 levels and bagged 710,000 total to claim the overnight chip lead. Cesar Plaza (645,000), Jean Fontaine (622,000), Simeon Spasov (504,000), Zlatin Penev (481,000) and Michal Kolano (480,000) also bagged far more than the average stack of slightly under 200k.
A field of 1,864 logically sported many a familiar face and among the notables, it was Ludovic Geilich who had a strong showing throughout Day 1c. Geilich never appeared to be under average at any point and bagged 405,000 at the end of the night. Jerome Sgorrano (363,000), Joris Ruys (288,000), Marti Roca de Torres (168,000) and Tobias Peters (162,000) also added a Spanish flag to their respective Hendon Mobs. Defending champion Pedro Cairat saw his quest for an unprecedented back-to-back continue as he found a bag with 223,000 in chips.
The Red Spade had a terrible starting day, with none of their pros making it through in the penultimate flight. Fatima Moreira de Melo, Randy Lew, Celina Lin, Jeff Gross, Andre Akkari, and Maria Konnikova all ran out of chips during the fifteen-hour day. They were accompanied on the rail by Bart Lybaert, Adam Owen, Leo Margets, Jussi Nevanlinna, Will Kassouf, Benny Glaser, Chris Moorman, and Richard Milne. All of them either moved on to Day 1d or gave up altogether on trying to make it through in this event.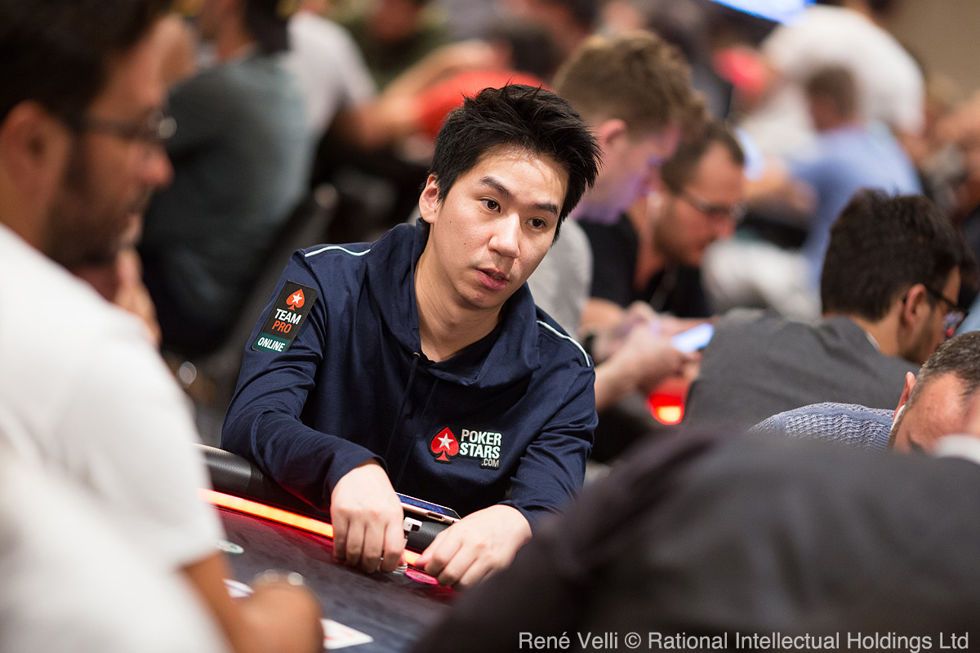 There's no rest for the wicked and certainly not much for those that made their respective ways through Day 1c and Day 1d. At noon local time, cards will already be back in the air as the 650 remaining players will return for another long day at the tables. PokerStars will provide a shot in the arm right off the bat, as one of the coveted $30,000 Platinum Passes will be up for grabs directly at the start of the day. A Crazy Pineapple Flip Out Hand on each table will eventually decide who will walk away with the chance of a lifetime: playing the $25K PokerStars Players NL Hold'em Championship on the Bahama's in January 2019.
Blinds will recommence in Level 18 with the small blind at 4,000, the big blind at 8,000 and the big blind ante also at 8,000. Levels will be 60 minutes for the remainder of the tournament. The total prize pool and payouts will be announced at the start of Day 2, although all survivors know they at least will receive a monetary reward for their accomplishment.
PokerNews will be back after the short night as well so come back on Friday at 12 p.m. for continued coverage of the €1,100 EPT National at the EPT in Barcelona!
Full counts to follow.
Player
Chips
Progress

Jeffrey van Leeuwen

804,000

[Removed:388]

708,000

88,000

Gabriel Chiva

705,000

Bruno Ayleke Galiano Pereira

676,000

376,000

Cesar Plaza

645,000

260,000

Joseph Nassar

634,000

Jean-René Fontaine

622,000

622,000

Ran Ilani

608,000

Marius Gicovanu

574,000

-26,000

Julien Martini

565,000

Said Haho

561,000

Yannick Autaa

529,000

529,000

Francesc Pallares Folch

529,000

159,000

Arni Gunnarsson

525,000

115,000

Simeon Spasov

504,000

-66,000

Alessandro Giannelli

492,000

Ariel Celestino

485,000

Leonardo De Souza Alcantara

484,000

Zlatin Penev

481,000

-64,000

Michal Kolano

480,000

20,000

David Martin Alejandre

480,000

Stieven Razab-Sekh

475,000

230,000

Roger Taieb

475,000

475,000

Michele Rinaldi

473,000

473,000

Simon Mattsson

445,000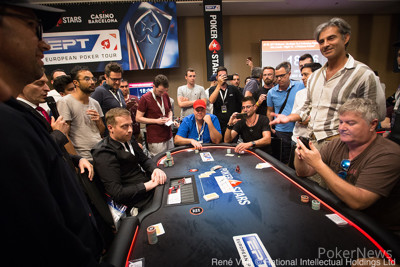 With the action already closed on a
board, it as David Hearn who was all in for his final chips and called in two places. Hearn showed
on showdown, but one of his adversaries tabled
for a flush, making Hearn the last one to go home empty-handed.
The end of day chip counts and a recap follow.
Player
Chips
Progress

David Hearn

Busted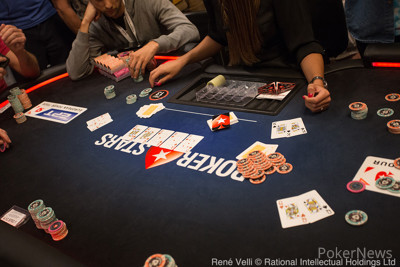 With hand-for-hand in play, Marius Gicovanu raised it up from the big stack. Behind him, [Removed:328] shoved all in for 41,500. Foeke Deinum was seated to his direct left and reshoved all in for 88,000. Gicovanu, with more than 600,000 in front of him, called as well to put two players at risk.
[Removed:328]:

Foeke Deinum:

Marius Gicovanu:
Seemingly half the room stormed towards the table to watch the action unfold, resulting in multiple rows of spectators around the table. Slowly, the dealer fanned out
, which prompted a lot of "ooohs" from the crowd.
The turn brought the
and the spectators jumped on their feet as Deinum took the lead with queens full. [Removed:329] was left drawing to the two remaining kings if he was to survive the EPT National bubble.
The dealer burned and turned the
on the river, resulting in a massive roar from the crowd as soon as the king hit the felt. The flock of railbirds then erupted in a spontaneous round of applause in delight of the roller coaster they just witnessed. [Removed:329] veered up in delight and scooped the main pot, Deinum took the side pot and 281 players still remain.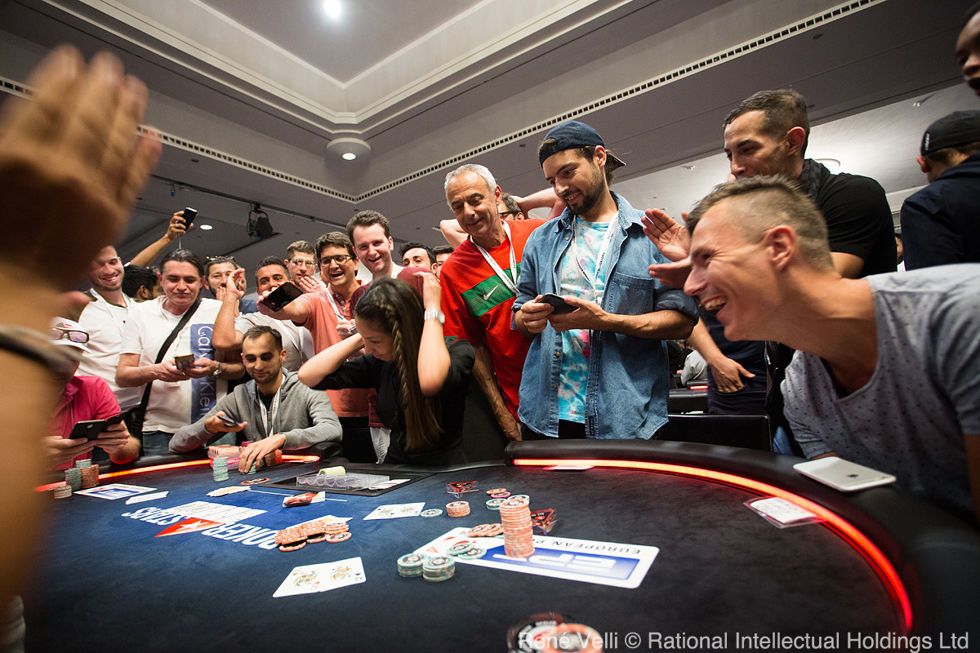 Left short, Gauthler Abribat was down to 14,500 after posting the big blind ante and called all in after Sander van Wesemael had shoved in middle position.
Gauthler Abribat:

Sander van Wesemael:
The board ran out
and Abribat spiked a ten to survive.
At another table, Adrian Garcia Galipienso was all in with
against
and held up as well to keep the field at 282.
Brou Stephane Laurent was the first all-in player at risk. Gauthler Abribat had shoved for 110,000 from under the gun and Laurent called all in for 86,500 from the big blind.
Gauthler Abribat:

Brou Stephane Laurent:
The board ran out
and Laurent survived. At another table, a short-stacked player was all in for 41,500 with
and chopped against
after a straight came on board.
The field quickly dropped to its final 282 players with [Removed:388] seemingly in the lead with over 600,000 in chips. Hand-for-hand will be installed until the bubble has burst.
Player
Chips
Progress

[Removed:388]

620,000

200,000
294 players are left in Day 1c and 280 of them will find a bag to advance to Day 2.
Level: 17
Blinds: 3,000/6,000
Ante: 6,000