€10,300 EPT High Roller
Day: 3
€10,300 EPT High Roller
Day 3 Completed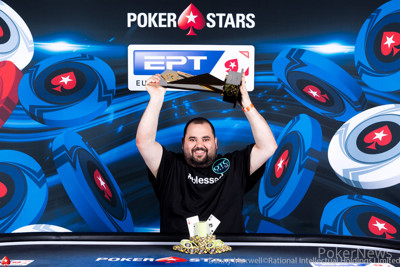 In what turned out to be a near 12-hour day of poker, Chris Hunichen came out on top of the €10,300 EPT High Roller after working out a deal with second-place finisher Uri Reichenstein. Hunichen will take home €841,345 and the trophy while Reichenstein will walk away with €794,415.
It was a fitting end to the 2019 PokerStars EPT Barcelona as the room was cleared and the only two players remaining were Hunichen and Reichenstein. Hunichen announced via social media that he was playing with a heavy heart this week at Casino Barcelona after getting some bad news when arriving overseas.
While things didn't quite go his way to begin the week, it was a finish that Hunichen might never forget. The American poker pro known as 'BigHuni' online, played in nearly almost all of the high roller events but failed to cash in any of them - that was until this tournament rolled around. Hunichen even stated with just five players remaining that he might be "even" on the trip. However, after locking up his largest career live tournament win, Hunichen can head home a much happier person.
As for Reichenstein, it will go down as his second-largest score after finishing second in the 2016 EPT Barcelona Main Event. This was Reichenstein's 11th cash at Casino Barcelona in the last three years as he seems to find a ton of success at this stop on the world tour. Both players were happy to come to an agreement after a long day of work and both will walk away winners tonight.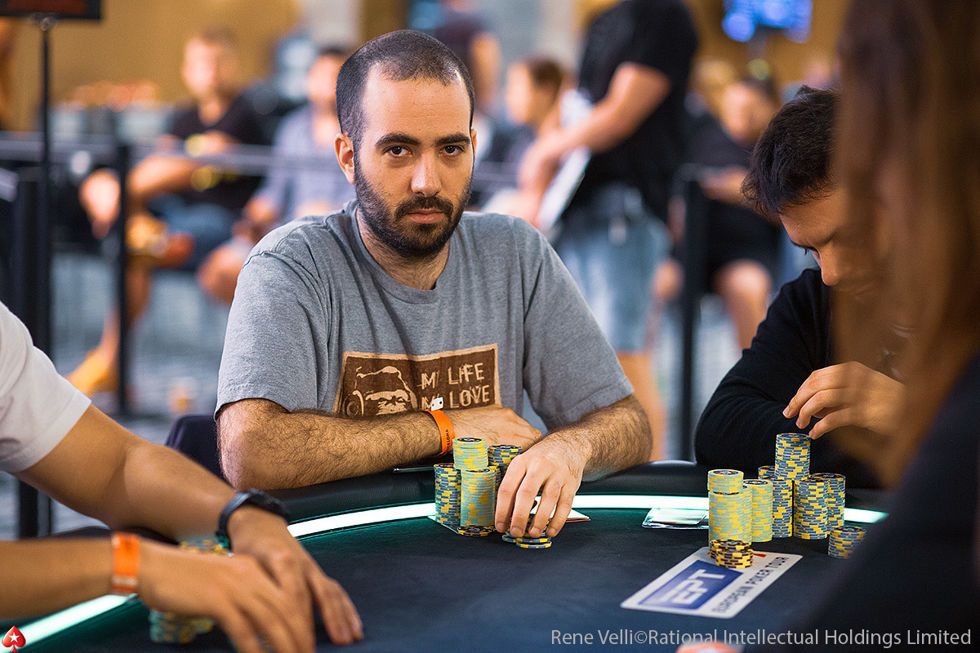 Final Table Results
| Place | Player | Country | Prize (EUR) | Prize (USD) |
| --- | --- | --- | --- | --- |
| 1st | Chris Hunichen | United States | €841,345* | $925,480* |
| 2nd | Uri Reichenstein | Israel | €794,415* | $873,857* |
| 3rd | Andreas Berggren | Sweden | €451,520 | $496,672 |
| 4th | Pablo Melogno | Uruguay | €351,990 | $387,189 |
| 5th | Tibor Nagygyorgy | Hungary | €276,040 | $303,644 |
| 6th | Lander Lijo | Spain | €216,850 | $238,535 |
| 7th | Pauli Ayras | Finland | €161,850 | $178,035 |
| 8th | Antonios Paschalidis | Greece | €112,090 | $123,299 |
| 9th | Jack Salter | United Kingdom | €88,520 | $97,372 |
*denotes heads-up deal
The final day began with 26 players returning to their seats and it wasn't long before the final three table re-draw occurred. It was well-known that the remaining players could be in for the long haul if they were to make a deep run. The tanking began early on as players looked to ladder their way up the payouts with Jack Salter and Anton Siden being the main culprits and given warnings.
However, as players were eliminated and the numbers ticked down on the tournament clock, the final table soon became within sight. Alex Keating, Tony Miles, Davidi Kitai, and Jean Ferreira all fell short and it was Manuel Bardon who was eliminated on the final table bubble when his pocket kings were cracked much to the delight of Antonios Paschalidis.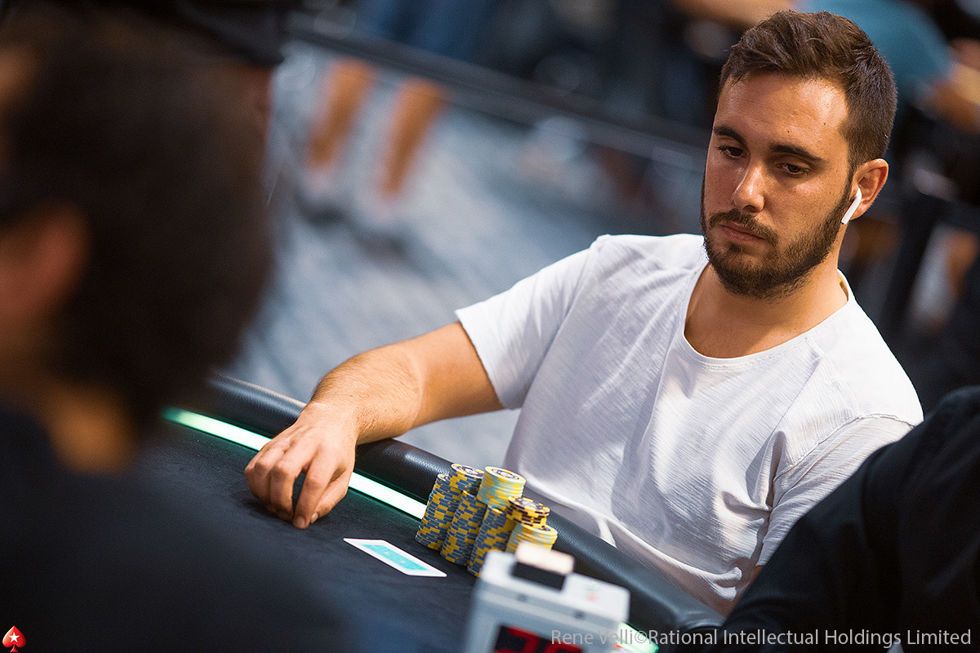 Heading into the final table, Pauli Ayras and Reichenstein were sitting at the top of the counts which would prove pivotal in how the final table would shape out. Salter became the first casualty when his pocket fours got counterfeit against the ace-king of Hunichen. A double-paired board left Salter walking away in ninth place. It was moments later that Paschalidis saw his short stack diminish with king-jack against the pocket aces of Lander Lijo, leaving just seven players to head on a dinner break.
When the players returned from dinner, one of the largest pots of the tournament occurred right out of the gates between two of the chip leaders. Ayras and Reichenstein collided head-on in a massive pot that saw Ayras call off his stack with pocket aces on the river. Unfortunately for him, Reichenstein got frisky and floated on the flop only to make a runner-runner flush to eliminate Ayras in seventh place.
The next two eliminations occurred in back-to-back hands with Lijo losing a flip to Hunichen to wind up in fifth place. Following him to the payout desk was Tibor Nagygyorgy who remained fairly quiet at the final table but managed to ladder his way up to a fifth-place finish. Nagygyorgy was in a tough spot heading to the flop with ace-six against Andreas Berggren's pocket tens. A flopped full house was enough to put Berggren in the driver's seat, leaving just four players remaining.
At one point in the four-handed action, all four players were hovering around similar chip stacks until things took a turn for the worse for Pablo Melogno. After paying off Hunichen in one spot, Melogno was down to around 10 big blinds. He called a shove from Reichenstein and the rollercoaster of a hand began. Reichenstein flopped a pair with his two live cards but Melogno turned a larger pair. However, the river gave Reichenstein two pair and Melogno bowed out in fourth place.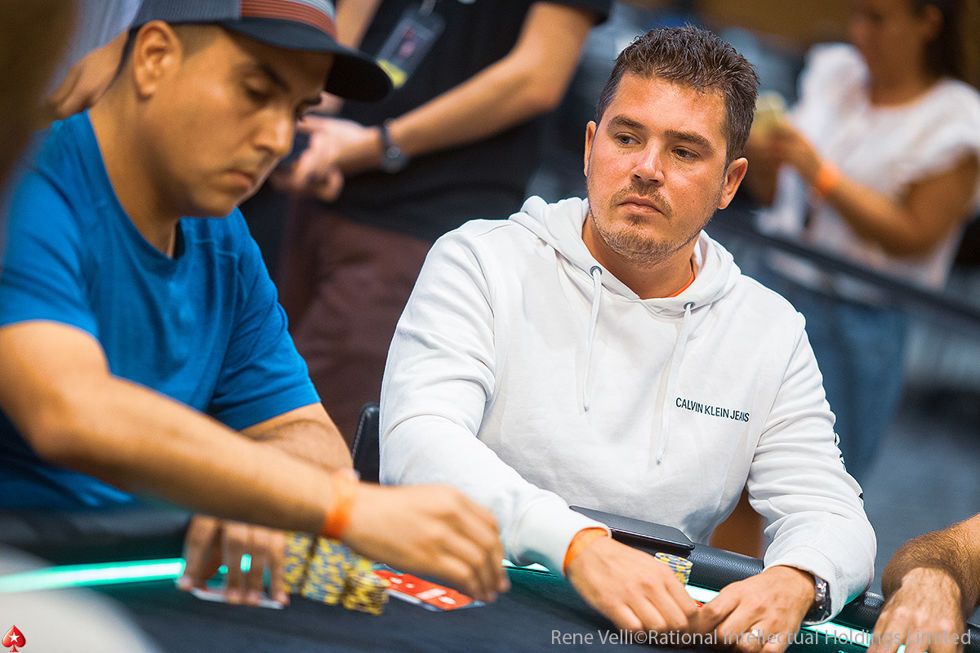 Three-handed play continued for over 90 minutes with Hunichen running the show for most of the time. His continued aggression on the big stack took its toll on Berggren who dwindled down to under 15 big blinds. The Swede eventually shipped all in with queen-jack on the button but ran into the ace-queen of Reichenstein. Berggren was unable to come from behind and was eliminated in third place.
With such a large pay jump between first and second place, Hunichen and Reichenstein decided to run some numbers and work out a chop. After some discussion, the two players worked out a chip-chop and Hunichen was awarded the trophy as the current chip leader.
That wraps up the coverage from the PokerNews live reporting team at the 2019 PokerStars EPT Barcelona where champions were crowned and millions were earned. There are many other events still ongoing elsewhere so keep it locked here for all of your poker coverage.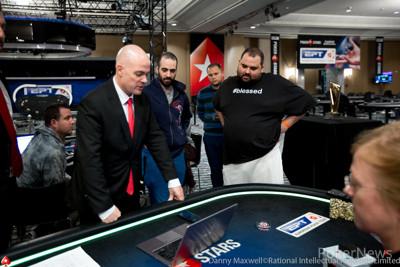 The two players discussed a potential deal with Chris Hunichen holding a minor lead heads-up. Eventually, they agreed on the following numbers, with Hunichen going down as the winner, and taking home the trophy.
| Name | Chip Count | Deal |
| --- | --- | --- |
| Chris Hunichen | 15,250,000 | €841,435 |
| Uri Reichenstein | 11,725,000 | €794,415 |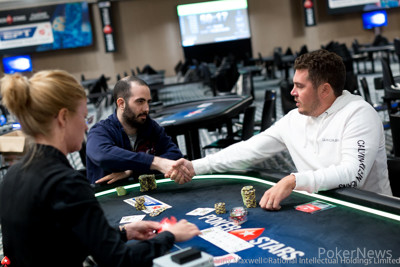 Andreas Berggren open-shipped all in for 3,725,000 on the button just one hand after winning a small pot. Chris Hunichen folded his small blind and Uri Reichenstein called from the big blind after looking down at his cards.
Uri Reichenstein:

Andreas Berggren:
Both players flopped a pair on the
flop but Reichenstein was still in a dominating lead. The turn was the
and the river was the
, providing no help for Berggren who finished in third place.
Level: 32
Blinds: 125,000/250,000
Ante: 250,000
Andreas Berggren limped and Chris Hunichen checked his big blind. Berggren bet 225000 on the
flop and Hunichen raised to 600,000.
Berggren called and check-called a further 850,000 on the
turn. The river was the
. Berggren checked and Hunichen surveyed his opponent's stack before betting two million. Berggren quickly folded.
"Good turn or good river," said Berggren, but Hunichen gave no reply.
Player
Chips
Progress

Chris Hunichen

15,800,000

550,000

Uri Reichenstein

7,450,000

1,000,000

Andreas Berggren

3,750,000

-1,550,000
Uri Reichenstein raised to 400,000 on the button and Chris Hunichen called from the big blind. The flop came
and both players checked to the
on the turn. Hunichen led out for 275,000 and Reichenstein called. The river was the
and both players checked with Hunichen showing
for the winning hand.
Hunichen then raised to 400,000 and Andreas Berggren called from the big blind. The flop fell
and Berggren check-called a bet of 400,000 from Hunichen.
The turn was the
and Berggren checked it again. Hunichen pushed out a bet of 1,100,000 and Berggren gave it some thought before letting his hand go.
Player
Chips
Progress

Chris Hunichen

15,250,000

1,350,000

Uri Reichenstein

6,450,000

650,000

Andreas Berggren

5,300,000

-1,925,000
Chris Hunichen raised to 400,000 on the button and Uri Reichenstein three-bet all in for 6,425,000 from the small blind. Andreas Berggren folded his big blind.
"I think I have the best hand," said Hunichen, who used two time extensions before folding.
On the next hand, Berggren limped in the small blind and Hunichen raised to 800,000 in the big blind. Berggren made it two million to go, but snap-folded to a shove from Hunichen.
Player
Chips
Progress

Chris Hunichen

13,900,000

1,700,000

Andreas Berggren

7,225,000

-1,025,000

Uri Reichenstein

5,800,000

200,000
Andreas Berggren limped in from the small blind and Chris Hunichen checked his option. The flop came
and Berggren check-called a bet of 225,000 from Hunichen.
The turn brought the
and Berggren checked again. Hunichen fired out another 350,000 and Berggren still called. The river was the
and Berggren led out for 650,000 this time. Hunichen used a time bank and then called, only to see the
of Berggren.
Level: 31
Blinds: 100,000/200,000
Ante: 200,000