$2,500 Championship Event
Level Info
| | |
| --- | --- |
| Level | 30 |
| Blinds | 60,000 / 120,000 |
| Ante | 120,000 |
Players Info - Day 3
| | |
| --- | --- |
| Players Left | 1 |
| Entries | 353 |
Players Info
$2,500 Championship Event
Day 3 Completed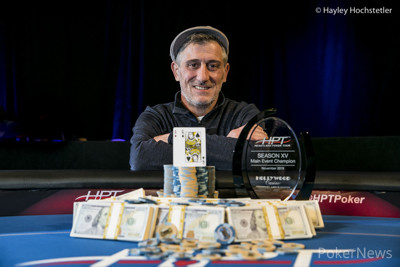 Season XV of the Heartland Poker Tour came to a close at the Hollywood Casino St. Louis, as Paul "Walnuts" Bianchi topped a 353 player field to win the HPT $2,500 Championship Event and $181,874 in prize money.
"Feels great. Long time comin'." Bianchi, a Chicago native who runs a cafe, told HPT Tournament Director Jeremy Smith after his victory. Bianchi has over $300,000 in lifetime tournament earnings prior to today's victory, including a victory in last season's $500 Seniors Championship at the Season XIV finale. In fact, that prior victory was the whole reason Bianchi was in town for the weekend.
"That's what got me out here! I played the seniors, busted, I satellite in this, sailed through it." Bianchi's run through the main didn't go quite as smoothly as the satellite, however, as he was short-stacked for much of Day 2 play, starting the day with 41,600 in chips and hovering near the bottom of the counts all day long. "41,000 and went on for about six hours. Yesterday was a grind, a rough day. When you're short-stacked, you just play it like you see it. It was a long day."
Paul Bianchi infamously spun a $1,200 investment at the blackjack tables into a WSOP Main Event cash in 2014, but his plans for this windfall were much more reserved. "I'm gonna rest for a while, take some time off and do my thing. Relax."
Final Table Results
| Place | Name | Hometown | Prize Money |
| --- | --- | --- | --- |
| 1 | Paul Bianchi | Chicago, Illinois | $181,874 |
| 2 | Christopher Audrain | Lake St. Louis, Missouri | $115,129 |
| 3 | John Michalak | Cleveland, Ohio | $77,095 |
| 4 | Hamid Izadi | Marietta, Georgia | $53,769 |
| 5 | Justin Coliny | Wentzville, Missouri | $40,327 |
| 6 | Aaron Johnson | Red Wing, Minnesota | $31,629 |
| 7 | Jason Darland | Kansas City, Kansas | $26,726 |
| 8 | Brad Smith | Thornhill, Ontario | $22,140 |
| 9 | James Burns | Nashville, Tennessee | $19,056 |
Day 3 Action
With ten players returning and nine seats waiting for players at the nationally-televised final table, one player would have to bust before action would move to the main stage. Kevin Hopkins was the unfortunate bubble boy for the official final table when he ran his suited ace-seven into the aces of Paul Bianchi, setting the stage for the final table.
James Burns was unable to spin up his short stack, falling shortly after the final table commenced when his ace-queen ran into the ace-king of John Michalak. Two levels later, Canada's Bradley Smith lost a flip with pocket deuces to Hamid Izadi and his ace-seven to take eighth-place.
After Jason Darland busted a short time later in seventh, reigning HPT Season XIV Player of the Year Aaron Johnson got his last ten big blinds in preflop with king-nine, and ran into Michalak and his ace-king of clubs. Johnson, who finished sixth at the final table of the HPT Season XIV Championship, matched his run in this year's iteration of the event when he failed to find a nine.
Justin Coliny held the chip lead after Johnson's elimination, but two hands would spell the end of Coliny. First, Coliny attempted a big bluff against Bianchi, but Bianchi held trips and made the call to take half of Coliny's stack. A few hands later, Coliny made a flush on a double-paired board and committed his last twenty big blinds on the river, but Michalak held aces-full, leaving Coliny, who made his way into this tournament via satellite, walking out with a $40,327 payday for his efforts this weekend.
The start of the day chip leader, Hamid Izadi, sent a chunk of his stack over to Bianchi after Izadi paid off a big river bet from Bianchi. A few hands later, Izadi went for a bluff with eight-five on a jack-ace-eight-jack board, but Christopher Audrain made a call for his last fifteen blinds with ace-nine and left Izadi with just one-and-a-half big blinds, which he lost the next hand. The affable poker pro from Georgia earned $53,769 for his second HPT final table of the season.
The chip stacks between the final three players saw Michalak holding a slight lead over Bianchi, and Audrain was the short stack, but still held 35 big blinds to work with. The trio traded the chip lead back and forth between each other for a few hours, no one able to stretch a huge lead over the other two players. Finally in Level 29 (50,000/100,000/100,000), Audrain got his last 2.3 million in on a ten-high flop, and Michalak called with a combo draw and an overcard. Audrain's pair held, and Michalak went down to under twenty big blinds.
Michalak was able to hang on for a bit longer, before he three-bet shoved over a Bianchi button open with ace-nine. Bianchi had the goods with a pair of queens, however, and Michalak's fourth HPT final table run ended in third place, the Cleveland, Ohio native's best finish so far on tour.
Bianchi started heads-up play with a 2:1 chip lead over Audrain, and the duo's boisterous rails seemed primed for a lengthy battle. Just twenty minutes into Level 30 (60,000/120,000/120,000), Audrain's ace-nine of spades was bested by the ace-queen of Bianchi, but Audrain found two spades on the flop to give him eleven outs to continue the battle, as Bianchi held the queen of spades. The turn and river were both black, but neither were a spade, and Audrain had to settle for $115,129 as a consolation prize.
"Well, he flopped a monster," Bianchi said of his heads-up opponent. "I had one of his spades, he's got nines, he's got spades. But it didn't come, I faded it. I've been there before, he had a good run."
That does it for PokerNews's coverage of the HPT Season XV Championship. Congratulations to Paul Bianchi for the biggest win of his tournament career!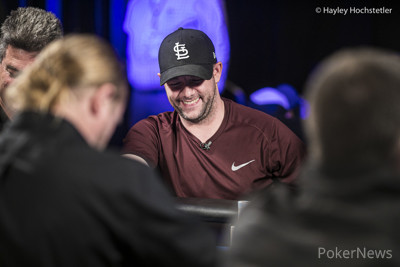 In what would be the last hand of the final table and the 2019 HPT Season XV itself, Christopher Audrain raised to 250,000 on the button. Paul Bianchi decided he wanted to play for all of it, jamming 2,100,000 effective, already having amounted a massive lead over Audrain.
Audrain called, and the two players flipped over their hands on either end of the table.
Christopher Audrain:

Paul Bianchi:
Though Bianchi's queen blocked Audrain's flush outs, the flop brought two much-needed spades on
, adding the ultimate sweat for the cards to come.
With 11 outs and two chances at finding them, the
turn and
river bricked off for Audrain, winning Bianchi the rest of the chips and the championship trophy.
In one of the first hands of heads-up action, Paul Bianchi opened to 250,000 on the button, and Christopher Audrain called.
The
flop came down, and Audrain check-called a downbet of 200,000.
Action went check-check on the
turn, which put a third spade on board. Bianchi bet 425,000 on the river when checked to, and Audrain single-chip-snapped once more. Audrain had flopped top pair and rivered a flush with his
, but Bianchi binked the river for the nuts with
, winning the hand and securing 3/4 of the chips in play.
Level:

30
Blinds:

60,000/120,000
Ante:

120,000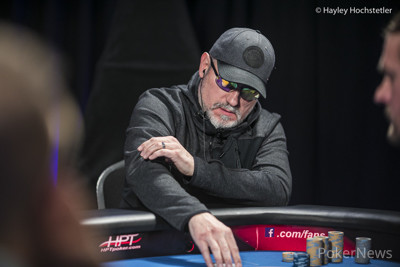 Paul Bianchi raised to 225,000, and John Michalak three-bet shoved for two million. Christopher Audrain tanked for a minute before folding in the big blind, and Bianchi snap-called.
John Michalak:

Paul Bianchi:
Michalak was looking for an ace to survive, and he added a few outs on the
flop. The
turn and
river were blanks, and Michalak headed out the door in third place, his best career finish out of four career HPT final tables.
Bianchi and Audrain are off on a five-minute break as the table is set up for heads-up play.
Christopher Audrain opened to 250,000 from the small blind, and Paul Bianchi called in the big.
The flop brought
, and Audrain downbet to 225,000. Bianchi called.
Action very quickly checked through on the
turn, and the board paired when the
river hit the felt. Audrain bet 250,000 when checked to, and Bianchi folded, saying, "Show it. Show that big hand. You're smilin' from ear to ear, buddy." He wasn't lyin'.
Hand #1:
Christopher Audrain raised to 250,000 on the button, and Paul Bianchi three-bet to 575,000 in the small blind. Audrain folded.
Hand #2:
Bianchi raised to 225,000 from the button, and Audrain called in the big blind.
The
flop was checked through, and the
fell on the turn. Audrain bet 250,000 and Bianchi called.
On the
river, Audrain checked and Bianchi bet 375,000. Audrain said, "You had the queen of diamonds, eh?" then called.
Bianchi tabled
for kings-up, and Audrain mucked
| | | | | | |
| --- | --- | --- | --- | --- | --- |
| Paul Bianchi | | | | 5,800,000 | 1,300,000 |
| Christopher Audrain | | | | 3,200,000 | -1,100,000 |
| John Michalak | | | | 1,600,000 | -300,000 |
Paul Bianchi opened to 225,000 from the button, and Christopher Audrain called in the big blind.
The flop fell
, and action quickly went check-check.
Audrain checked the
turn as well, and Audrain check-called 275,000.
The dealer fired a blank when he dropped the
on the river, and Audrain checked once again. Bianchi bet 425,000, and Audrain snap-tossed a single chip across the line for the call, turning over
for a flopped two pair and the pot.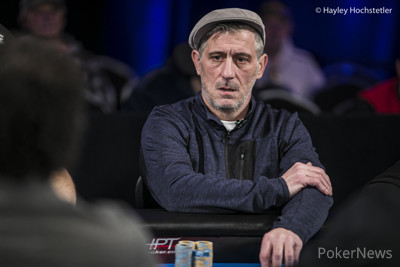 Paul Bianchi raised to 225,000 from the button, and Christopher Audrain called in the big blind.
The
flop was checked by Audrain, and Bianchi bet 175,000. Audrain check-raised to 450,000, and Bianchi called.
On the
turn, Audrain bet 600,000, and Bianchi tanked for a few minutes before raising to 1.675 million, around half of his remaining chips. It was Audrain's turn to enter the tank, and he thought for a few minutes himself before standing up and folding.