$5,200 Mar del Plata Main Event
Day: 3
$5,200 Mar del Plata Main Event
Day 3 Completed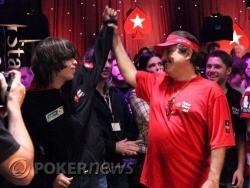 Two years ago, Dominik Nitsche started playing poker in his hometown of Minden, Germany. Since then, he evolved into a savvy online player. He qualified for the $5,200 LAPT Grand Final through the Steps satellites on PokerStars. He easily won his seat and actually won five total packages for this event.

If the kid won five packages, it would seem likely that he'd go on to win the LAPT Grand Final. And that's just what the young German did. He started the day as the chipleader and went wire to wire, buoyed by the monster hand where he busted both Sergio Farias and Team PokerStars Pro Leo Fernandez in a three-way all in (aces vs. kings vs. tens). After that hand, it was just a matter of time before the DOMinator won the tournament... which happened to be the first live tournament that he ever participated in.

Dominik Nitsche bested a field of 291 players and will take home $381,030. Congratulations to Dominik Nitsche for his first major tournament score.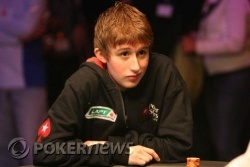 On the first hand of heads up play....

Dominik Nitsche has the button in Seat 6. He raised to 80,000 and Jorge Landazuri called. The flop was
. Jorge checked. Dominik bet 50,000. Jorge check-raised to 140,000 and Dominik called. The turn was the
. Jorge fired out 150,000 and Dominik called. The river was the
. Jorge moved all in and Dominik insta-called.

Dominik:

Jorge:


Jorge missed his straight draw and Dominik won the pot with trip kings. Jorge Landazuri qualified through an online freeroll via PokerStars. The young gun from Mexico finished in second place and won $211,700. Dominik Nitsche won $381,030 for first place.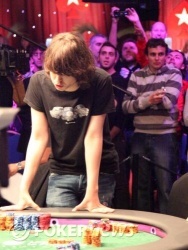 Every Mexican in Mar del Plata is squeezed into the tournament room to cheer on Jorge Landazuri. Even though Domink Nitsche has almost a 2 to 1 chiplead, he'll have to overcome an enthusiastic mob of Jorge supporters if he wants to win the first live tournament that he's ever played in.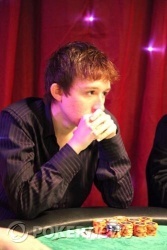 Action was paused while the staff makes preparations for the heads up battle between the two teenagers.... Dominik "DOMinator" Nitsche and Jorge Landazuri. Dominik is eighteen years old and still in high school back in Germany, while Jorge is a nineteen year old med student.

Oh, to be young again.
We'll be starting heads-up play in a few minutes. And when we do, here's how many chips each player will bring to battle:

Dominik Nitsche: 2,085,000
Jorge Landazuri: 941,000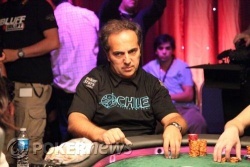 On the first hand after the break, we had another elimination.

Jorge Landazuri has the button. Rodolfo Awad and Jorge Landazuri got it all in pre-flop. Jorge Landazuri raised 100,000. Awad shoved and Jorge called.

Jorge:

Rodolfo:


The flop was
and Rodolfo took the lead with a set of fours. Jorge winced in pain. The turn was the
and Jorge was down to two outs in the deck.When the
spiked on the river, the Mexican contingency in the crowd exploded with applause as Jorge won the pot with a set of nines. The young Mexican leaped into the crowd and celebrated with his family, friends, and fellow countrymen as a dejected Awad headed to the rail in 3rd place. The player from Chile, Rodolfo Awad, won $141,140.

"Mexico! Mexico! Mexico!" shouted the crowd as they chanted and clapped.

After that hand, Jorge Landazuri moved up to 918,000.
Action resumes.
Level: 21
Blinds: 10,000/20,000
Ante: 2,000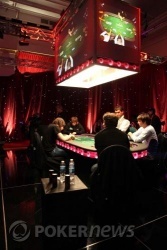 Following the elimination of Jason Skeans, here are the up-to-date chip counts:

Dominik Nitsche: 2,057,000
Jorge Landazuri: 478,000
Rodolfo Awad: 440,000

Dominik has about 70% of the chips in play.