Main Event
Day 2 Completed
Player
Chips
Progress

Caio Pimenta

607,000

Vincenzo Giannelli

538,000

537,999

Carlos Ibarra

479,000

442,300

Joshua Ewing

460,000

369,400

Vitor Torres

447,000

405,200

Daniele Nestola

443,000

Hugo Mora

414,000

Mayu Roca

412,000

Felipe Morbiducci

402,000

299,900

Daniel Negreanu

398,000

276,300

Juan Gonzalez

378,000

Martin Santos

363,000

334,700

Engelberth Varela

321,000

Paulo Grendene

307,000

Jonathan Markovits

217,000

159,500

Ioannis Beris

191,000

Luis Mata

170,000

Gasperino Nicolas

137,000

Robinson Quiroga

135,000

Samir Nadim Nasser

133,000

Amauri Grutka

125,000

Jose Nadal

112,000

11,700

Fabio Leite

101,000

10,300

Humberto Brenes

51,000

-8,000

Level 17 : 3,000/6,000, 1,000 ante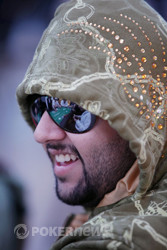 Day 2 is in the books here at the 2012 PokerStars.net Latin American Poker Tour Grand Final in São Paulo, Brazil. The day ended just about 30 minutes after the dinner break following a flurry of eliminations. At the end of it all, just 24 players remained and Caio Cesar Pimenta was on top with 607,000 in chips.
The day belonged mainly to Team PokerStars Pro Daniel Negreanu as he seemed to steal the show. He entered the day as one of the larger stacks in the room and went right to work, quickly moving up the ranks and finding himself in the top spot with a good-sized lead over the rest of the group.
Negreanu played numerous big hands today, including a massive 500,000-chip clash against Patrick Mahoney that sent Mahoney to the rail in 39th place. Although that big hand put Negreanu up to about 625,000 in chips, he lost a bit back before bagging up 398,000. That's still plenty healthy moving into Sunday as the average sits just over 300,000.
Fellow Team PokerStars Pro Humberto Brenes lost a key all-in pot right near the end of the night and it caused him to finish on just 51,000. Still, last year's 15th-place finisher from LAPT São Paulo is alive and looking to get those chips back.
Speaking of tomorrow, Day 3 will commence at noon local time. The remaining players will be competing for a spot at the eight-handed final table and a shot at the R$324,600 first-place prize. Right now, everyone remaining has locked up no less than R$9,220.
PokerNews will be on hand for all of the action tomorrow and we hope you can join us.

Action folded to Victor Silva Talamini and he raised all in for 107,000. In the next seat was Vitor Torres and he took a minute before announcing a call. Everyone else folded and the cards were on their backs.
Talamini:

Torres:
The flop came down
and Torres began to celebrate hitting the jack. He then realized Talamini still had a straight draw.
The turn ended things when the
fell to pair the board and give Torres and unbeatable full house. The river completed the board with the
.
With the elimination of Talamini, the field moved to 24 players and play has ended for the night. There will be a recap coming shortly.
Jose Nadal got the last 46,000 of his chips into the middle preflop with
, and he was an underdog to stay alive when Humberto Brenes looked him up with the superior
. The board ran out favorably for his two live cards, though, coming
(bink!)
to lock up his double.
Brenes was less than pleased with the result, and he's been whittled down to about 50,000 as he drops that pot.
In what was a fairly substantial pot, Josh Ewing got his money in with pocket kings against two players, both of whom he had covered. One of them held ace-ten while the other held pocket nines.
The flop came out ten-high to give a bit of a sweat, but the rest of the board was blank to send two players off to the cashier. Evans has thusly earned himself the first double knockout we've seen this weekend, and it propels him all the way up into the realm of the chip leaders with 430,000.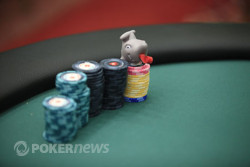 It was a limped pot in a battle of the blinds that saw Victor Talamini and Vitor Torres see a heads-up flop. It came out
, and the betting action somehow resulted in Torres getting himself all in for 154,000 total. Talamini was right there with the covering stack and the
, and Torres'
had him drawing to six outs for the double.
Turn:
Well, that's a start. Talamini couldn't believe it as he cursed his luck and spun away from the table in frustration. Now it was he who was drawing from behind, and the river
was a blank to part him with a big chunk of his stack.
Most of the interest is up on the featured table where nearly everyone is sitting with an above-average stack. The table includes Humberto Brenes, Caio Pimenta, and Daniel Negreanu, so we're spending the lion's share of our time sweating the action up there.
In an early after-dinner pot, we watched Caio Pimenta open to 15,000 from the button, and Daniel Negreanu defended his big blind to see a heads-up flop. It went check-check through the
, and Negreanu led out with 21,000 chips behind the
turn. Pimenta called, and Negreanu went back to a check on the
river.
After about a moment of thought, Pimenta asked, "Should I value bet ace-king?"
"Value bet ace-king?!" Negreanu answered back incredulously. With that, Pimenta flicked 15,000 into the pot, and Negreanu quickly surrendered. Pimenta flashed his airball
, and Negreanu disclosed the contents of his folded hand, too. "It would have been hard to call with king-high," he smirked. "I had king-high."
Player
Chips
Progress

Caio Cesar Pimenta

610,000

80,000

Daniel Negreanu

285,000

-90,000
Level 17 : 3,000/6,000, 1,000 ante
The players have mostly wandered back into the room, and they're ready for some more poker. We've got 30 players left, and Day 2 will conclude when we hit 24.
Level: 17
Blinds: 3,000/6,000
Ante: 1,000