€550 Grand Event
Days: 1b
€550 Grand Event
Day 1b Completed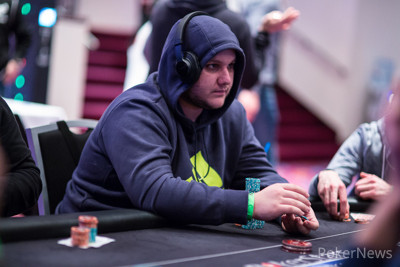 The second day of the newly minted Malta Poker Festival was busier than the first starting day of the €550 Grand Event with 451 entries coming in over the first eight levels of the day. After 14 45-minute levels, 78 of those managed to overcome the many hurdles their competitors threw their way and bagged their chips for Day 2, Sunday, November 4. The Portomaso Casino was once again the stage of a day filled with action.
The Day 1B chip lead honors go to Domenico Gala with 329,000 in chips. The Italian player will probably be looking forward to running deep again here in Malta and hoping to claim his first ever live tournament win after having come close several times.
The whole top Day 1B top three players are Italian as the players trailing Gala are Emanuele Napolitano with 320,000 and Claudio Pagano with 317,000. The Swede Serdar Dermican with 300,000 and Israel's Yotam Bar-Yosef with 293,000 round out the top five for the day.
Other notable players making it through to Day 2 include Monika Zukowicz, Traian Bostan, [Removed:155], Gabriele Re, Paul Romain, Espen Uhlen Jorstad, Daiva Byrne, and Daniel Stacey.
Some of the players expected to try again tomorrow on Day 1C as they failed to make the end of the day include David Lappin, Andy Hills, Ronni Borg, Andrew Hedley, Niko Koop, Fabrice Soulier, Jon Kyte, and a planeload of players from Israel as they have arrived to not only play the IPC but also the Grand Event.
Grand Event Schedule
| Day | Date | Starting Time | Late Reg | Entries | Survivors | Further Information |
| --- | --- | --- | --- | --- | --- | --- |
| 1A | Thursday, November 1 | 14:00 | ~21:30 | 302 | 64 | 75 minute-dinner break after Level 6 |
| 1B | Friday, November 2 | 14:00 | ~21:30 | 451 | 78 | 75 minute-dinner break after Level 6 |
| 1C | Saturday, November 3 | 14:00 | ~21:30 | - | - | 75 minute-dinner break after Level 6 |
| 2 | Sunday, November 4 | 13:00 | N/A | - | - | 20-minute breaks and 75-minute dinner break after Level 23 |
| 3 | Monday, November 5 | 14:00 | N/A | - | - | 20-minute breaks and 75-minute dinner break after Level 35 |
| 4 | Tuesday, November 6 | 14:00 | N/A | tba | - | Play down to a champion |
Make sure to come back tomorrow at 2 PM local time to read all the Day 1C updates as this will be the last chance for players to earn their seat for Day 2and the PokerNews live reporting team will be here to bring you all the action!
Player
Chips
Progress

Domenico Gala

329,000

79,000

Emanuele Napolitano

320,500

27,500

Claudio Pagano

317,000

175,000

Serdar Demircan

300,000

190,000

Yotam Bar-Yosef

293,000

91,000

Michael Ibba

292,000

292,000

Israel Avraham

286,000

286,000

Nicolaj D'Antoni

272,000

13,000

Monika Zukowicz

268,500

221,500

Twitch Team

Phil Pearson

264,500

264,500

Zion Shamay

260,000

260,000

Giovanni Piccione

259,000

259,000

Ivan Kirilov

249,500

249,500

Luigi D'Alterio

226,500

177,500

Jostein Grodum

216,500

216,500

William Fogarty

211,000

211,000

Fares Shehadeh

208,500

109,900

Alessandro Siena

203,000

-16,000

Traian Bostan

191,500

36,500

Espen Saltnes

187,500

187,500

Rafal Lubczynski

184,000

22,000

Lukas Bittner

181,500

181,500

Pedro Monteiro

175,000

-45,000

[Removed:155]

173,500

3,500

Giuseppe Ruocco

171,000

171,000
Play has ended with the tournament clock showing 80 remaining players out of 451 entries in total today. The full chip counts and recap of today's action is to follow.
The tournament clock hasn't been stopped but the floor has announced that the players need to play three more hands before they can bag their chips for Day 2, Sunday, November 4, at 1 PM local time.
The board read
with around 60,000 in the middle already.
Nicholas Banks shoved from the hijack for 58,100 and Manoj Navani tanked and then made the call.
Nicholas Banks:

Manoj Navani:
Banks had flopped a pair of jacks and Navani had a pair of sevens and the open-ended straight draw.
The river completed the board with the
which didn't help Navani as he had to pay Banks the double up and he was left with 500.
The hand right after, Banks raised to 6,000 from the lojack, Gil Zemer three-bet to 16,000 from the hijack and Navani was all-in for his last 100 after paying the ante. Action folded back to Banks who folded.
Manoj Navani:

Gil Zemer:
The board ran out
, Navani turned a flush draw but bricked the river to get eliminated in the last level of the night.
Giovanni Grella raised from the button, Alessandro Siena shoved from the small blind, and action folded back to Grella who snap-called for the 77,900 he had behind.
Giovanni Grella:

Alessandro Siena:
The flop came
to give Grella the pair of aces to jump ahead of Siena's pocket pair of jacks.
The turn was the
which didn't change the situation and the river completed the board with the
on the river and Grella doubled up.
Yoel Afangar and Kornelius Lien were heads-up and all-in with Lien at risk with the shorter stack worth 62,400.
Kornelius Lien:

Yoel Afangar:
The board ran out
for the pocket kings of Lien to hold to double him up.
Player
Chips
Progress

Kornelius Lien

128,000

-4,000

Yoel Afangar

53,000
Level: 14
Blinds: 1,500/3,000
Ante: 4,000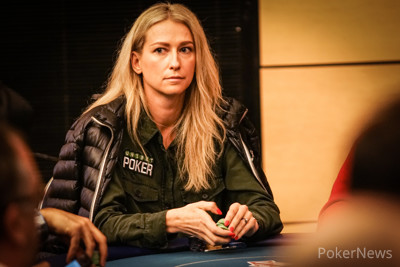 Daiva Byrne has just been moved to her fifth table of the day and was off to a good start immediately.
Byrne raised to 5,000 from the hijack and was called by Oscar Petterson in the big blind.
The flop came
, Petterson check-called the 4,000 continuation-bet of Byrne.
The turn brought them the
, Petterson checked again and now fired a bet of 10,000 over the line. Petterson took a few seconds before he called.
The river completed the board with the
and they both checked. Petterson showed
for the flopped top pair but that couldn't the
of Byrne as she was awarded the pot.
"Welcome to the table," someone at the table said.