₩2,500,000 Main Event
Day: 3
₩2,500,000 Main Event
Day 3 Completed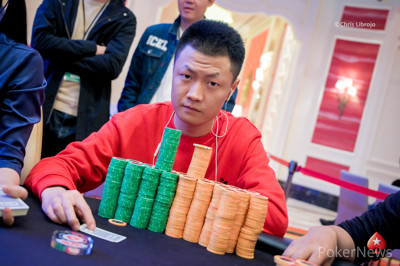 The final table of the biggest live poker event in the history of South Korea is set at the Jeju Shinhwa World - Landing Casino and nine players out of a field of 869 entries remain in contention for the title in the 2019 PokerStars LIVE Asia Red Dragon Jeju ₩2,500,000 Main Event.
While all contenders have ₩32,242,000 ($27,728) locked up for their efforts, all eyes are set on the unique red dragon trophy and the top prize of ₩393,553,500 ($338,456) that comes along with it.
Zhihao Zhang has emerged as the odds-on favorite to become the 28th Red Dragon Main Event champion in the 11-year history of the popular Asia Pacific circuit as he holds a commanding lead over his eight opponents.
Zhang has nearly half of the chips in play. His stack of 11,750,000 represents 117 big blinds while the nearest followers, Xin He (2,450,000) and Ting Yi Tsai (2,445,000) have just shy of 25 big blinds at their disposal.
All remaining six finalists have between 10 and 20 big blinds and are just one double-up away from a potential leap on the leaderboard. Taiwan's Tsai is the only non-Mainland Chinese player still in contention as Yifan Cao (2,045,000), Cangsheng Ni (1,880,000), Wenyan Liu (1,875,000), Dapeng Wang (1,570,000), Zhenhua Lu (1,190,000) and Rongshan Li (1,020,000) complete the line-up for the final day.
Lu already knows what it feels like to reach the Red Dragon Main Event final table as he finished fourth in the edition from February 2018. The tournament, back then hosted in Macau, drew a field of 1,122 and Alvin Yifan Zheng claimed the trophy and top prize of HK$3,055,000 ($390,631). Lu earned a career-best payday of HK$800,000 ($102,293) and may surpass that result in Jeju if he finishes in third spot or better.
The action is set to resume at 1 p.m. local time on Thursday, November 14th 2019, as an additional tournament day was added due to the record-breaking turnout. There are 40:42 remaining in level 29 at blinds of 50,000-100,000 with a big blind ante of 100,000 and the final showdown will be broadcasted on the Red Dragon Poker website with Mandarin commentary and hole cards displayed on a security delay of 30 minutes.
Seat Assignments for the Final Table
| Seat | Player | Country | Chip Count | Big Blinds |
| --- | --- | --- | --- | --- |
| 1 | Wenyan Liu | China | 1,875,000 | 19 |
| 2 | Rongshan Li | China | 1,020,000 | 10 |
| 3 | Ting Yi Tsai | Taiwan | 2,445,000 | 24 |
| 4 | Yifan Cao | China | 2,045,000 | 20 |
| 5 | Cangsheng Ni | China | 1,880,000 | 19 |
| 6 | Dapeng Wang | China | 1,570,000 | 16 |
| 7 | Xin He | China | 2,450,000 | 25 |
| 8 | Zhenhua Lu | China | 1,190,000 | 12 |
| 9 | Zhihao Zhang | China | 11,750,000 | 118 |
Frantic action at the start of Day 3
The remainder of the first level reduced the field at a rapid pace and eight players departed in quick succession, five of them on the live stream table in a matter of minutes. Hideyoshi Tanaka was one of the few players to bust from the outer tables when his king-queen came up short against the ace-king of Hanze Wang. Tanaka's countrymen Koyo Oyama (32nd place) and Hayato Kitajima (25th place) fell before the first break with the latter bowing out in a three-way all-in and double elimination.
Shenming Yin pulled further ahead at the top of the leaderboard and Hanze Wang was in a seemingly comfortable second place. However, Wang doubled up several opponents and ultimately had to settle for 22nd place when he failed to get there with ace-jack against ace-queen. Xixiang Luo was also among those to visit the payout desk before the final table redraw.
Zhang runs incredibly hot; Yin gets coolered
Down to the final two tables, Shenming Yin and Yifan Cao were the two chip leaders and two three-way all-ins immediately reduced the field from 18 to the final 15 hopefuls. Zheng Zhang bowed out on the feature table while Zhihao Zhang held up with queens against the ace-five of Yifu Zhai and the ace-queen of Yuanjun Lu.
One pivotal hand changed the circumstances in spectacular fashion as Yin and Zhang clashed in a pot worth more than one-third of the total chips in play. In three-way action, Zhang flopped quads eights and Yin turned a full house with pocket treys. The money went in after the river as Yin was unable to find a fold and relinquished the lead for the first time since the money bubble on Day 2.
Lai and Wysocki depart before the final table
The roller coaster ride of Bi Haisheng ended on the feature table and Single-Day High Roller champion Ben Lai, Szymon Wysocki and Shinmeng Yin all ran out of chips within fewer than half an hour. Lai lost a flip with ace-jack against the nines of Zhenhua Lu and Zhang rivered a straight with queen-seven suited to crack the flopped set of jacks of Wysocki.
It was no coincidence either that Zhang soon after sent Yin to the rail in a hand that once again perfectly showcased the run-good of Zhang. He flopped a set of deuces and Yin held a queen-high flush draw. A spade on the turn gave Yin the lead but the river paired the board.
Short-handed play on the final two tables resulted in the eliminations of Yu Tian and Fei Xiong, who came up short of the final table and had to settle for 11th and 10th place respectively.
Whether or not Zhang will be able to turn his huge lead into victory remains to be seen and you can find out right here on PokerNews.
A full recap of today's action is to follow. There are 40 minutes left at blinds of 50,000-100,000 with a big blind ante of 100,000 and Zhihao Zhang is the overwhemling chip leader for tomorrow's final.
Player
Chips
Progress

Zhihao Zhang

11,750,000

50,000

Xin He

2,450,000

-250,000

Ting Yi Tsai

2,445,000

-555,000

Yifan Cao

2,045,000

-55,000

Cangsheng Ni

1,880,000

70,000

Wenyan Liu

1,875,000

475,000

Dapeng Wang

1,570,000

170,000

Zhenhua Lu

1,190,000

-310,000

Rongshan Li

1,020,000

20,000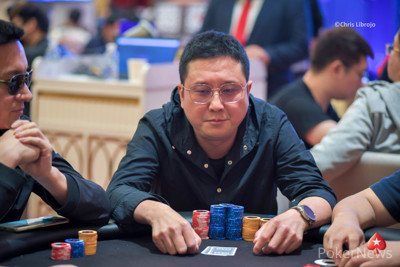 Zhenhua Lu folded from under the gun and Fei Xiong moved all in for 315,000. Chip leader Zhohao Zhang called out of the small blind and the showdown took place once the hand on the feature table was concluded.
Fei Xiong:

Zhihao Zhang:
The
flop brought very little hope for Xiong but he picked up some equity on the
turn. It was the
that fell on the river, further improving Zhang to a set, and Xiong was eliminated in 10th place to miss out on tomorrow's final table. He takes home ₩ 27,501,000 and the remaining nine players will now redraw for the final table, take a group picture and get some proper rest.
Xin He raised it up with the
and Dapeng Wang called out of the big blind with the
. On a flop of
, Wang checked and called a bet worth 255,000 to see the
on the turn. Wang checked once more and a bet of 350,000 by He with a turned pair of fours ended the hand, as Wang folded the superior hand.
Fei Xiong limped the small blind and Cangsheng Ni raised it up to 350,000 from the big blind, which Xiong called.
On a flop of
, Xiong instantly moved all in and Ni called in a heartbeat for his last 555,000. Once the feature table hand was finished, the all-in showdown took place.
Cangsheng Ni:
for a pair of tens
Fei Xiong:
for queen-high
The
on the turn and the
on the river reduced the stack of Xiong to just over three big blinds.
Over on the feature table, Dapeng Wang had raised the
out of the small blind and Xin He called with the
in the big blind.
The flop brought
and Wang tanked for more than four minutes before placing a bet of 130,000 with his ace-high. He raised to 425,000 with two pair and Wang reluctantly folded.
Over on the outer table, Rongshan Li and other players complained to tournament staff as a mere two hands were played since the action had resumed. Li himself had tanked for three and a half minutes before folding first to act, and soon after floor staff announced hand-for-hand mode to counter the stalling.
Level: 29
Blinds: 50,000/100,000
Ante: 100,000
The pace on the feature table slowed down a lot with very few notable hands and once the level came to an end without any elimination, the final 10 players were sent into a 15-minute break. Several of them are getting really short and it seems just a matter of time untilthe final table will be reached.
Fei Xiong and Zhenhua Lu clashed in a minor pot that saw a flop of
. Once Lu had checked, Xiong pushed all in for 1.2 million and Lu folded to drop down further into the pack of shorter stacks.