PartyPoker Premier League IV
Days: 4
PartyPoker Premier League IV
Day 4 Completed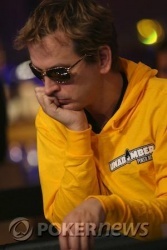 This isn't a misprint, but it is a repeat. Actually, it's a three-peat for Phil Laak. He's just won his third heat at the PartyPoker Premier League IV. What makes this even more amazing is that Laak has only played in three heats, meaning he's won every single one that he's been a part of.

Laak came into the day atop the leaderboard with 32 points. He earned another 16 points for this finish and boosted his total to a whopping 48. Along with that, Laak's taken home $32,000 each time he has won and now has earned a total of $96,000. That's just $4,000 short of the buy-in for this event and he's now basically free-rolling the rest of the way.

"I feel like Isildur did before the down swing," said Laak to presenter Kara Scott after his victory. He'll do his best from here to make sure there is no down swing.

Here's how the overall standings look now.

1. Phil Laak – 48 points
2. David Benyamine - 35 points
3. Giovanni Safina - 21 points
4. JC Tran – 17 points
5. Yevgeniy Timoshenko – 16 points
6. Roland De Wolfe – 14 points
T-7.. Luke Schwartz – 12 points
T-7. Vanessa Rousso – 12 points
9. Ian Frazer – 10 points
10. Phil Hellmuth - 6 points
11. Tony G - 5 points
12.. Daniel Negreanu – 4 points

Another group of eight players return tomorrow at the same start time, 12:00 p.m. local time. We'll see you then for all the live coverage from PokerNews!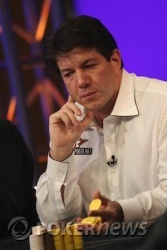 David Benyamine raised from the button to 170,000 with the
. Phil Laak called from the big blind with the
.

Laak smashed another flop and continued his run good when it came down
. Laak checked and Benyamine fired 160,000. Laak moved all in and Benyamine made the call, committing the rest of his chips.

The turn was the
and that gave Benyamine some chop outs. The river was the
and that was it. Benyamine was eliminated in second place and earned 11 points plus $22,000.

On the first hand of the level going up, David Benyamine raised to 160,000 with the
. Phil Laak moved all in for 1.395 million holding two black eights. Benyamine mucked after a brief time in the tank and Laak pulled away a little bit.

The blinds have moved up to 30,000-60,000 and will not go any higher from here. With the blinds frozen at this level, this thing could go for a lot longer because they are pretty even in chips.
Level: 9
Blinds: 30,000/60,000
Ante: 0

David Benyamine limped the button with the
before Phil Laak raised to 120,000 with the
.

The flop paired both players when it came
. Laak checked and Benyamine checked behind.

The turn was the
and Laak checked. Benyamine checked behind.

The river was the
and Laak fired 120,000. Benyamine quickly called and lost to Laak's two pair of aces and tens.

On the board of
, Phil Laak checked with the
to David Benyamine who held the
. He bet 95,000 and Laak made the call.

The river was the
and Laak checked again. Benyamine bet 155,000 into 370,000 and Laak folded.

Phil Laak limped the button with two aces and David Benyamine checked his option with the
. The flop came down
and both players checked.

The turn was the
and Benyaine checked. Laak bet 40,000 and Benyamine called.

The river was the
and Laak improved to a full house. Benyamine check-folded to a bet of 95,000 and moved up to 1.5 million in chips. Benyamine is down to 900,000.
Level: 8
Blinds: 20,000/40,000
Ante: 0