Main Event
Day 2d Completed
Level 30 : 80,000/160,000, 20,000 ante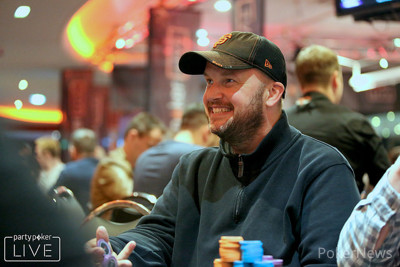 Having spent almost the entirety of Day 2D at the front of the pack, Richard King concluded Level 30 as our official chipleader, with 13,390,000 - almost half the chips that were left in play.
King's journey to an almost-certain chipleader going into the final day was a remarkably easy one, as he busted player after player to bully his way into a lead he never relinquished and only ever strengthened.
Adam Hilton, the nearest challenger to King in the chip-counts, took through 5,025,000 chips, itself a highly respectable amount, but it was all about Richard King.
Play returns to action on Day 2d at 12 noon tomorrow and with an online surge of late entries, there is still every chance for a surprise player to eclipse King's incredible Day 2d effort. It'll take some doing, however.
Stay tuned for live updates from Nottingham tomorrow in the Main Event, £50,000 Gtd side event and of course the spectacular LVL UP Players Party. It promises to be an amazing day on and off the felt!
Player
Chips
Progress

Richard King

13,390,000

190,000

Adam Hilton

5,025,000

925,000

Peter Craw

3,955,000

1,155,000

Andrei Frujina

3,165,000

-535,000

Paul Hamblin

2,660,000

1,560,000

David Cohen

2,645,000

1,145,000

James Parker

1,335,000
Level 30 : 80,000/160,000, 20,000 ante
William Kassouf (pictured) was one of three players all-in on the flop of a huge pot worth 400,000 in the 5pm Day 1 flight.
On a flop displaying
, Paul Lyons had the made hand, turning over
with the biggest pile of chips. He was up against Kassouf with
and another opponent with
. Kassouf was dead on the
turn, and so too was Lyons' other victim on the
river, meaning Paul Lyons stacked up what is possibly the chip lead in the Day 1 5pm flight.
William Kassouf was eloquent in his appraisal of his hopes in the Grand Prix UK Main Event.
"Turbo it is, then!"
Level 30 : 80,000/160,000, 20,000 ante
After a long period of inactivity - mostly raise and take-it - two of the remaining eight players were finall involved in an all-in, and it was exactly the sort of cooler you would expect.
Kfir Ivgi was down to his last 2,600,000, and shoved from mid position, getting called by Richard King next to act. Everybody else quickly got out the way and the cards were on their backs.
Ivgi showed
, with King holding
in a classic coinflip encounter. King remained in front on a
flop, with the
turn,
river runout being of no help to Ivgi.
Ivgi finishes in 8th place for £1,100
Level 30 : 80,000/160,000, 20,000 ante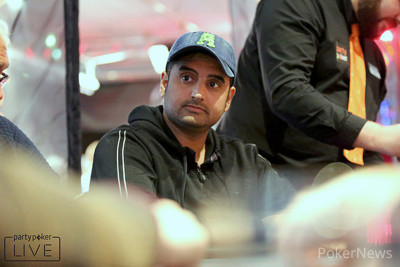 With three Day 1 flights at Dusk till Dawn Casino as well as today's Day 2d, there have bee a number of big name players in the most popular casino in the United Kingdom.
Carl Froch is not just a four-time world boxing champion, he's a partypoker ambassador to be reckoned with, and the Nottingham-based man with the golden punch is up to 55,000 at blinds of 1,500/3,000/300. Elsewhere, London-based professionals Chaz Chattha (pictured, 94,000) and Charles Akadiri (95,500) have enjoyed more prosperous evenings at the felt.
Ugo Monye continues to 'try' again with his second entry, and he's been more successful at 'converting' his chances since doing so, 'chipping and charging' to 95,000.
Tom Waters (180,000), Surinder Sunar (150,000) and James Ablott (260,000) are all extremely well placed to make Day 2 in rude health, while Kev Houghton (40,000, "Don't even tell 'em I'm here.") and Kevin Allen (20,000) will be looking to spin it up to survive.
Level 30 : 80,000/160,000, 20,000 ante
Rugby Superstar Ben Foden has enjoyed a great day at the felt on Day 1 of the Grand Prix UK Main Event.
Foden many not have made Day 2, but as he told us, taking part and having fun is exactly what the England and Northanpton Saints star was after.
Level: 30
Blinds: 80,000/160,000
Ante: 20,000
Level 29 : 60,000/120,000, 20,000 ante
Paul Hamblin moved all-in from UTG+1 for 980,000, with action folding all the way to Adam Hilton in the big blind, who called immediately.
Hamblin's
was in real bad shape against Hilton's
, and the situation looked even more dire on the
flop, which essentially gave Hilton a wrap. Hamblin wriggled out of it, though, on the
turn, with the river bricking the
. Hamblin claimed to have been due some good fortune, and happily dragged in the double-up.
Level 29 : 60,000/120,000, 20,000 ante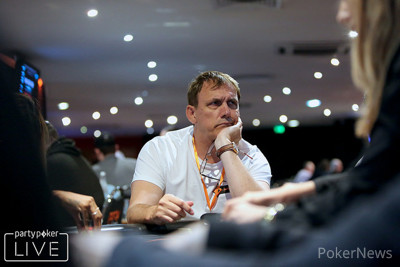 Tony Cascarino has been taking on the best in the business at poker for many years now, and the former Millwall, Aston Villa and Chelsea man did the same during today's Grand Prix Day 1a Main Event.
Sadly for Cascarino, his efforts did not land him a Day 2 place as he busted a short while ago. He told us exactly how.
"I was busted in exactly the same way I was during the partypoker MILLIONS Main Event. I was all-in with pocket jacks called by pocket nines and he rivered a nine. It's not great, but it's poker, you know?"
Cascarino wasn't going to let busting the Grand Prix end his day at Dusk Till Dawn and he's currently winning in a cash game and as we found out, pleased as punch that his former club Millwall were promoted back to the Championship by winning at Wembley last month.
"I'm absolutely delighted for them, it's great."
Level: 29
Blinds: 60,000/120,000
Ante: 20,000