$100,000 PCA Super High Roller
Day: 3
$100,000 PCA Super High Roller
Day 3 Completed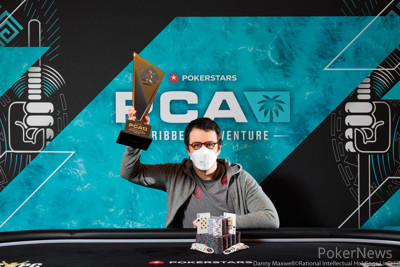 The first High Roller of the 2023 PokerStars Caribbean Adventure wrapped up today with $100,000 PCA Super High Roller, an event that saw three players taking home seven figures after an ICM chop between Isaac Haxton ($1,082,230), Seth Davies ($1,078,347) and Adrian Mateos ($1,095,903). The players agreed to play out the tournament turbo-style and in the end it was Haxton who took home the shimmering golden trophy.
Haxton has had as good of a start to the new year as anyone could hope for as on Jan. 20 he took down a PokerGO Cup $50,000 high roller in Las Vegas for $598,000. Less than a week later, the American takes home nearly double that after getting through the field of 49 runners and navigating a six-handed final table on Day 3.
"I don't think I've ever won two tournaments in a row before, and these are pretty good ones to do it in," Haxton told PokerNews in a winner's interview. "So yeah, I'm feeling great. This is a fantastic start to the year."
Only seven places paid in the Super High Roller that marked the return of the legendary PCA stop, and those who found a return on their $100,000 investment included Spain's Juan Pardo (4th - $522,900) and Canada's Mike Watson (5th - $404,100), Daniel Dvoress (6th - $320,900) and Timothy Adams (7th - $249,600), who fell on Day 2 shortly after securing the minimum cash.
$100,000 PCA Super High Roller Final Table Results
| | PLACE | PLAYER | COUNTRY | PRIZE (IN USD) |
| --- | --- | --- | --- | --- |
| | 1st | Isaac Haxton | United States | $1,082,230* |
| | 2nd | Seth Davies | United States | $1,078,347* |
| | 3rd | Adrian Mateos | Spain | $1,095,903* |
| | 4th | Juan Pardo | Spain | $522,900 |
| | 5th | Mike Watson | Canada | $404,100 |
| | 6th | Daniel Dvoress | Canada | $320,900 |
| | 7th | Timothy Adams | Canada | $249,600 |
*Denotes three-handed ICM deal
Where It All Began
An accomplished high stakes professional who had $30.5 million in Hendon Mob-reported earnings heading into the event, the 37-year-old got his live poker start right here in The Bahamas.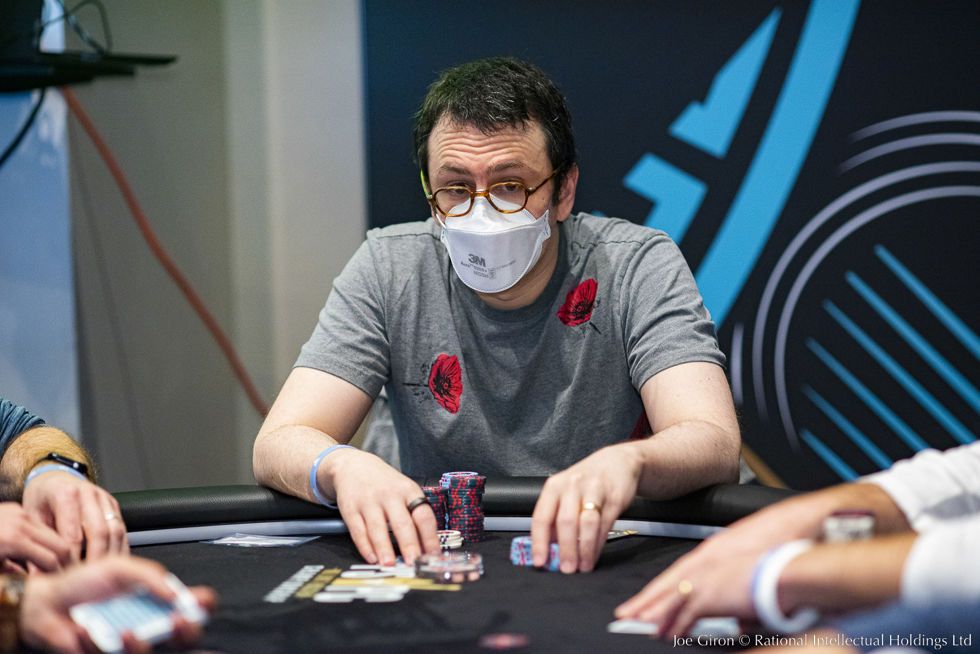 Back in 2007, a younger, longer-haired Haxton finished second in the PCA WPT Championship for $861,789, his first-ever live cash. Many poker fans will remember an epic clip of Haxton bluffing Ryan Daut as his dark brown hair waved in the wind during an outdoor heads-up battle that only could've taken place at the height of the Poker Boom.
The runner-up finish was a sign of PCA results to come for Haxton, who had two small first-place finishes at PCA before his latest victory.
"I've done quite well here in The Bahamas and it feels fantastic to add another score to the list," said Haxton. "I like being here, like playing these tournaments, and yeah, I feel great about it."
From Chip Leader to Next Out, Twice
The four hours of play on Day 3 can only be described as swingy as Day 1 and Day 2 chip leader Watson went out in fifth after a colossal bluff against Pardo that left him as the short stack before he called off with king-ten to be dominated by the ace-ten of the eventual champion.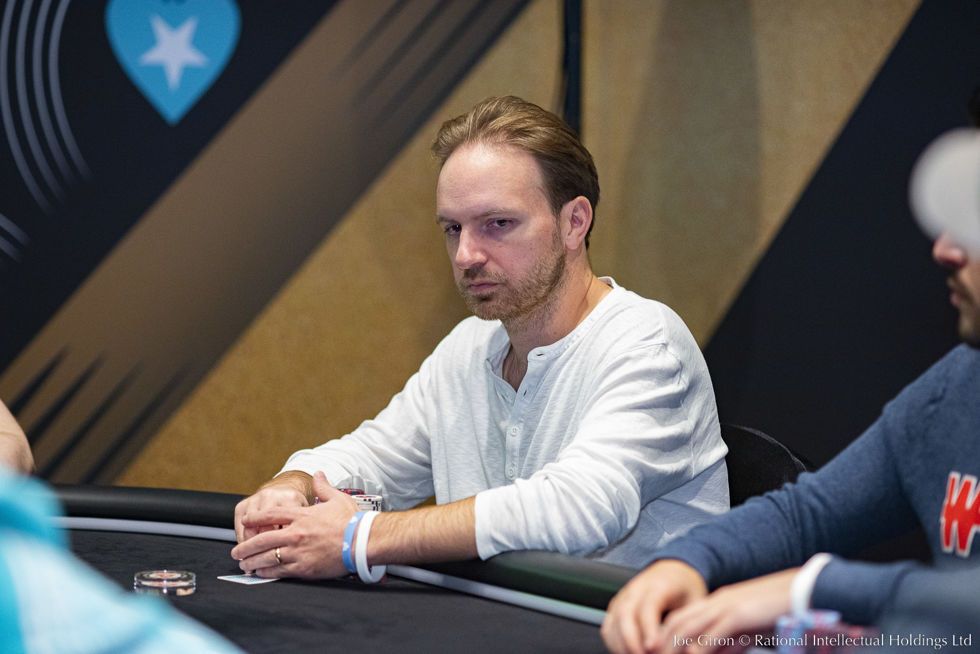 The bluff-catch gave Pardo a dominant four-handed chip lead but it was short-lived as the Spanish pro doubled up Davies before losing even more to the Oregonian. Just an hour after taking the huge chip lead, Pardo was out in fourth when his ace-queen was pipped by the Big Slick of Haxton.
Haxton managed to pick up all the right hands at the right time. Earlier in the day, he was at risk of busting in sixth when he was all-in against Dvoress. Luckily for him, it was only a small risk as he had pocket aces to crush the ace-king of Dvoress, who fell shortly after in sixth.
"To be honest, I had in a lot of ways the kind of uneventful final table," Haxton said. "I didn't play that many interesting post-flop spots or anything like that. I just got great hands. My opponents got slightly worse ones and I got all the chips. That's how it goes sometimes."
But Haxton couldn't sun-run forever and he doubled up Mateos twice during three-handed play to even things out. The three agreed to an ICM chop that left the Spanish crusher taking home the biggest portion of the $4,753,980 prize pool and Davies picking up his biggest career live cash by a few pips (his previous best was ($1,020,000).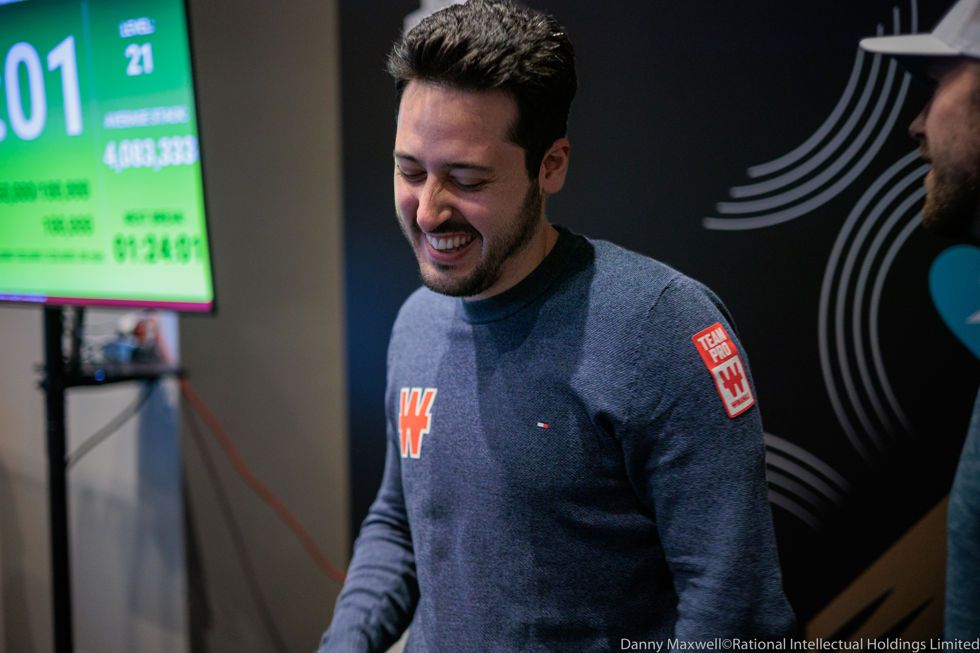 "I think Seth and Adrian are both really great players, so once we got to even stacks, I was perfectly happy to chop it up. When I had the big chip lead, I thought, you know, I have an advantage there from the chip lead that isn't fully captured by the same calculation and it's hard to agree on a number," Haxton said.
He added, "So we didn't really even discuss it up until that point. I think basically everyone's on the same page about that. It's really difficult to chop three-handed when stacks are very different because it's hard to reach an agreement about what everybody's position is worth. But then once it got to equal, I think, yeah, we're all just happy to lock $1,000,000 each and call it a day."
Haxton, who played the entire event in a N95 mask, has been relatively inactive on the live circuit in recent years, primarily out of caution of the coronavirus, but he said he plans on adding more stops to his schedule.
"I've been quite cautious about COVID since that started, but I expect that in 2023 I will be back at quite a lot of the major tournaments," he said.
That wraps up the PokerNews live reporting team's covering of the exciting $100,000 PCA Super High Roller to kick off the 2023 PCA. Be sure to check out the team's coverage of all the other exciting events taking place here in The Bahamas.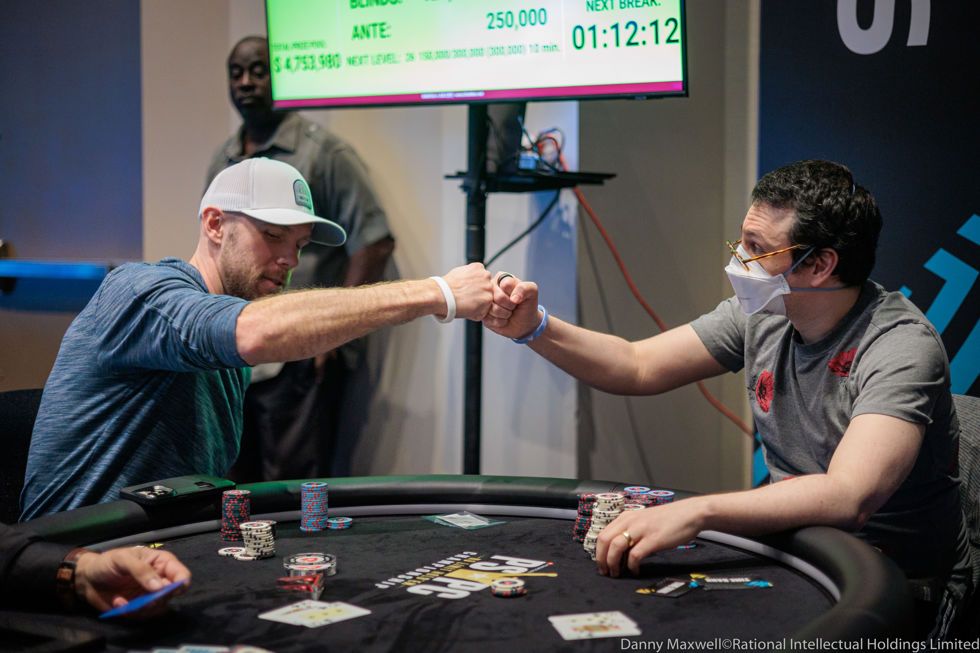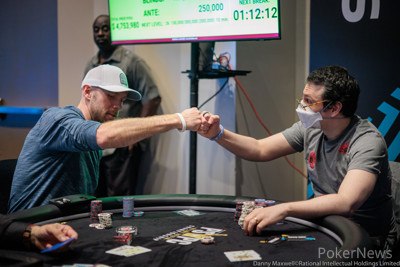 Seth Davies was down to around 3,000,000 and open-shoved from the button before Isaac Haxton called in the big blind.
Seth Davies:

Isaac Haxton:
The flop landed
to give Haxton a big lead and nothing changed on the
runout to send Davies out in second for $1,078,347 as Haxton takes home his first PCA High Roller title and $1,082,230.

Level 25 : Blinds 125,000/250,000, 250,000 ante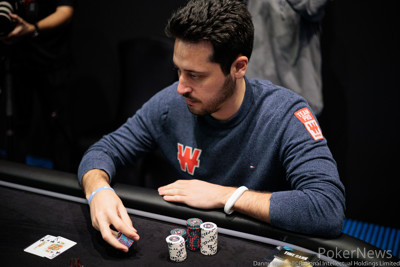 Isaac Haxton raised to 500,000 on the button and Adrian Mateos shoved all in for around 4,300,000 in the small blind. Seth Davies got out of the way and Haxton quickly called to put Mateos at risk.
Adrian Mateos:

Isaac Haxton:
Haxton had the preflop lead and the flop of
left it that way. The
on the turn nor the
on the river provided any help for Mateos who bowed out in third place but will take home the largest sum of money after making a deal.
Player
Chips
Progress

Isaac Haxton

9,050,000

4,400,000

Adrian Mateos

Busted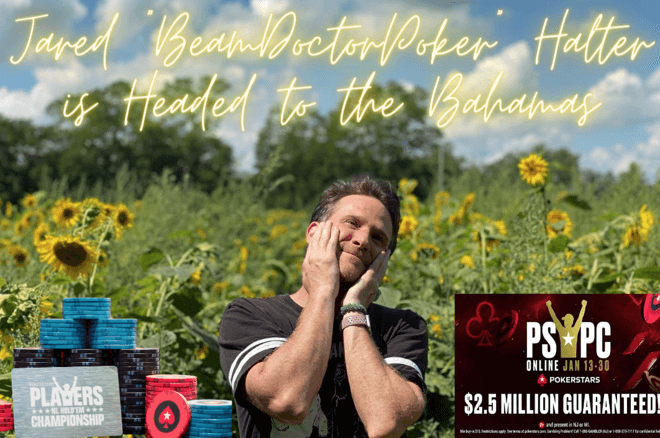 The PokerStars Caribbean Adventure (PCA) is happening now, and later this month the PokerStars Players NLH Hold'em Championship (PSPC) will take place January 30-February 3. One man who will be heading to the Bahamas is 41-year-old Jared "BeamDoctorPoker" Halter, who won a Platinum Pass on PokerStars Michigan.
"I won a PSPC Platinum Pass on Wednesday, November 9," Halter told PokerNews. "I had just returned from Vegas that morning on a red eye flight and slept for four hours on a friend's couch before I drove home for two hours. To be honest, I was very fortunate to win because I had a very rough 72 hours. Some things happened in Vegas that caused me to have anxiety attacks for the first time in my life and I ended up only sleeping about five hours total in the previous 48."
He continued: "I was exhausted and when the MTT started, I said to myself, it will take a miracle for me to win. Funny enough, I mis-clicked two different times early in the tourney and called three-bets with hands like 85o (I did not win those hands). I streamed the tourney, and only single tabled it, because of how tired and ungrounded I felt from the previous time. During the stream, I talked about how exhausted I was and how there was almost zero chance I win. Of course, as we know, the universe had a different plan."
Level: 25
Blinds: 125,000/250,000
Ante: 250,000
Adrian Mateos completed in the small blind and Seth Davies checked his option in the big blind.
Mateos checked on the flop of
and Davies checked back. Mateos checked again on the
turn and Davies took a stab with a bet of 300,000. Mateos check-raised to around 600,000 and Davies laid it down.
Player
Chips
Progress

Isaac Haxton

4,650,000

610,000

Adrian Mateos

4,600,000

380,000

Seth Davies

3,000,000

-990,000
Level: 24
Blinds: 100,000/200,000
Ante: 200,000

Level 21 : Blinds 50,000/100,000, 100,000 ante
Isaac Haxton, Seth Davies and Adrian Mateos have agreed to an ICM deal that will see the three players flattening the payouts before playing for the trophy. Mateos will be taking home the largest sum of money with $1,095,903 while Haxton will be next with $1,082,230. Davies is not far behind, earning himself $1,078,347.
All three players will be adding another seven-figure score to their poker resume. They have agreed to move the blinds to 100,000/200,000 with a 200,000 big blind ante and just 10-minute levels as they are only playing for the trophy now.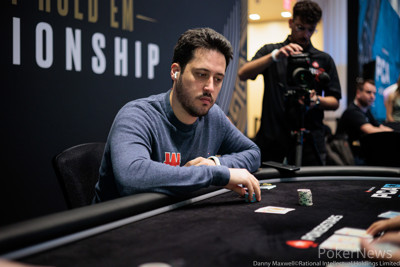 Isaac Haxton open-jammed in the small blind as chip leader and Adrian Mateos called off in the big blind with 2,060,000.
Adrian Mateos:

Isaac Haxton:
Mateos was far in front but saw another unfortunate flop when it came
to give Kempton a flush draw. The board proceeded to finish out
for two of the wrong red cards and Mateos secured the double.
The three remaining players are now about even in chips and have paused the clock to discuss a deal.
Player
Chips
Progress

Adrian Mateos

4,220,000

2,070,000

Isaac Haxton

4,040,000

-2,500,000

Seth Davies

3,990,000

290,000