€1,100 High Roller
Day: 1c
€1,100 High Roller
Day 1c Completed

Level 10 : 1,500-3,000, 3,000 ante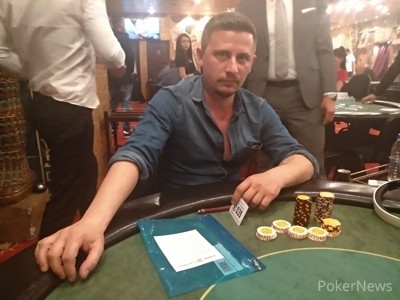 Another starting flight, another Bulgarian in the lead of the 2019 PokerNews Cup High Roller. After Ivan Ivanov in Day 1a and Marcel Galustov in Day 1b, Momchil Vutev became the chip leader after the Day 1c flight, although he didn't manage to surpass his fellow countrymen. He collected 547,000 in chips, well ahead of Dimitrios Mparmpathanasis in second place with 370,500.
Among the players that advanced to Day 2 from the 1c flight, having tried various times during the other flights, were Georgios Efthimiadis, Achilleas Nomidis and Dejan Stanev.
Those who didn't manage to earn a ticket for Day 2 were Hristo Bogdanov, Simeon Marvakis, Themistoklis Tsokas, Georgios Farmakis, Christos Kehagias, and Dimitrios Gkikoulis amongst others.
On Tuesday, 28 players paid the €1,100 buy-in of the High Roller and three of them re-entered, so the total number of entries in Day 1c was 31. Add them to the 49 from the first two flights and the field counts 80 entries after the end of the three starting days.
Day 1c added 17 players to Day 2, and the total field for the second day of play will be 37 players.
Registration will remain open for the first two levels of Day 2, so the total number of entries will probably change. Day 2 will start at 3 p.m. and besides the High Roller, tomorrow's schedule features the start of the Main Event with Day 1a at 6 p.m.
The PokerNews live reporting team will be back on the tournament floor of Finix Casino to bring you double coverage of High Roller and Main Event on Wednesday.

Level 10 : 1,500-3,000, 3,000 ante
Player
Chips
Progress

Momchil Vutev

547,000

347,000

Dimitrios Mparmpathanasis

370,500

-129,500

Andrey Gabrovski

323,000

223,000

Dejan Stanev

225,000

45,000

Sotirios Koutoupas

211,500

151,500

Ivaylo Yordanov

173,500

Momchil Krastanov

159,500

59,500

Savvas Dirchalidis

151,000

51,000

Achilleas Nomidis

146,000

46,000

Dimitar Blazhev

136,500

Georgios Terzopoulos

132,500

-22,500

Georgios Efthimiadis

115,500

80,500

Miroslav Panteleev

113,000

Vasileios Tsaknis

95,500

-134,500

J.S.

90,500

Michail Trizlintsev

59,500

-160,500

Spyridon Michailidis

50,000

-50,000

Level 10 : 1,500-3,000, 3,000 ante
The clock is paused and we will play three more hands before it is done for the day.

Level 10 : 1,500-3,000, 3,000 ante
Christos Kehagias didn't manage to keep chips after his second bullet for today.
Georgios Farmakis had the same luck on his first try in Day 1c, when he shoved from the small blind with ace-jack and the big blind call with pocket threes. A three on the flop condensed him to go to the rail.
Player
Chips
Progress

Georgios Farmakis

Busted

Christos Kehagias

Busted

Level 10 : 1,500-3,000, 3,000 ante
Georgios Efthimiadis lost all his chips and re-entered, since the event is really deep and it gives this opportunity to the players even though we are only one level before the end of Day 1c.
Efthmiadis lost the biggest part of his stack when he three-bet to 13,000 with ace-nine from the small blind, after Nomidis' raise to 5,000 from under-the-gun with tens. The flop came ten-deuce-deuce and Nomidis check-called Efthimiadis' c-bet for 14,000. Another deuce on the turn brought two checks and an ace came on the river with Efthimiadis betting 30,000 and Nomidis shoving for 75,000.
Efthimiadis called with his full-house but his opponent had a bigger boat and he was left with 4 big blinds. He lost them in the next hand with nine-ten versus sevens.
Level: 10
Blinds: 1,500/3,000
Ante: 3,000

Level 9 : 1,000-2,000, 2,000 ante
After the previous update, we have once more one double-up and one elimination in a matter of minutes.
Firstly, Georgios Efthimiadis shoved his stack with
and he was versus the jacks of Sotirios Koutoupas. The board came
and Efthimiadis doubled-up to 80,000 with trips.
In another table, Dimitrios Gkikoulis opened to 5,000 and Dejan Stanev three-bet from the small blind to 12,000. Gkikoulis shoved for 32,000, Stanev snap-called and he was way ahead of his opponent with queens versus
. The five community cards where
and Gkikoulis is in the rail.
Player
Chips
Progress

Dimitrios Gkikoulis

Busted

Level 9 : 1,000-2,000, 2,000 ante
Achilleas Nomidis shoved his last 15 big blinds from the hijack and Georgios Terzopoulos called from the big blind with a big stack and jack-ten suited.
The board didn't scare Nomidis and he is up to 30 big blinds again.
A couple of minutes earlier, Themistoklis Tsokas was left with less than 10 big blinds and he busted, although we didn't manage to talk with him about the bust-out hand.
Level: 9
Blinds: 1,000/2,000
Ante: 2,000