Fahredin Mustafov Eliminated in 4th Place (€43,500); Daniel Nietrzebka Eliminated in 3rd Place (€57,600)

Level 29 : 50,000/100,000, 10,000 ante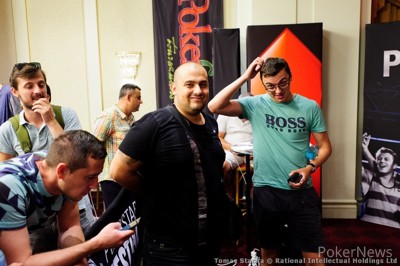 Anil Ozdemir opened to 250,000 from under the gun and Daniel Nietrzebka called on the button. Sam Grafton folded his small blind, and then the following happened within five seconds.
"All in," Mustafov said, shoving his stack of 2,485,000 in the middle.
"All in," Ozdemir said, sliding a tower of T-100,000 chips forward.
"All in," Nietrzebka said without hesitation, creating a pot of 75% of the chips in play just like that.
Fahredin Mustafov:

Anil Ozdemir:

Daniel Nietrzebka:
The room buzzed with excitement and the crowd got on their feet to watch the action unfold.
"The jack is coming, I'm not even worried," Ozdemir foreshadowed.
The dealer slowly dealt the
flop, which kept things exciting. Ozdemir did indeed flop the jack he needed but Nietrzebka was drawing very live with his overpair and the king-high flush draw. Mustafov was left drawing nearly dead and had just one out left: the king of clubs.
The
landed on the turn and Nietrzebka cheered in excitement. Mustafov was now officially drawing dead, Ozdemir could still pair the board to knock out two players at once.
"No full house!" yelled Nietrzebka when he suddenly realised Ozdemir could still make a full house to scoop.
The
on the river did indeed pair the board and Ozdemir delivered the final blow to both Nietrzebka and Mustafov. Grafton was happy as well, moving up two spots on the leaderboard just like that.
Nietrzebka had more than Mustafov and finished 3rd for €57,600, Mustafov received €43,500 for his fourth place finish.