Main Event
Day 1a Completed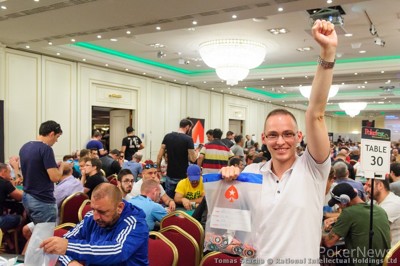 A total of 177 players entered Day 1a of the €1,100 PokerStars Festival Bucharest Main Event and by the end of eight levels of play there were just 66 players remaining, led by Tamas Kabatnic.
In May 2016, the Romanian capital attracted a field of 579 for the first and only Eureka Tour event held here, and in the end Avishai Shitrit from Israel took down the tournament and €107,350 in prize money.
Tamas Kabatnic was all smiles after bagging the end-of-the-day chip lead. "I'm excited for Friday, for Day 2, hopefully I can keep the chip lead," Kabatnic said. It wasn't all smooth sailing for the Romanian, who found himself on the brink of elimination in the third level of the day.
"I had ace-queen on an ace-queen-nine flop but my opponent held pocket queens," Kabatnic recalled. "I asked the dealer for the ace of spades on the turn and guess what: the turn was the ace of spades! I doubled to 60,000 in that hand. After that, I won a couple more big pots to build my stack."
Kabatnic has just one recorded live cash, back in 2014, and is primarily an online cash game player. However, the combination of the PokerStars Festival coming to his home country combined with the massive €500,000 guarantee made him switch from the digital to the live felt. "The guarantee really worked; I usually play like three tournaments a year but I really wanted to play this one. I bought in directly after not cashing in a few satellites," Kabatnic concluded.
Today the excitement in the air was palpable as a selection of players from around Europe, and a strong home contingent of Romanians joined the field. The most notable player was probably Romania's all-time money list leader Alexandru Papazian, who earlier this year took down a WSOP bracelet event to win both he and his country's first bracelet.
Papazian started strongly, eliminating a player holding pocket kings when Papazian's pocket fours made a set. Sadly, for Papazian he was eliminated midway through the last level of the day in a hand against Andrei Nodea.
"My day wasn't going very good until this hand," said Nodea, who said he knew that Papazian had recently won Romania's first WSOP bracelet. "It was a three-way hand, and it shows that you just need a couple of hands that work very well and now I'm up to 196,000!"
Also in the field was PokerStars Championship Monte Carlo sensation Andreas Klatt. Klatt took down the huge 1,252 field National Championship and followed it up with a second-place finish in the Main Event for combined cashes of over €450,000.
Unfortunately, like Papazian, Klatt failed to make it through to Day 2.
There are still two more flights in the PokerStars Festival Bucharest Main Event, both of which take place tomorrow (Thursday 3rd August). Day 1b kicks off at 1 p.m. with players battling through ten 45-minute levels to secure a spot in Day 2. Players due in the 1b field include PokerStars Team Pro Chris Moneymaker and Team Online's Lex Veldhuis, with British pro Sam Grafton also expected to make an appearance.
Then later on, at 9 p.m. there is a special 1c flight, which is open only to players who have busted out of either 1a or 1b. This is a turbo edition with ten levels of only 20 minutes being played.
Player
Chips
Progress

Tamas Kabatnic

236,300

-3,700

Solomon Stan

196,800

10,800

Andrei Nodea

196,100

6,100

Mattia Baccassino

169,000

71,000

Martin Sandmair

149,900

149,900

Bozhkov Boyan

144,200

144,200

Cristi Grecu

144,000

144,000

Danut Dinca

139,300

2,300

Elie Ghazal

137,500

-32,500

Nicolae Georgescu

135,800

135,800

Massimo Caratelli

130,900

130,900

Liran Machluf

128,400

84,400

Cristian Neicu

121,800

121,800

Polykarpos Stryvakis

117,800

117,800

Franck Calonnec

117,200

117,200

Mike Christiansen

116,700

116,700

Vladimir Rusu

105,500

105,500

Stefan Hurjui

102,900

102,900

Matej Zavacky

94,800

9,800

Silviu Togui

92,100

92,100

Nicusor Matei

90,400

90,400

Oshri Lahmani

90,000

90,000

Ionut Vasile

87,300

87,300

Mehmet Kacar

85,700

85,700

Krasimir Yankov

84,900

42,900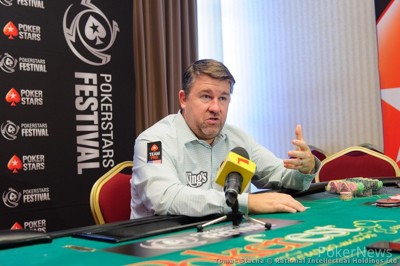 Last year Daniel Negreanu was the talk of the town after turning up to the Eureka 6 stop here in Bucharest. And at this year's PokerStars Festival Bucharest, another big name was rumoured to make an appearance in the "Paris of the East".
Shortly into the beginning of the day, it turned out the rumours were true as a fresh-faced Chris Moneymaker arrived at the JW Marriott. It's been a busy day for the Team Pro and former World Champ who has been busy giving press conferences to publications and dishing out poker tutorials to budding fans.
Find out more about Moneymaker's visit over on the PokerStars Blog.
The clock has been paused with 12 minutes remaining in the level. Six more hands will be played until chips are bagged and tagged for the night.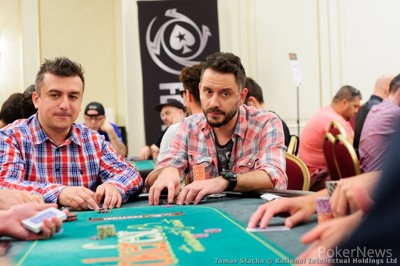 Both Dan Chisu and Eduard Norel were preflop all in with their very short stacks, and two other players called as well. On a
flop, one of the active players bet 10,500 and the other player folded.
Dan Chisu:

Eduard Norel:

Third player:
The turn was the
and the river the
to secure the quadruple up for Chisu. The third player remained with a solid stack, Norel was eliminated.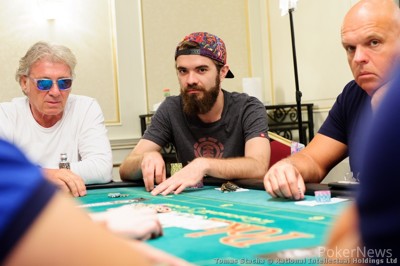 Romanian's all-time money leader Alexandru Papazian failed to bag chips on Day 1a and is out of the tournament. Papazian will have another chance tomorrow night at 9 p.m. local time, when he can re-enter on Day 1c.
Papazian was involved in a big three-way all in pot, with Ofer Glazer also at risk. Andrei Nodea was also all in and had both players covered.
The board read
and the following hands were shown:
Andrei Nodea:

Alexandru Papazian:

Ofer Glazer:
Nodea held the nut flush to knock out both opponents and soared to 190,000
On a
flop, Danut Dumitrascu and Jan Ziecik got their stacks in the middle to create a 90,000 pot.
Danut Dumitrascu:

Jan Ziecik:
Dumitrascu held the nut flush draw with two over cards but bricked on the
turn and
river.
Player
Chips
Progress

Jan Ziecik

95,000

Danut Dumitrascu

30,000

-25,000
The action was on the turn with Elie Ghazal heads-up in a pot against Dan Chisu. The board read
and Ghazal had moved all in for 45,300, covering his opponent.
Chisu thought for a long time before eventually deciding to call the clock on himself. With the seconds ticking down, he slammed a stack of chips down on the table to call.
Ghazal showed
for a flush, and Chisu shook his head showing
. The river was the
and Ghazal scored the huge doubled up.
Level: 10
Blinds: 600/1,200
Ante: 200