Main Event
Day 1b Completed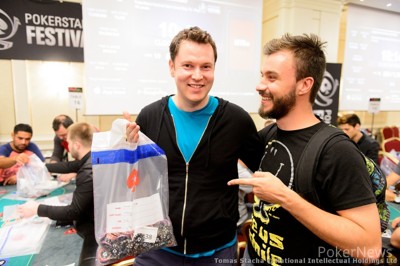 A bumper field of 401 players showed up for Day 1b of the PokerStars Festival Bucharest, meaning that the guarantee is already eclipsed ahead of the Turbo 1c which starts later on this evening.
There will be a total of 166 players joining the 66 who advanced from Day 1a in Day 2 tomorrow, with several players boasting healthy stacks ahead of the fields combining.
The chip leader is Stefan Fabian with 279,400. Other big stacks include Nandor Solyom (257,700), Ben Barkay (226,800), Nicolae Toma (197,800) and Mustafov Fahredin (177,000).
"I'm feeling pretty good," said Fabian shortly after bagging up for the night, "I hope that I'm chip leader at the end of tomorrow as well!"
He won a huge pot during Level 6 to take him up over 100,000 for the first time. A player raised from early position and Fabian three-bet. His opponent four-bet to 6,500 and Fabian five-bet to 12,700. His opponent six-bet to 20,000 and Fabian called.
Both players checked an
flop and Fabian called a bet of 7,000 in position on the
turn. The river was the
and Fabian's opponent check-folded to a jam from Fabian for 23,000.
"I just didn't expect it," said Fabian, referring to the monster six-bet pot which helped him on his way to the overnight chip lead, "I had just moved to the table, so I was new.
"I think Bucharest is good. It's not my first time playing here."
Just like yesterday, there were a few big names dotted around the field. The biggest name of all was Chris Moneymaker, 2003 Main Event Champion and Team PokerStars Pro.
Moneymaker had an eventful day, albeit a short one. He ran Kings into Aces early on, with both players making sets by the river. However, he managed to get away when his opponent just called on the river.
However, he was eliminated a short while later. In a limped pot, Moneymaker checked in the big blind and saw a
flop dealt. He got his remaining chips into the middle holding
but his opponent held
and their set held to eliminate the American.
Also in the field was British pro and fan favourite Sam Grafton. He told the PokerStars Blog that he qualified for the event online, and attending the Festival was a "no-brainer!"
"I've played at the Marriott here before and it's a nice venue. The thing with PokerStars, and something that I appreciate after a lot of time in Vegas is that - apart from the ten-handed - you know it's going to be an incredibly well-run tournament.
"In Vegas, the standard can be a bit inconsistent, whereas with Stars you know you're going to get a great tournament. So yeah, I'm happy to be here, and although I'm ready to play online again!"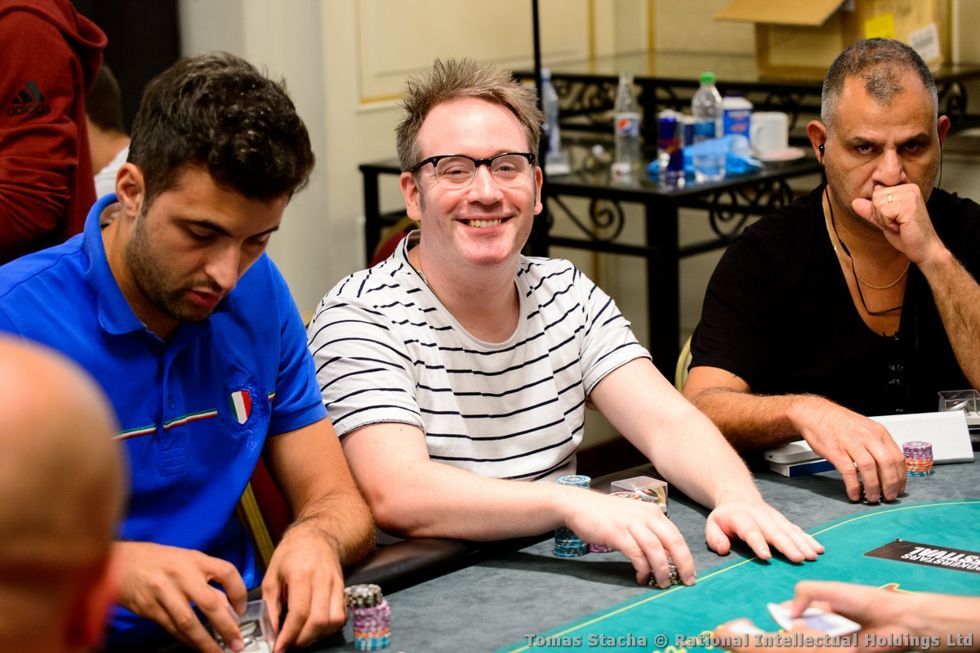 Grafton will be taking 134,200 in chips into Day 2. Also advancing to Day 2 is Eureka Bucharest defending champion Avishai Shitrit with 53,200.
By the time registration closed at the end of Level 6, there was a total of 401 players. That, coupled with the 177 from yesterday meant that a field of 578 (one player short of the 579 who attended Eureka Prague last year) had entered this year's Main Event. However, with the final flight this evening getting underway shortly, that figure looks set to be eclipsed.
All players who make it to Day 2 will return to blinds of 800/1,600 with a 200 ante. The levels will also to increase to 60-minutes, and there will be eight levels played, with a 15-minute break after every two levels.
Join PokerNews tomorrow from 1 p.m. local time to stay up-to-date with all the action from the "Paris of the East" as we get closer to crowning the latest PokerStars Festival champion.
Stefan Fabian

279,400
19,400

Nandor Csaba Solyom

257,700

Ben Michel Barkay

226,800

Nicolae Toma

197,800
-200

Yaniv Avinoam

191,800
191,800

Fahredin Mustafov

177,000
-8,000

Alexandru Dorin Udrea

173,600

Andrei Gabriel Roscan

171,300

Imad Hachem

168,500
168,500

Lukasz Kubicki

163,300
163,300

Raul Cuc

158,100
158,100

Patrick Fretzert

155,800
155,800

Bogdan Silviu Lazar

155,000

Daniel Nietrzebka

152,400
2,400

Asaf Levi

144,500
144,500

Dorin Agavriloae

144,100
-5,900

Federico Petruzzelli

142,800
-47,200

Marian Costache

142,400
62,400

Jozsef Liszkovics

142,100
67,100

Dan Serban Borlan

139,900

Ersoy Cagdas

135,800
102,800

Iulian Iacob

134,200
134,200

Sam Grafton

PokerStars Ambassador

134,200
-35,800

Yitshak Zah Bahar

131,500
131,500

Vadim Botosan

121,600
32,600
Tournament officials have announced that there will be four more hands before players bag up ahead of Day 2 tomorrow.
A reminder that any player wishing to play in the turbo Day 1c which was scheduled for 9 p.m. local time, this will now be at 10 p.m.
Alex Udrea raised to 2,700 from under the gun and an opponent three-bet to 8,600 from middle position. Udrea called.
Both players checked the
flop and the turn was the
. Udrea bet 9,100 and his opponent quickly called.
The river was the
and both players checked.
Udrea showed
for trip queens and his opponent folded.
| | | | | | |
| --- | --- | --- | --- | --- | --- |
| Alex Udrea | | | | 179,000 | 62,000 |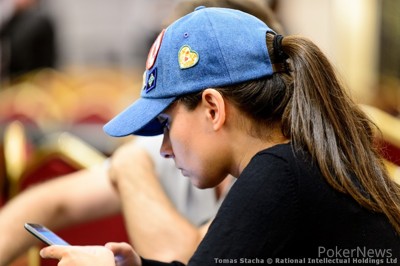 From under the gun, a player raised to 2,600, Elvira Malay called one seat over, and the button and big blind also called. The flop was
, which was met by a "ding ding ding!" from one of the players at the table.
The under the gun player bet 5,400, with Malay as the only caller. On the
turn, the under the gun player bet 7,600, and Malay called again. The river was the
and Malay was put all in for her last 9,500, which she snap-called.
Under the gun:

Elvira Malay:
Malay got fully paid on her flopped quads and doubled up as the day draws to a close.
| | | | | | |
| --- | --- | --- | --- | --- | --- |
| Elvira Malay | | | | 56,000 | |
With around 37,000 in the pot, Nicolae Toma and an opponent in the small blind saw the turn land on a
. Toma's opponent open-shoved 51,200, which sent the Romanian deep in the tank. After nearly two minutes, he counted out the calling chips and put them in the middle with a strong thump.
Nicolae Toma:

Opponent:
Toma held the best hand with pocket tens but his opponent could still catch a ten, seven or five to survive. The river
wasn't one of them and Toma took down the big pot.
| | | | | | |
| --- | --- | --- | --- | --- | --- |
| Nicolae Toma | | | | 198,000 | 198,000 |
Pocket aces have been dealt aplenty today, and Daniel Nietrzebka just became the latest to receive the pocket rockets. Nietrzebka was tangling with Arthur Zacharov and both players had already built a pot of over 50,000 when the dealer completed the
board.
Zacharov checked and Nietrzebka checked behind with his aces. Zacharov couldn't muster up more than
and the Pole scooped up the pot.
| | | | | | |
| --- | --- | --- | --- | --- | --- |
| Daniel Nietrzebka | | | | 150,000 | 150,000 |
| Arthur Zacharov | | | | 95,000 | 95,000 |
Federico Petruzzelli

190,000
35,000

Fahredin Mustafov

185,000
80,000

Sam Grafton

PokerStars Ambassador

170,000

Dorin Agavriloae

150,000
85,000

Yitshak Bahar

135,000

Andrei Roscan

134,000
26,000

Alex Udrea

117,000
-53,000
Level:

10
Blinds:

600/1,200
Ante:

200