Main Event
Day 1c Completed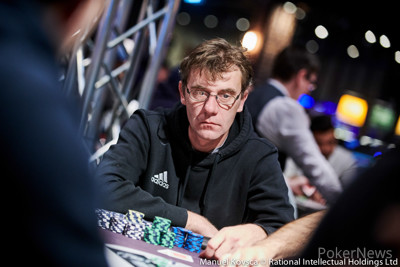 Today Day 1c of the 2017 PokerStars Festival Hamburg Main Event started at 1 p.m. local time. This was the final day of the starting days with two flights taking place today. Day 1c had 12 30-minute levels which were shorter than the levels on Day 1a and Day 1b as they played 45-minute levels.
There were 134 entries in total of which 63 players made it through to the bagging stage. Johann Kroon takes the honors of the chip lead for Day 1c with 214,200 chips. Second on that list today is Markus Meekma (180,100). The last one to fill the podium is Daniel Stacey with 130,200 chips.
Other notables that have made it through to Day 2 are the two PokerStars players, Team Pro Marcin Horecki (26,800) and Team Online Felix Schneiders (22,100). They seemed to have kept a pretty low profile at their tables but will be happy to have made it through to tomorrow to show what they're made of.
The players that haven't made it through today or over the previous day, have another chance in Day 1d. When this flight finishes, the total amount of players returning for Day 2 will be set and they will return to Casino Schenefeld tomorrow, November 25th, 2017 at 1 p.m. local time. The players will start on Level 13 which has a small blind of 1,200, a big blind of 2,400, and a running ante of 400.
Stay tuned to PokerNews for all the action of Day 1d.
The full chip counts will be provided when PokerNews receives them and a recap of today's action is to follow.
Player
Chips
Progress

Johann Kroon

214,200

4,200

Markus Meekma

180,100

-19,900

Daniel Stacey

130,200

5,200

Srdjan Patkovic

126,200

6,200

Philipp Viebcke

113,200

13,200

Mete Ustuay

102,600

102,600

Rafal Adamkiewicz

101,400

101,400

Giuseppe Cimelli

100,000

100,000

Sami Jacobs

96,900

96,900

Jamil Omar

93,200

-6,800

Michael Murschall

90,300

5,300

Alexey Bratishchev

87,600

-400

Enno Köster

85,100

85,100

Karim Rebei

82,800

4,800

Ittai Gluska

82,800

-7,200

Cirilo Ferreira

81,200

81,200

Kevin Bollerhei

81,000

81,000

Jules Ayoub

79,900

-40,100

Levi Mulders

79,400

49,600

Kevin Kohler

78,000

-7,000

Frank Debus

76,200

76,200

Jan Sigel

75,700

75,700

Jesper Feddersen

71,900

-2,100

Emre Nebipasagil

67,200

36,250

Grzegorz Derkowski

66,600

-8,400
Do Tran was no longer in his seat and Daniel Stacey was kind enough to provide the details of his elimination, as the chips were in fact sent to him. According to Stacey, Tran limped in from under the gun, as did the button. Stacey raised to 9,000 in the small blind and Tran moved all in, forcing a fold from the button.
Stacey eventually called with pocket queens and was very relieved when Tran only showed pocket jacks.
Player
Chips
Progress

Daniel Stacey

125,000

95,000

Do Tran

Busted
The clocks have been stopped and six more hands will be dealt for tonight.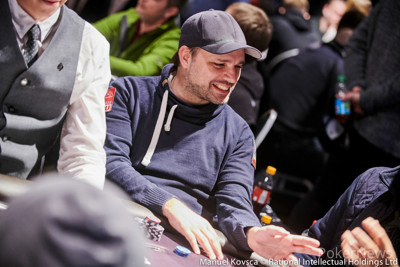 Murat Tuelek has been eliminated. According to the Grinding It Up crew, he lost a flip with ace-king against the pocket jacks of Kevin Kohler. The same table features two big stacks in Srdjan Patkovic and Jamil Omar, while the two current chip leaders are one table over.
Anton Meekma lost a few chips, while Johann Kroon just moved all in with his big stack and forced a fold, showing
.
Soon after, Grzegorz Derkowski was also spotted with the red triangle of death at that very table. The flop showed
and Derkowski faced a bet of 7,000 by the player in the small blind. He moved all in for more than 55,000 and forced a fold.
Player
Chips
Progress

Johann Kroon

210,000

110,000

Markus Meekma

200,000

-20,000

Srdjan Patkovic

120,000

40,000

Jamil Omar

100,000

35,000

Kevin Kohler

85,000

-5,000

Grzegorz Derkowski

75,000

47,000

Murat Tuelek

Busted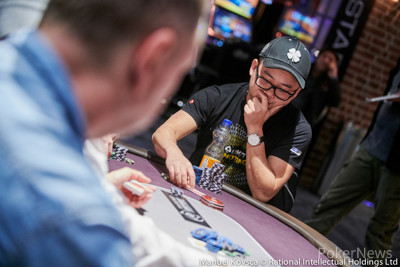 Do Tran raised to 5,000 from mid-position and was called by Ittai Gluska (hijack) and Maximilian Bracht (button). Philipp Viebbcke shoved all in from the small blind and Ali Kanaan, in the big blind, folded. Tran called and both Gluska and Bracht folded.
Philipp Viebcke:

Do Tran:
Viebcke already got up from the table even though he was currently ahead. The board ran out
- Viebcke sat down again as he doubled up.
Player
Chips
Progress

Philipp Viebcke

100,000

100,000

Do Tran

67,000

-3,000
Kevin Köhler raised to 4,500 and Claudio Celenza moved all in for around 25,000 out of the small blind, which Köhler called with the superior stack.
Claudio Celenza:

Kevin Köhler:
The board ran out
and Köhler got there on the river to eliminate Celenza.
Level: 12
Blinds: 1,000/2,000
Ante: 300
Jamil Omar raised to 6,000 from mid-position. Dalibor Vojinovic shoved all in for the 6,100 he had behind from the hijack. Action folded to Jesper Feddersen in the big blind who also went all in. Omar asked for a count and the dealer did so. She confirmed it was 59,200 in total. Omar tanked for a bit and then open-folded
.
Jesper Feddersen:

Dalibor Vojinovic:
The board ran out
- no help for Vojinovic and he was eliminated from the tournament.