Level:

15
Blinds:

600/1,200
Ante:

150
| | | | | | |
| --- | --- | --- | --- | --- | --- |
| NoamSayng | | | | Busted | |
| POKERPRO7717 | | | | Busted | |
| RJCMONEY | | | | Busted | |
| allinucallin570 | | | | Busted | |
| wongsic | | | | Busted | |
| Pcakes03 | | | | Busted | |
| ozymandias514 | | | | Busted | |
| themeekone | | | | Busted | |
| Strongman1981 | | | | Busted | |
| Gyea08 | | | | Busted | |
| InspectorDeck | | | | Busted | |
| phillyazn1 | | | | Busted | |
| Dmechiche1993 | | | | Busted | |
| KINGPOKER0101 | | | | Busted | |
| P0stFl0pMal0ne | | | | Busted | |
| CashWalkerHux | | | | Busted | |
| BeanTaco2.0 | | | | Busted | |
| oaklandraiders1 | | | | Busted | |
| Ur Donezo | | | | Busted | |
| UpTrend07 | | | | Busted | |
| pippipcheerio | | | | Busted | |
| metcalf1016 | | | | Busted | |
| Phishfan717 | | | | Busted | |
| Spyderr326 | | | | Busted | |
| DreamingOctopus | | | | Busted | |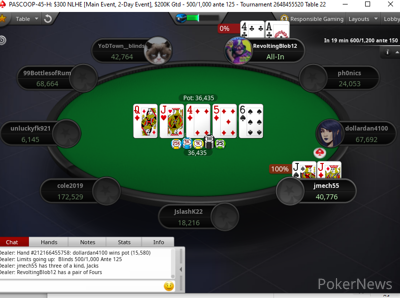 Action on the table folded around to "RevoltingBlob12" who moved all in for 17,155 from the hijack and was called by "jmech55" from the small blind.
"jmech55":

"RevoltingBlob12":
"jmech55" was ahead and improved with the
flop.
The
turn left "RevoltingBlob12" drawing dead and they were eliminated after the
completed the board on the river.
Level:

14
Blinds:

500/1,000
Ante:

125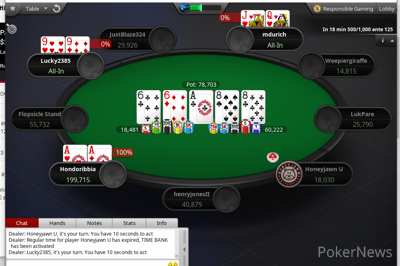 "Lucky2385" limped in from early position and "mdurich" raised all in for 5,727. Action folded around to "Hondoribbia" who called from the big blind and "Lucky2385" three-bet jammed for 23,385, "Hondoribbia".
"mdurich":

"Lucky2385":

"Hondoribbia":
"Hondoribbia" held the weapons of mass destruction and the
flop left both opponents drawing dead.
The
turn didn't change a thing and the
river gave "Hondoribbia" a better full house as they eliminated both opponents.
| | | | | | |
| --- | --- | --- | --- | --- | --- |
| Hondoribbia | | | | 278,418 | |
| cole2019 | | | | 135,904 | 5,433 |
| CaughtCorona | | | | 131,809 | 34,820 |
| unib777 | | | | 120,666 | 70,802 |
| Rarely Wins PA | | | | 113,969 | |
| 1455ar | | | | 111,993 | |
| jetlifejoby | | | | 109,134 | |
| R1chard0nYoFace | | | | 108,053 | |
| daytonflyer87 | | | | 106,353 | |
| staxthagawd | | | | 104,824 | |
Level:

13
Blinds:

400/800
Ante:

100