Main Event
Day 3 Completed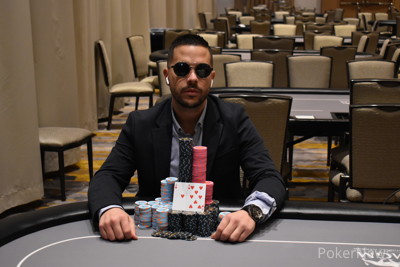 The 2019 Potomac Poker Open $3,300 Main Event, a tournament that attracted 348 entries to MGM National Harbor, reached its conclusion after eight hours of play on the final day. Emerging as the champion was well-known poker Farid Jattin, who took home a grand prize of $247,950.
The native of Colombia, who now calls Miami home, has had several big scores in his illustrious poker career. This Potomac Poker Open win will edge out four other results over $230,000 for the second-largest live cash of his career, ranking only behind the $746,000 he scored in January of this year when he placed seventh in the $25K PSPC.
He knew that his resume spoke for itself and that he had the advantage when it came to big-money pay-jump poker.
"Honestly, I felt like I was the most experienced player in the field by a lot," Jattin told PokerNews following his win. "I figured I could put a lot of pressure on these guys. I'm used to playing these kinds of pay jumps and I'm not sure if these guys really are. Overall, I felt really comfortable, more comfortable than the rest."
When asked how the win stacked up with others, Jattin said that he didn't even know about the event before, let alone plan to play it, but a win is a win.
"It's always special to get a win, especially outright with no chop," he said. "I came here for vacation with my friend and I didn't even know about this tournament, but when I heard about it I thought, ok I can't miss it."
He went on to discuss it being an overall good week in poker for him beyond his own success: "It's been a very great week. I am very good friends with Bryn Kenney and he won the £1 million over there in London, so it's been an amazing run."
Final Table Results
| Place | Player | Prize |
| --- | --- | --- |
| 1 | Farid Jattin | $247,950 |
| 2 | Rajasekar Govindan | $148,248 |
| 3 | Jimmy Chen | $107,532 |
| 4 | Dustin Semonavick | $78,300 |
| 5 | Jordan Fisch | $60,030 |
| 6 | Phil Vera | $46,458 |
| 7 | Ian O'Hara | $35,496 |
| 8 | Al Mottur | $28,188 |
| 9 | Damon Sita | $20,880 |
Action of the Day
The final day of the 2019 PPO Main Event began with 13 players. The vast majority of the chips were on one table where Jattin began to build his stack, taking a good amount from the start-of-day chip leader Jimmy Chen.
Play started off tentative as it took over two hours for the first elimination to happen when Rich Weinhold was taken out in 13th place. A few more would follow after including Yaser Al-Keliddar getting slayed in 10th by a backdoor flush after his ace-king had taken the lead against jacks with an ace on the flop.
Jattin took the chip lead into the final table and stayed on top as players were eliminated steadily before the dinner break. After the break, things began to rev up in intensity during four-handed play. Jattin's large chip lead was challenged by Rajasekar Govindar who began to take multiple pots in a row from Jattin, including showing a couple of bluffs. He eventually rode that momentum to the chip lead.
When asked about that bump in the road Jattin said, "I just laid back. Sometimes you hit a bad run of cards, a bad run of situations so I said, ok I'll let him enjoy his run, and once I won a couple of pots it was pretty much over from there and once it got three-handed I pretty much ran it over."
Four-handed play became three-handed when University of Maryland Assistant Athletic Director of Football Communications Dustin Semanovick was eliminated in fourth place.
Meanwhile, a supportive group of local MGM National Harbor poker players, including 11th-place finisher Kevin Kwak, began to rail for their two surviving local players, Chen and Govindan, against the experienced Jattin. They were hoping their support would bring another local victory as it did in the Opening Event when they supported local Laura Moore to the victory.
Chen, who according to his peers at MGM is one of the best cash game players in the area and is the best player nobody knows about due to the fact that he only plays a handful of tournaments per year, was eventually vanquished in third place by Jattin.
Govindan was soon to follow as Jattin went into heads-up play with an overwhelming chip lead. It took just one hand for things to pan out when Jattin's ace-eight held against jack-three to deliver him the title.
The 2019 Potomac Poker Open (PPO) wraps up after a great two weeks of poker that included players from all over the MD/VA/DC area as well as many who traveled in to play.
PokerNews hopes that you enjoyed the coverage of all of the action. For a look at future poker events at MGM National Harbor, visit mgmnationalharbor.mgmresorts.com.
Farid Jattin is the Main Event Champion. Full Recap coming soon.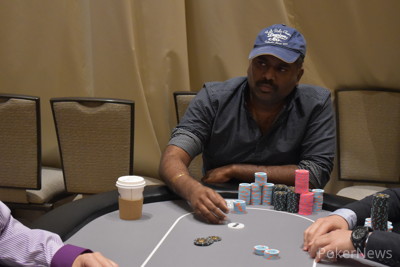 All it took was one hand of heads-up play for a winner to emerge.
Rajasekar Govindan was all in with the
and behind the
of Farid Jattin.
The board ran out
and just like that Govindan was eliminated in second place for $148,248.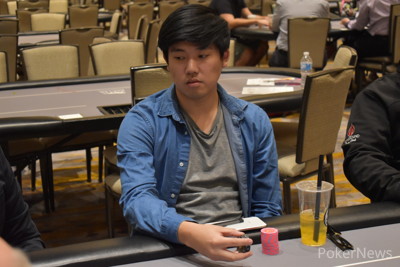 Jimmy Chen moved all in from the button and Farid Jattin snap-called in the big blind.
Jimmy Chen:

Farid Jattin:
The board gave Jattin an immediate set as it came
. The turn was the
and the river came the
to eliminate Chen in third place.
The rail applauded Chen's effort as the hometown favorite walked away with a great six-figure score.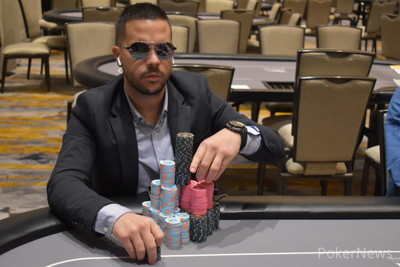 Three-way action was picked up on the flop of
.
Out of the small blind, Rajasekar Govindan bet 375,000 which was called by Farid Jattin from the big blind while Jimmy Chen folded. The turn was the
and Govindan made a down-sized bet of 150,000 which Jattin raised to 700,000. Govindan thought a moment and called.
The river came the
. Govindan fired again with a bet of 500,000, and Jattin snap-called by tossing one chip into the middle.
Govindan turned over the
while Jattin showed the winner with the
to take down the big pot.
Player
Chips
Progress

Farid Jattin

11,600,000

2,800,000

Jimmy Chen

3,350,000

-850,000

Rajasekar Govindan

2,700,000

-1,700,000
Player
Chips
Progress

Farid Jattin

8,800,000

1,150,000

Rajasekar Govindan

4,400,000

-850,000

Jimmy Chen

4,200,000

100,000
From the button Dustin Semonavick raised to 350,000, Farid Jattin shoved all in from the big blind, and Semonavick considered it for several moments before calling off.
Dustin Semonavick:

Farid Jattin:
The flop sent Jattin into the lead as it came
to pair his nine. The turn was the
and the river was the
to end Semonavick's tournament run in fourth place.
Level: 28
Blinds: 600,000/120,000
Ante: 120,000
Action was picked up at the conclusion of the hand as Jimmy Chen had
showing on a board of
, which bested the
of Govindan.