Wild Pot Sees Tanimoto Top 100k

Level 4 : Blinds 300/500, 500 ante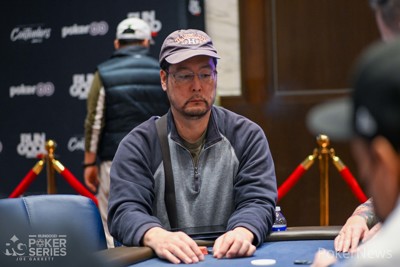 Maybe the most exciting pot of the day just took place as three players were all in and a fourth made a disciplined fold to keep his tournament alive.
Preflop, David Ong raised to 2,200 in early position and was called by Arthur Tanimoto in middle position, Conrad Bowman in the cutoff, and Mark Egbert in the small blind.
The flop came
and Egbert moved in for just under 16,000. Ong made the call, but then Tanimoto moved over top all-in for just under 40,000.
Bowman went into the tank before moving all-in as well for slightly more.
Seeing all the action behind his original jam, Egbert actually left the table and had to be called back by the floor staff who threatened to kill his hand.
He returned to see Ong now in the blender with the two further all-ins behind his original call.
With no further action possible, Ong folded
face up to save his last 17,500 chips, which proved to be a wise decision as the hands were revealed.
Mark Egbert:

Conrad Bowman:

Arthur Tanimoto:
Tanimoto's set of eights was ahead versus a pair of flush draws, with Egbert only drawing live to a straight flush.
The dealer completed the board with the
on the turn and the
on the river to send the huge pot to Tanimoto, while Egbert was instantly eliminated and Bowman was sent packing shortly after as the was left with crumbs.