'I Still Can't Believe It'; Anne Bui Wins RGPS Graton Main Event ($87,425)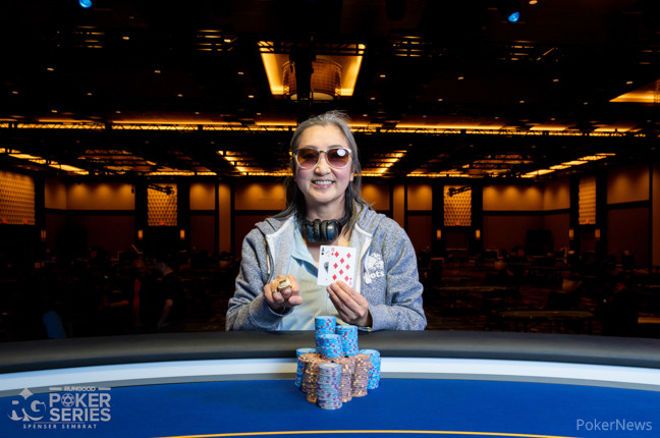 Table Of Contents
The latest stop on the RunGood Poker Series (RGPS) Road Trip has come to a close at Graton Casino in Rohnert Park, California. The $800 Main Event saw a total of 837 entrants creating a massive prize pool of $585,900, ensuring that 105 players would see a piece of that money. From a returning field of 105 to just one player after 12 hours of play.
Two players remained at the tournament's close and after a deal was struck, Joe Nguyen finished in second place to Anne Bui who took home her first RGPS main event title, and a career-best score of $87,425.
"I can't believe it," the newly crowned champion said with a smile beaming across her face. "I still can't believe it, my first ever win. It was a lot of fun, everyone played great, and I got lucky."
Just weeks after a runner-up finish in the WSOPC here at Graton, Bui claimed not only her biggest lifetime score but her first listed win on Hendon Mob. The Bay Area regular had $184,459 in lifetime earnings prior to this final table, now adding a hefty sum to that total.
"I've been playing for a long time," Bui responded when talking about her experience in the game "I've never played professionally, but I liked mixed games and play a lot of Omaha." Bui also became the first female main event champion this season.
With this win, Bui also wins a seat to the Dream Seat invitational in Thunder Valley next month where she will have the chance to compete for a seat to the PokerGO freeroll. "How exciting! I'm really looking forward to it!"
Final Table Results
| Place | Name | Hometown | Prize |
| --- | --- | --- | --- |
| 1 | Anne Bui | San Jose, CA | $87,425 |
| 2 | Joe Nguyen | Sunnyvale, CA | $87,420 |
| 3 | Terrance Reid | Pocatello, ID | $46,600 |
| 4 | Scott Hess | San Francisco, CA | $34,745 |
| 5 | Anthony Li | San Francisco, CA | $26,425 |
| 6 | Alonso Lau | San Francisco, CA | $21,020 |
| 7 | Richard Troendly | Reno, NV | $17,395 |
| 8 | Khanh Duy Tran | San Jose, CA | $13,835 |
| 9 | Christopher Marcus | Vallejo, CA | $10,370 |
Final Day Action
Action began fast and furious as players found themselves out of the tournament earlier than they had initially hoped. Brittney Stout (102nd-$1,160) and David Prociak (101st-$1,160) found themselves out in short order, while others like Kasey Mills (70th-$1,700), Craig Carillo (51st-$2,070), and Jeff Beachy (43rd-$2,330) all were eliminated throughout the course of the day. John Koo (34th-$2,685) ended up eliminated from this tournament, only to go on to win the Turbo Event, to win his second ring of the series.
As the eliminations kept on coming and players like Sean Burson (27th-$3,210), Jasthi Kumar (21st-$4,590), Reggie Pears (18th-$5,580), and Paul Chai (11th-$8,505), the grounds for the final table were being set. The final elimination prior to the final table would see Can Chen call off for his last chips when he rivered a wheel, only to find that Scott Hess had rivered a seven-high straight. The pot sent Hess into the massive chip lead, while Chen exited the tournament in 10th for $10,370.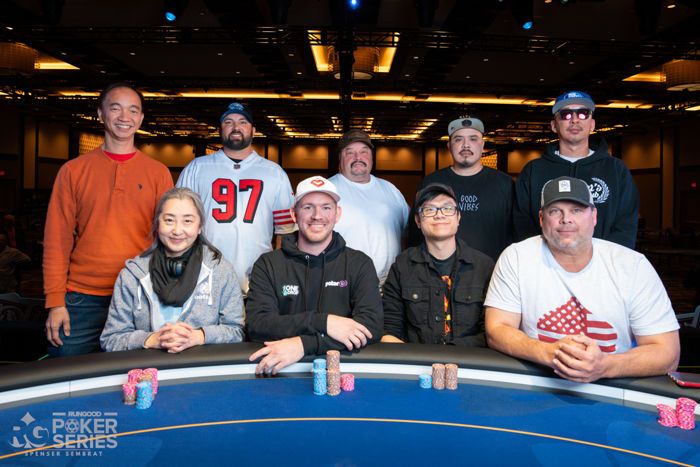 Final Table Action
A significant amount of time had passed before any eliminations occurred at the final table. Super short stack Alonso Lau doubled up through Hess three times and Christopher Marcus doubled through him once, to leave the table joking about how nobody ever gets eliminated at the final table. Somebody did go eventually as Marcus moved in his final chips with king-queen off against a raise from Anne Bui who held ace-jack off and she called to put him at risk. Despite flopping a flush draw, Bui's hand held up for the elimination and Marcus collected $10,370 for his ninth place finish.
Eighth place followed not long after as Khanh Duy Tran moved in his final chips with ace-ten offsuit against Terrance Reid's raise. Reid called him with pocket sixes and they held up on the runout to give Reid the chip lead while Tran collected $13,835 for his efforts.
Richard Troendly ended up getting a quadruple up earlier in the final table, but as the blinds went up he once more found himself on the shortest stack at the table. He moved in his final chips with eight-seven which saw Hess call with pocket sixes. Hess flopped a six and faded the straight draw to bring him back the chip lead, while Troendly ended his run in seventh place for $17,395.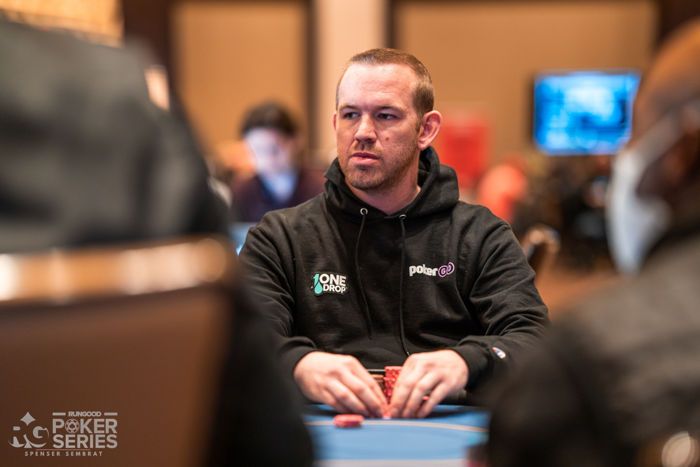 Lau had started the final table with two big blinds, but had managed to spin and stay alive through multiple payjumps. His second to last hand he moved in ace-queen against Anthony Li's pocket nines and the nines held up to see Li double and Lau fall to the short stack. The very next hand Lau got in pocket kings against Reid's queen-jack and Joe Nguyen's queen-two, but the runout gave Nguyen two pair and the pot while Lau's good run ended in sixth place for $21,020.
Li and Hess began to do battle as the five final players sat all very even in chips. The first confrontation went Li's way as he doubled holding ace-king against Hess' pocket tens. The second one went Hess' way as both players got their chips in on a ten-high board, with Hess holding an ace-kicker to double up through Li. Now down to the short stack, Li moved in his final chips from the button with queen-six, while Nguyen called him with pocket nines to hold and send Li out in fifth place for a score worth $26,425.
After losing a pot to Bui, Hess fell to the short stack along with Reid while Nguyen and Bui led the final four players. It would be Hess who was eliminated in fourth when he moved in his final chips with ace-five against Nguyen's pocket sixes. A six on the flop would spell the end for Hess and he exited greeted by his extremely enthusiastic rail, no doubt excited for his deep run worth $34,745.
After securing his best career score, Reid called off his final chips with king-three against Bui's ace-eight. The board would possess no help for Reid and he became the final casualty of the night, finishing in third place for a prize worth $46,600.
Bui and Nguyen started talking immediately about a deal and they eventually settled on one. They would do a near-even chop, which would see Nguyen take home $87,420 for second place, and Bui would take home $87,425 and the trophy as she held the lead going into heads-up play.
Be sure to check back in for the next two RunGood Poker Series Road Trip stops at JACK Casino in Cleveland and Horseshoe Casino in Tunica on November 9th-12th, both with live coverage from the PokerNews team.
RGPS Graton Side Event Winners
| Event | Entries | Prize Pool | Winner | Prize |
| --- | --- | --- | --- | --- |
| Event #1: $200 Single Day | 193 | $29,915 | John Koo | $7,420 |
| Event #2: $400 Opener | 913 | $301,290 | David Eckman | $51,900 |
| Event #3: $400 Black Chip Bounty | 190 | $24,700 | Clinton Highshoe | $11,075 |
| Event #4: $300 PLO Mix | 62 | $16,660 | Kenneth Po | $5,275 |
| Event #5: $400 Tag Team | 34 | $11,220 | Brett Hildebrand-Tracy Rogers | $4,595 |
| Event #6: $1,100 NLH | 62 | $60,760 | Jasthi Kumar | $21,875 |
| Event #7: $300 S8/O8 | 41 | $29,925 | Aaron Henderson | $3,920 |