RGPS Jamul Casino $575 Main Event
Day 1b Completed
| | | | | | |
| --- | --- | --- | --- | --- | --- |
| Eric Brannon | | | | 236,000 | |
| Ronald Oeding | | | | 195,000 | |
| Yary Hing | | | | 195,000 | |
| Harold Singleton | | | | 189,000 | 34,000 |
| John Stanley | | | | 161,500 | |
| Axel Gonzalez | | | | 141,000 | -9,000 |
| Tony Galanti | | | | 121,000 | 6,000 |
| Steve Sharp | | | | 119,000 | -6,000 |
| Nate Schenz | | | | 118,500 | 33,500 |
| Alexander Green | | | | 116,500 | |
| Marcus Tapia | | | | 113,000 | |
| Connor Lippincott | | | | 94,500 | 19,500 |
| Tamer Korman | | | | 94,000 | |
| Gary Bousquet | | | | 92,500 | |
| Moe Homayounied | | | | 90,500 | |
| Scott Denis | | | | 87,000 | |
| Michael Knight | | | | 86,000 | |
| Noam Fliegelman | | | | 83,500 | |
| Jason Cohen | | | | 78,500 | 74,000 |
| Wes Tucker | | | | 78,000 | |
| Keith Morgan | | | | 77,000 | |
| Tai Reyes Purpero | | | | 73,000 | |
| Mark Cincotta | | | | 72,500 | -27,500 |
| Thomas Woodard | | | | 69,000 | |
| Rip Fritzer | | | | 63,500 | |
The Day 1b flight is done; Day 1c will begin at 7 p.m. local time.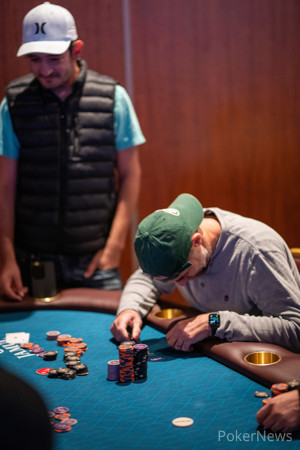 A middle position player opened to 7,500, Axel Gonzalez went all-in from the hijack, and David Tuchman re-shoved from the cutoff. All other players folded.
Axel Gonzalez:

David Tuchman:
Board:
The hand took Tuchman's stack down to around 35,000. On the following hand, Tuchman went all-in preflop with
, and got called by a player with a shorter stack in the big blind with
.
The board ran out
, taking Tuchman's stack down to 13,000 as Day 1b winds down.
| | | | | | |
| --- | --- | --- | --- | --- | --- |
| Axel Gonzalez | | | | 150,000 | 85,000 |
| David Tuchman | | | | 13,000 | -97,000 |
Harold Singleton is surging after knocking out an opponent.
Singleton cracked pocket kings with a straight on the river and is now sitting comfortably at around 155,000 with one level remaining before the end of the day.
The Day 1b flight has one more 30-minute level to play through before bagging for the night.
Day 1c begins at 7 p.m. local time. All surviving players from the trio of Day 1 flights advance to Day 2, which begins Sunday at noon local time.
Level:

12
Blinds:

1,500/2,500
Ante:

2,500
On a board of
, a player bet 6,000 and Axel Gonzalez shoved all in.
His opponent stood up, shook his head and made the call.
Gonzalez:

Opponent:
Both players had made a straight but Gonazlez had the best of it with the king-high straight.
| | | | | | |
| --- | --- | --- | --- | --- | --- |
| Axel Gonzalez | | | | 65,000 | 65,000 |
Level:

11
Blinds:

1,000/2,000
Ante:

2,000