Event #9: $800 NLH
Day: 2
Event #9: $800 NLH
Day 2 Completed

Level 29 : 200,000/400,000, 40,000 ante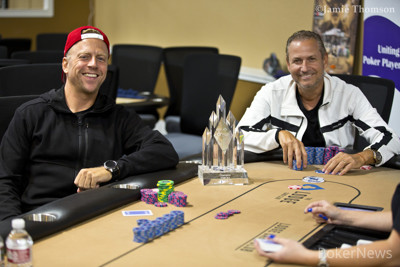 The ninth event of The Lodge Championship Series here in Round Rock, Texas has officially ended. A total of 1,116 players battled their way through six Day 1 flights in Event 9: $800 NLH $750,000 Guaranteed and 12% of each flight bagged for Day 2 before the survivors joined together today to decide a winner.
Day 2 started with 135 players with eyes on the $130,000 first place prize money. When short-stacked Collin Ball was eliminated in third place, the final two players began discussing a deal. Eric Afriat took home $100,000. With two-thirds of the chips in play, Alexis Meyer took home the largest portion of the prize pool with $113,367.
Event #9: $800 NLH Final Table Results
| | | | |
| --- | --- | --- | --- |
| Place | Player | Hometown | Prize |
| 1 | Alexis Meyer | Monterrey, Mexico | $113,367* |
| 2 | Eric Afriat | Miami Beach, FL | $100,000* |
| 3 | Collin Ball | Northlake, TX | $60,518 |
| 4 | James Calderaro | Englewood, FL | $46,221 |
| 5 | Kristen Foxen | Las Vegas, NV | $34,834 |
| 6 | Aden Salazar | Cleveland, TX | $26,482 |
| 7 | Nathan Hays | Kearney, NE | $20,425 |
| 8 | Evan Burrow | Lubbock, TX | $15,886 |
| 9 | Thomas McGaffigan | Austin, TX | $12,860 |
*denotes deal made at final table
Meyer rose impressively to the top of the leaderboard when he was responsible for the final table exits of both Aden Salazar in sixth place and Kristen Foxen in fifth place. Sitting in between Afriat and James Calderaro on the final table, Meyer remained calm and collected as he snagged most of the chips in play.
The final table featured two big personalities in Calderaro and Eric Afriat. Both players were chatting, laughing, and enjoying the moment. They're also both fans of quick play, and action moved fast and furious when they were involved in the hands.
"Can we get a shot clock for the final table," Calderaro asked multiple times, showing his fandom for acting quickly.
Collin Ball was the short stack once things got to the final four. He hung in there long enough to ladder up when Calderero was eliminated just before him. His friends were on the rail with him all evening and celebrated with him with every hand he won.
This event looked likely to have a big overlay after the first four Day 1 flights, but huge turnouts from the final two flights surpassed the guaranteed and brought the prize pool to $756,480. That was at least in part two the famous ownership group flexing their social media muscles to let the masses know.
Several notable players fell just short of the final table action. Andrew Ostapchenko was a chip leader for much of the day, but he fell off near the end and ended in 21st place. Michael Rossitto battled hard after coming into the day as one of the chip leaders, but made his exit in 27th. Also falling one spot short of the final table was Michael Wang. He lost a flip with Meyer near the end of the day and exited in 10th place while eventual winner took a big stack to the final table.
The main event will begin Thursday with its first flight starting at 11 a.m. PokerNews will be here for the entirety of the coverage, so join us here for all the action.
Level 29 : 200,000/400,000, 40,000 ante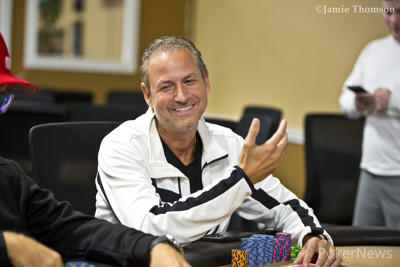 Alexis Meyer opened to 1 million from the button and was instantly met with a three-bet by Eric Afriat who made it 3 million to go. Meyer called to see the
flop. Afriat continued with a bet of 1 million and Meyer called.
The dealer burned and turned an
. Afriat reached into his stack and counted out a bet of 4 million. Meyer jammed over the top and Afriat snapped it off for his stack, having 7.4 million when fourth street action began.
Meyer tabled
for top pair but Afriat had better with his
. The dealer then flipped over the tournament ending
river, improving Meyer to the better two.
Afriat settled as runner-up, losing out on adding a new trophy to his collection but he still took home a respectable $100,000 for his efforts, eclipsing the $4 million mark in career earnings.

Level 29 : 200,000/400,000, 40,000 ante
Before heads-up play could begin, the two remaining players are discussing a deal. Details will be reported shortly.

Level 29 : 200,000/400,000, 40,000 ante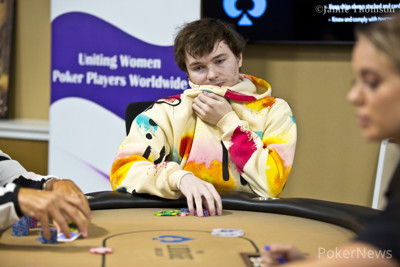 With Calderaro now gone, Ball had laddered up and was now the very short stacked compared with his two remaining opponents.
Eric Afriat raised to 800,000 from the small blind. Ball then raised all in from the big blind for a total of 1,875,000. Afriat quickly called for what amounted to just under five big blinds total.
Afriat tabled the
and Ball was at risk with his
. The flop and turn both came clean for Ball with
and
. However, the damaging final blow came when the
landed on the river and ended Ball's evening as him and his friends celebrated his deep run.
Level: 29
Blinds: 200,000/400,000
Ante: 40,000

Level 28 : 150,000/300,000, 30,000 ante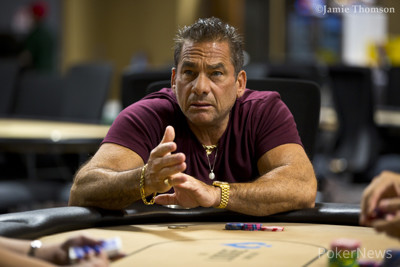 James Calderaro found himself sitting with about 5 big blinds as blinds had continued to rise late into the night.
He shoved all in from the small blind and was called by Alexis Meyer, the current big stack at the table.
Calderaro tabled
, but Meyer had him bested when he showed the
.
The board ran out
and Calderaro's night was over as he took home fourth-place prize money.
Player
Chips
Progress

Alexis Meyer

23,175,000

11,800,000

Eric Afriat

8,200,000

3,300,000

Collin Ball

2,100,000

-1,850,000

James Calderaro

Busted
Level 28 : 150,000/300,000, 30,000 ante
The players are now taking an unscheduled break.
Level 28 : 150,000/300,000, 30,000 ante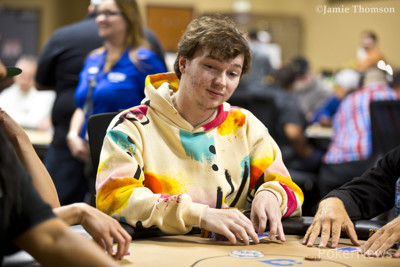 The action has slowed down during the four-handed portion of this event and both short stacks have bridged the gap. On the other side of things is Eric Afriat who has plummeted during the last level of play.
On the last hand, Afriat opened to 600,000 from the small blind, and Collin Ball shipped 1,875,000. Afriat called, attempting to drop ball from the field.
Collin Ball:

Eric Afriat:
The board rolled out
and Ball took a sigh of relief as he survived another runout for his life.
Player
Chips
Progress

Alexis Meyer

11,375,000

-3,625,000

Eric Afriat

4,900,000

-7,725,000

Collin Ball

3,950,000

1,350,000

James Calderaro

3,250,000

Level 28 : 150,000/300,000, 30,000 ante
Play continues on here at the final table with players trading blows over small pots back and forth. Ball and Calderaro hang on as short stacks trying to outlast each other for a pay jump of $14,297 from fourth to third place.
Player
Chips
Progress

Alexis Meyer

15,000,000

-950,000

Eric Afriat

12,625,000

3,075,000

James Calderaro

3,250,000

-1,400,000

Collin Ball

2,600,000

-650,000