MSPT Sycuan $1,110 Main Event
Days: 1a
MSPT Sycuan $1,110 Main Event
Day 1a Completed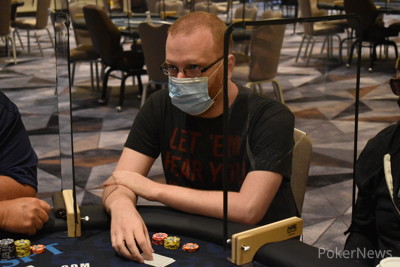 Day 1a of the MSPT Showdown Series $1,100 Main Event at San Diego's Sycuan Casino attracted 131 runners, but after a little over 14 levels of play the field was whittled down to the final 15 with three-time WSOP bracelet winner and MSPT JACK Cleveland champ Adam Friedman leading the way.
His monster stack of 816,000 is more than double that of Nic Getzen (322,000), his next-closest competitor. Others to bag were Jimmy Donuts (305,000), 2004 WSOP Main Event champ Greg Raymer (271,000), Adam Demersseman (188,000), and Minnesota's Tony Hartmann (106,000).
Among those to fire and fall on Day 1a were Nick Yunis, Alex Winter, Andrew Moreno, Hannah and Happy Spaulding, Brad Sailor, WSOP bracelet winner Ben Moon, MSPT champs Chad Bjorkman, Ken Baime, and Rich Alsup.
There are still two more starting flights to be had with Day 1b and 1c taking place at 3 p.m. on Friday and Saturday respectively. PokerNews will be on hand to capture all the action, so be sure to join us then.
The day was scheduled to play either 15 levels or down to 12 percent of the field, whichever hit first. As it turned out, the latter did with 30 minutes remaining in Level 15.
Player
Chips
Progress

Adam Friedman

816,000

116,000

Nic Getzen

322,000

322,000

Jimmy Donuts

305,000

25,000

Haiau Han

284,000

Greg Raymer

271,000

16,000

Adam Demersseman

188,000

-22,000

Brendan Shiller

181,000

-69,000

Andrew Jenkins

159,000

59,000

Cobi Vu

156,000

156,000

Jason Fitzpatrick

152,000

152,000

Michael Salazar

116,000

41,000

Tony Hartmann

106,000

106,000

Gabe Paul

88,000

5,000

David Icke

50,000

50,000

Kevin Lee

42,000

42,000
Greg Raymer opened for 10,000 from the cutoff and Adrian Lopez three-bet all in for 20,000 from the small blind. Haiau Han then jammed over the top from the big and Raymer got out of the way.
Haiau Han:

Adrian Lopez:
The board ran out
and that was all she wrote for Lopez.
Gabe Paul got his stack of 40,000 all in preflop and was at-risk against Adrian Lopez.
Adrian Lopez:

Gabe Paul:
Paul had the best of it and shipped the double after the board ran out
. Meanwhile, Lopez was left with just 20,000.
Level: 15
Blinds: 3,000/5,000
Ante: 5,000
Adam Friedman raised the button to 9,000 and the player in the small blind called. The big got out of the way and it was heads-up action to the
flop.
The player in the small blind opted to pile for around 70,000 and Friedman wasted little time in making the call.
Adam Friedman:

Small Blind:
Friedman had flopped top set and that left the player in the small blind calling for a five to make a wheel. That was rendered a moot point when the
turn paired the board and improved Friedman to an unbeatable full house.
The meaningless
was run out on the river and Friedman pulled in the pot.
A short-stacked player was all in preflop for their last 46,000 and looking to survive against Brendan Shiller.
Brendan Shiller:

Opponent:
Shiller was behind but with two live cards, one of which he paired on the
flop. Neither the
turn nor
river changed a thing and Shiller scored a late-night knockout.
Meanwhile, Laurette Thurber was eliminated from the tournament.
Level: 14
Blinds: 2,000/4,000
Ante: 4,000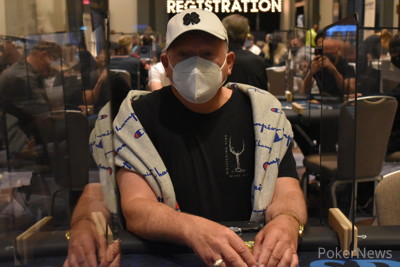 Jimmy Donuts raised the button to 8,000 and both Greg Raymer and Marty Gorenc called from the small and big blinds respectively.
Two checks on the
flop saw Donuts continue for 7,000 and both his opponents called to see the
turn.
Two more checks saw Donuts toss out another bet, Raymer folded, and Gorenc check-jammed all in for approximately 60,000. Donuts snap-called and Gorenc discovered the bad news.
Jimmy Donuts:

Marty Gorenc:
Both players had two pair but the aces and tens of donuts was best. The
river was no help to Gorenc and he headed for the exit.