MSPT Poker Bowl V Main Event
Day: 2
MSPT Poker Bowl V Main Event
Day 2 Completed
Level 34 : 150,000/300,000, 300,000 ante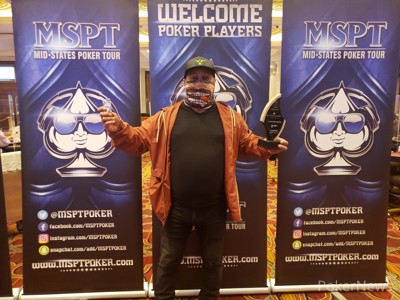 For the fifth time in five runnings, the Mid-States Poker Tour Poker Bowl at Venetian ended in a deal. This time around, the final four players chopped up the remaining money after a marathon 15-plus hour day.
Foremost among the dealmakers was Johnny Oshana, who banked $130,000, about three-quarters of the original top payout. Not too far behind was Jordan Cristos, who earned $119,232. Short stacks who had near-identical chip counts, Seungmook Jung and Joris Springael, each got $85,000, a small bump over their ICM numbers.
Those four emerged from a field of 908 total entries, of which 116 made the final day.
"Feels great," said Oshana, who hails from San Jose and had about $21K in live cashes according to The Hendon Mob.
The mechanical engineer who usually plays weekend tournaments at Bay 101 said his main plan for the money is to pay off his son's car.
Official Final Table Results
| Place | Player | Hometown | Prize |
| --- | --- | --- | --- |
| 1 | Johnny Oshana | San Jose, California | $130,000* |
| 2 | Jordan Cristos | Las Vegas, Nevada | $119,232* |
| 3 | Joris Springael | Glendale, Arizona | $85,000* |
| 4 | Seungmook Jung | N/A, South Korea | $85,000* |
| 5 | Brandon Eisen | Las Vegas, Nevada | $34,350 |
| 6 | Quy Dao | San Jose, California | $26,423 |
| 7 | Kfir Nahum | Henderson, Nevada | $20,257 |
| 8 | Erik Cajelais | Montreal, Canada | $14,092 |
*reflects four-way deal
Quite a few recognizable names made deep runs in the tournament, but many of them fell just a bit before the final table. Ryan Riess, Asher Conniff, Adam Hendrix, Javier Zarco and Sean Yu all made the three-table redraw but busted out before the final eight.
There was a stalemate with 16 left that lasted more than an hour before a furious run of busts saw the final table take shape with Oshana well clear of all of his rivals. Only Springael was within striking distance. Oshana had run hot early in the day with kings over aces to bust Tim Reilly in a huge pot and he kept the pressure on with his big stack after that.
Swingy Finish
However, the final table proved to be a pretty wild affair that Oshana couldn't tame with sheer aggression.
Things went fine for him at first. After Erik Cajelais busted in eighth, Poker Bowl III champ Kfir Nahum sent Oshana all but his last few chips in a bizarre hand that saw the players check down rather than getting the last blind in.
Several times after that, Oshana was caught on big bluffs. Springael in particular seemed to have his number, and Oshana sank to the short stack.
"I guess I got caught up in the moment," Oshana admitted. "After that, I had to rethink it and start playing smart."
Springael couldn't maintain dominance either, as Brandon Eisen trapped him with a turned straight and doubled through him by cracking his aces. Eisen had the lead six-handed, but in typical fashion for this final table, he wound up busting in fifth after losing three all-in pots in a row.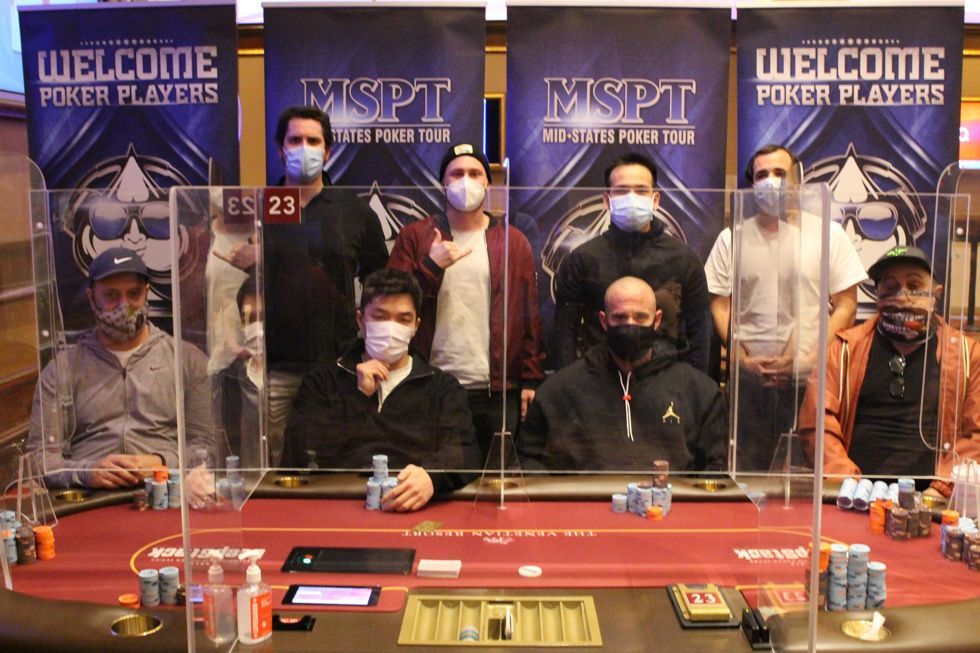 Stalemate then a Deal
They played four-handed for an hour but after a final break, someone suggested they look at the numbers. Everyone seemed amenable, but deal negotiations were anything but smooth.
The tournament staff came back with chip chop numbers, which weren't even close to good enough for Jung. Cristos pulled up ICM, which had Jung taking home around $81K, but he said he wasn't taking a cent less than $85K and would prefer play on.
Cristos played the role of a chief negotiator as he attempted to balance everyone's desires. In the end, some money came off of his ICM number. Jung got his $85K with Springael getting an equal payout that also bumped his ICM number slightly.
Given how short stacks were — only about 70 blinds remained between the four players — Oshana said afterward he was happy to make the deal.
"At this point, it's anybody's game," he said.
That does it for the MSPT Poker Bowl V at The Venetian Las Vegas. Players now have the opportunity to enjoy Sunday's Super Bowl LV between the Kansas City Chiefs and Tampa Bay Buccaneers.
Level 34 : 150,000/300,000, 300,000 ante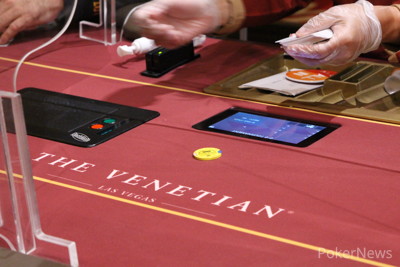 The players have agreed to a deal that sees the two short stacks take home $85,000. Jordan Cristos, the second stack, gets $119,232, and the winner will be Johnny Oshana, who secured $130,000.
PokerNews will have a full recap up shortly.
Level 34 : 150,000/300,000, 300,000 ante
The players have agreed to talk about a possible deal.
Level: 34
Blinds: 150,000/300,000
Ante: 300,000
Level 33 : 125,000/250,000, 250,000 ante
Player
Chips
Progress

Johnny Oshana

9,575,000

275,000

Jordan Cristos

8,125,000

1,600,000

Joris Springael

2,650,000

-1,175,000

Seungmook Jung

2,450,000

-650,000
Level 33 : 125,000/250,000, 250,000 ante
Jordan Cristos shoved in the small blind and Joris Springael called.
Springael:

Cristos:
Springael flopped well on
and turned Cristos dead. He collected 3,825,000.
Level 33 : 125,000/250,000, 250,000 ante
Joris Springael jammed in the small blind and Seungmook Jung shrugged and called for about 1.5 million with
. He was ahead of
.
The
board was safe for Jung.
Level 33 : 125,000/250,000, 250,000 ante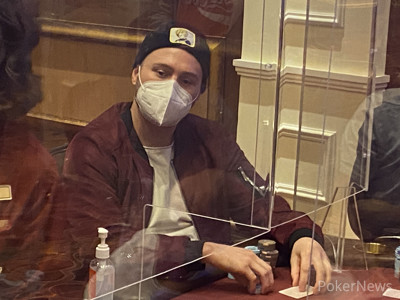 Jordan Cristos jammed on the button covering both blinds. Brandon Eisen tanked awhile then called for around 2.5 million. Joris Springael seemed to have a tough decision but eventually folded the big blind.
Eisen:

Cristos:
The
left Eisen with only a missed flush draw.
Level 33 : 125,000/250,000, 250,000 ante
Brandon Eisen opened under the gun for 600,000 and Joris Springael shoved for 1,650,000 on his left.
Springael:

Eisen:
The
board favored Springael.