MSPT Poker Bowl V Main Event
Day: 1b
MSPT Poker Bowl V Main Event
Day 1b Completed
Level 15 : 2,000/4,000, 4,000 ante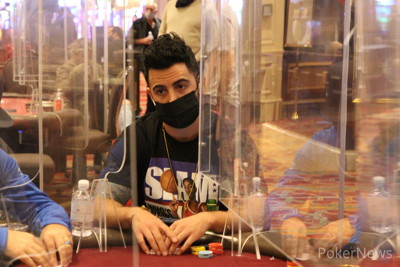 Another 15-level day of poker has ended at Mid-States Poker Tour Poker Bowl V, and while the prize pool didn't quite reach seven figures, there's still going to be a handsome sum to play for on Day 2 as 496 more entries combined with the 412 on Day 1a to make for 908 overall. That means the $350K has been left in the dust as the prize pool approaches $900K.
About 70 of the Day 1b entries punched tickets for Day 2, and it proved to be a fairly close and crowded bunch atop the counts. At least eight players bagged between 249,000 and 343,000, the latter count appearing to lead the group.
That number belonged to Trung Le, who scored a late bustout with ace-king over ace-six to edge past his competition.
Meanwhile, two of the more successful players in MSPT history ranked among those top stacks: Aaron Massey (295,500) and Mike Shin (268,500). Each has four final tables and a victory on the tour, with Shin also taking home Player of the Year honors in 2019.
Other notables bagging included Adam Hendrix, Joseph Hebert, Tim Reilly and Jordan Cristos, the latter having gotten under the skin of more than a few tablemates late in the day with his trademark lack of haste. Floor calls for a clock became commonplace by the night's end, but Cristos wouldn't be troubled into giving up his chips after securing a big stack early and riding it throughout the day.
Roughly 115 players will be back for Day 2, and the prize pool should be available early on in the day with the bubble expected to come up early given that only about 13% of the field remain. PokerNews will be on hand to bring live updates starting from 11 a.m. local time.
Level 15 : 2,000/4,000, 4,000 ante
Player
Chips
Progress

Dominique Terzian

488,500

488,500

Johnny Oshana

379,500

379,500

Trung Le

343,000

23,000

Cy Church

334,500

334,500

Michael Dichiaro

320,500

320,500

Brian Heeb

315,000

Eric Worre

303,000

303,000

Aaron Massey

295,500

59,500

Daniel Sepiol

275,000

165,000

Mike Shin

268,500

38,500

Luis Yepez

267,000

267,000

Joe Reddick

264,500

Steve Wilkie

260,500

35,500

Karo Galstyan

258,000

258,000

Bryant Miller

249,500

37,000

Judith Bielan

245,000

245,000

George Petrov

244,500

244,500

David Brownworth

235,000

95,000

Ronnie Abro

234,000

234,000

Saad Ghanem

231,000

231,000

Kyle Goodman

230,500

-19,500

Seungmook Jung

224,000

224,000

David Somers

211,000

211,000

Fernando Rodriguez-Vazquez

210,000

210,000

Greg Geller

207,000

-43,000
Level 15 : 2,000/4,000, 4,000 ante
Trung Le raised early and called a shove worth 77,000 from the big blind.
Le:

Big blind:
Le was in a dominating spot and the sweat was short as he flopped a king and sealed it on a brick turn.
Player
Chips
Progress

Trung Le

320,000

69,000
Level 15 : 2,000/4,000, 4,000 ante
Each table will deal six more hands then bag for the night.
Level 15 : 2,000/4,000, 4,000 ante
A player in the cutoff stuck his last 36,000 in. Jordan Cristos tanked until the clock was called then folded on the button, and Joseph Hebert instantly called in the small blind.
Hebert:

Cutoff:
Hebert paired up on the
flop but that didn't help him as he was now against a set. No more spades emerged so he sent over a double.
Level 15 : 2,000/4,000, 4,000 ante
Stephen Foutty bluffed off a chunk and then was down to about 55,000. He shoved that in from the small blind and was called by an early opener who showed down
.
"I've got one over," Foutty said, turning up
.
He bricked the
but hit a few outs on the
turn. The
river missed him, though.
Level 15 : 2,000/4,000, 4,000 ante
The pace of play has slowed all around the room as the end of the night approaches, but it has become especially slow at the table in the far corner of the room housing Jordan Cristos. The players at the table have become quite disgruntled, with the clock being called several times on preflop decisions recently. Each time, Cristos mucked shortly after being told he had 30 seconds.
Joseph Hebert clarified with the supervisor how soon he can call the clock and was told 30 seconds.
Level 15 : 2,000/4,000, 4,000 ante
Player
Chips
Progress

Brian Heeb

315,000

-55,000

Greg Geller

250,000

-60,000

Kyle Goodman

250,000

5,000

Aaron Massey

236,000

46,000

Mike Shin

230,000

-30,000

Steve Wilkie

225,000

-115,000

Bryant Miller

212,500

152,500

Joseph Hebert

165,000

Kane Lai

150,000

65,000

Tim Reilly

65,000

-89,000
Level: 15
Blinds: 2,000/4,000
Ante: 4,000