Main Event
Day 1b Completed
Level 10 : 600/1,200, 200 ante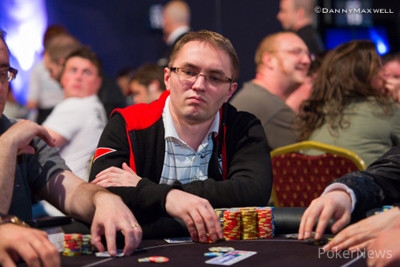 After just 231 players turned up for Day 1A of the UKIPT here in Galway, all eyes were on the board as to what the final number would be for Day 1B. There was a €1 million guarantee meaning that 769 players were needed otherwise there would be an overlay. Even the most optimistic among those in charge of the UKIPT probably did not believe that number of people would make it to Galway for the second start day. After giving people the chance to register up to the end of the dinner break, the final number was 629 meaning a total of 860 players for the first ever Full-Tilt-Poker-run UKIPT event. An overlay of €140,000 will no doubt prove painful though.
After ten levels of action, Damian Porebski was the chip leader for the Day 1B field with 205,200 – a substantial sum but it also serves to indicate how huge Alan Gold's lead was from Day 1A. The latter finished with over 270,000 from a field that had over 400 less runners! Nevertheless, Porebski will be going into Day 2 in second place. Also doing well was Tim Slater who finished today with 187,500 – thanks in huge part to a double elimination hand late in the day.
With over 400 more players than Day 1A, the poker room was absolutely full with a queue quickly gathering as the day started. No doubt the car park across the road was equally busy as a public service announcement late in the day reminded one patron to move his car as it was about to be towed away. Among those playing the second start day were Full Tilt Ambassadors Sin Melin and Dermot Blain as well as the myth wrapped in an enigma that is Full Tilt Professional Viktor "Isildur1" Blom. Unfortunately, none of the three managed to make it into Day 2 – Blain lasted the longest before he was crippled and eliminated in the last level of the day. Melin meanwhile was eliminated fairly early on while Blom ran jacks into kings just after dinner.
Some peoples' days were incredibly short like that of double-UKIPT winner Nick Abou Risk, who managed to bluff his stack into a straight flush while High Roller fourth-place finish Chris Day ran ace-king into aces preflop and admitted with hindsight he could've taken it a bit slower. Former EPT winner Roberto Romanello was another who had a short day. There were cameos from many of the original players from UK's Channel 4 ground-breaking poker show Late Night Poker, including Liam Flood, Simon Trumper and Dave 'Devilfish' Ulliott though only Flood would make it through the day – he was helped early on when he flopped trips against top two pair and then rivered quads for a full double up.
Others who did make it through included Team PokerStars Pro Jake Cody who managed to come back from losing half his stack to finish the day with 98,700. Team PokerStars Online's Dale Philips finished with 83,200 while the winner of the Irish Poker Championships Trevor Dinneen continued his good run by ending the day with 166,600.
Tomorrow, the remaining players will be combining with Day 1A's survivors as they continue to play through the tournament. A total of 104 places will be paid with €2,180 for 104th while the winner will take home a huge €205,600. We'll be restarting again at 12 p.m. local time and the PokerNews Live Reporting Team will bring you all the details of the goings on in Galway from the first shuffle to the last river. Don't forget that as an added bonus, we'll also be covering the €10,000 Super High Roller – that event will be starting at 2 p.m. local time.
We'll have officials counts for all the players after a bit, but for now here are some counts as taken off players' bags.
Player
Chips
Progress

Damian Porebski

205,200

-12,700

Tim Slater

187,500

39,700

Rade Jovanovski

170,200

58,200

Trevor Dinneen

166,600

Benjamin Spragg

156,000

57,700

Gary Fields

128,000

David Docherty

121,100

Niall Farrell

116,200

-19,300

Daniel Tighe

114,500

23,500

Peter Evans

113,500

Thomas Mcalister

113,000

David Gutierrez

100,100

Tom Willoughby

99,700

8,700

Jake Cody

98,700

38,700

Dale Philip

83,200

Marcin Milde

63,700

Padraig Parkinson

44,100

-15,200
Level 10 : 600/1,200, 200 ante
We're now playing the last three hands of the evening.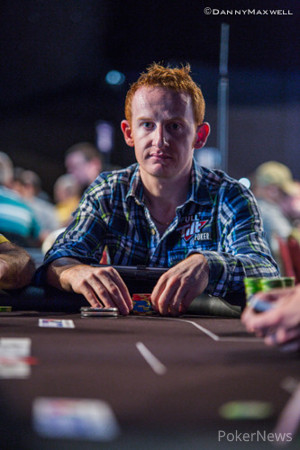 On Day 1a, Full Tilt Poker Ambassadors Martins Adeniya and Ben Jenkins fell. Today, the other two ambassadors — Dermot Blain and Sinem Melin — took their shot at poker glory.
Melin feel quite early here on Day 1b, which meant Blain was the last FTP Ambassador standing. Blain, who finished third in the High Roller yesterday, gave it his best, but he has fallen in the last level of the night.
It happened when he pushed his short stack of 4,700 in from middle position and received a call from the player in the hijack. Luke Grant then three-bet to 13,300 from the small blind and forced the hijack out of the hand.
Grant:

Blain:
Blain seemed to know his time was up, and sure enough the board ran out
to send the Irishman to the rail
Player
Chips
Progress

Luke Grant

55,000

Dermot Blain

Busted

Ambassador
Player
Chips
Progress

Damian Porebski

217,900

9,300

Tim Slater

147,800

Niall Farrell

135,500

65,450

Renee Xie

125,000

Marc Macdonnell

114,500

Edmond Fogarty

113,200

Rade Jovanovski

112,000

Andrew Hawksby

108,000

Wesley Wiemes

104,500

Lewis Barber

104,100

19,100

Paul Reaney

100,600

Benjamin Spragg

98,300

Asif Raja

94,600

Patrick O'Callaghan

93,100

Daniel Tighe

91,000

Tom Willoughby

91,000

Damien Hogan

89,000

17,000

James Waldorn

88,400

David Gutierrez Lebron

87,600

Edo Naftaly

87,300

Dominic Carle Evans

84,700

David Scully

84,300

24,300

Guilabert Bernabeu

83,000

15,200

Willie O'Hora

82,300

42,150

Ambrose Travers

82,000

Level 10 : 600/1,200, 200 ante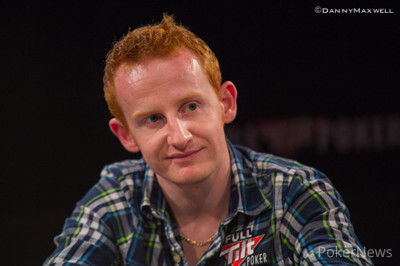 ONE:
Dermot Blain opened for 2,500 and was raised by Luke Grant. Blain responded by shoving all-in and the triangle was tossed to him. Grant called and showed
. Blain was in a world of hurt with
. The board ran out
. A 27,900 dent to Blain's stack left him with 4,500.
TWO:
Blain was all-in for his last 4,500 next hand. Timothy Chung called and the blinds thought better of it and folded. Chung had
against Blain's
. The cards fell
. Blain won that one to grow his stack to 12,400.
THREE:
Blain shipped it in for the entire 12,400. No callers this time as he added the precious blinds and antes to his stack.
FOUR:
Blain announced all-in and was called by William Colin in the small blind. The big blind folded. Blain had him just covered so was not at risk this time. Colin tabled
against Blain's
. "Pretty hand right? I like that hand." Blain said. The board ran out
giving the win to Colin. Blain was left with just 1,900.
FIVE:
Blain's chips were in for the fifth time in a row. William Colin called, Tony Martin raised over the top all-in and Colin folded. Martin had
while Blain had
.
The cards fell
and Blain survived once again.
There would be no sixth in a row however as ambassador Blain folded in the big blind and then the small blind.
After Weijie Zheng opened from early position, Tony Martin three-bet from the button and both blinds folded. Zheng then moved all in for 54,700 and Martin hit the tank, which is when we picked up the action. After about a minute of deliberation, Martin called and seemed pleased he got it in good.
Martin:

Zheng:
It was a flip and Martin looked a little relieved when the
flop didn't bring Zheng any help. Zheng needed to catch either a king or ace to stay alive, but he failed to do so as the
appeared on the turn followed by the
on the river.
Level: 10
Blinds: 600/1,200
Ante: 200