€1,100 Main Event
Day: 1pe
€1,100 Main Event
Day 1pe Completed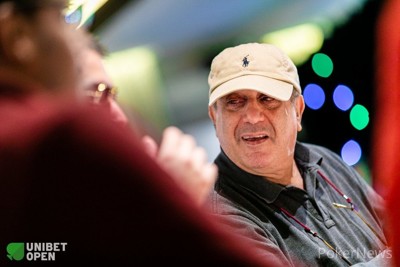 On Wednesday, Parisian poker stalwart Michel Leibgorin bagged the chip lead in the Unibet Open Paris Main event after finishing top of the Paris Edition starting flight with 532,000. The Paris Edition starting flight was an extra flight added to the Main Event.
Leibgorin, who has live tourney results going back nearly 35 years and has won more than $1.2 million, survived a hectic day at Club Circus Paris with a total of 122 local players taking their seats for the first day of the €1,100 Main Event.
Players to bust on Day 1 Paris Edition included Laurent Polito, Quentin Lecomte, Ekrem Sanioglu, Erwann Pecheux, Mathieu Selides, Smain Mamouni, and Roger Hairabedian.
These players will have the option of reentering on the Turbo Day 1c tomorrow evening.
Player
Chips
Progress

Michel Leibgorin

532,000

532,000

Giuseppe Zarbo

312,000

312,000

Jean Yves Chicheportiche

308,000

308,000

Arnaud Peyroles

307,000

307,000

Cedric Boyer

259,000

259,000

Christophe Charlet

234,000

234,000

David Pecheur

220,000

220,000

Yehoram Houri

183,000

183,000

Phillipe Haddad

179,000

179,000

Omar Lakhdari

170,000

170,000

Clemente Carreira

170,000

170,000

Quoc Dung Le

158,000

158,000

Idir Haiche

131,000

131,000

David Jaoui

131,000

131,000

Karim Abdelmoumene

110,000

110,000

Hakim Chniyat

107,000

107,000

Mohamed Mokrani

73,000

73,000

Tarek Bouchama

69,000

69,000
€1,100 Main Event
Day 1pe Started