MAD 20,000 High Roller
Day: 2
MAD 20,000 High Roller
Day 2 Completed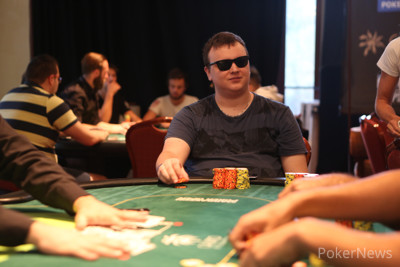 Day 2 of the 2017 PMU.fr WPT DeepStacks Marrakech MAD 20,000 (€1,800) High Roller got back underway at 3 p.m. local time and 13 hours later just before at 4 a.m., a winner was crowned at the stunning Casino de Marrakech. In heads-up, Aleksandras Voisnis defeated [Removed:44] to claim the first-place payout of MAD 550,000 while Ahoor secured himself a payday of MAD 510,000 after both players agreed to a deal before battling for the trophy and battle of Chivas to the winner.
Voisnis, a 27-year-old poker player from Zarasai, a small city in northeastern Lithuania surrounded by many lakes and rivers, beat his total live earnings thus far and followed up a 1st place finish in the 2017 Fisherman Challenge in Vilnius with another win. Ahoor's French-speaking rail jokingly told him he will finish second once again after being the bridesmaid in several tournaments, but he took it with plenty of smiles and also scored his biggest payday so far.
The second-most expensive tournament of the 10-day festival at the Casino de Marrakech saw another three players enter before the start of Day 2 to boost the field to 142 entries, including 33 re-entries, and create a prize pool of MAD 2,470,800 (approximately 222,372 Euro). Only the top 17 spots were guaranteed a return on their investment and the result of the final table can be found below:
| Place | Winner | Country | Payout (in MAD) | Payout (in Euro) |
| --- | --- | --- | --- | --- |
| 1 | Aleksandras Voisnis | Lithuania | 550,000 | 49,500* |
| 2 | Parham Apoor | Iran | 510,000 | 45,900* |
| 3 | Rati Vale Il Dieko | Spain | 300,000 | 27,000 |
| 4 | Johan Guilbert | France | 220,000 | 19,800 |
| 5 | Mathieu Papineau | France | 170,000 | 15,300 |
| 6 | Rachid Am | Morocco | 130,000 | 11,700 |
| 7 | Louis Linard | France | 100,000 | 9,000 |
| 8 | Anas Tadini | Morocco | 78,800 | 7,092 |
*denotes deal of the last two players
Day 2 action
Ricardo Manquant was among the three players to sign up with 13 big blinds but bowed out in the first level of the day, along with almost one dozen other hopefuls. That list included Damien Luis and Bernard Guigon while other notables such as Fadhil Farag, Sonny Franco, Omar Lakhdari, Imad Derwiche and Alexandre Reard all missed out on the money as well.
Antonio Chemi and Usman Siddique, who finished 6th in the 2017 PokerStars Championship Barcelona €5,300 Main Event for €252,000, ran out of chips before the money bubble had burst and Cris was the last player to leave empty-handed. The Spaniard moved all in with king-queen suited after a queen-high flop, holding top pair and an open-ended straight draw, only to see Mathieu Papineau call with queen-jack suited for top two pair. Another jack on the turn improved Papineau to a full house and that was it for Cris.
Romain Lewis and Isabel Baltazar were the first two casualties in the money followed by Francois Pirault, while five players from Spain joined the rail thereafter. Among them was also Javier Zarco, who now calls London his home, and Zarco missed out on the final table after a roller coaster ride that eventually ended in 11th place. His jack-ten was no good in a flip against the pocket eights of Mathieu Papineau and fellow Spaniard San's elimination soon after set up the unofficial final table.
Ludovic Moryousef failed to improve with pocket eights against the pocket nines of Mathieu Papineau and Aleksandras Voisnis then doubled into the lead when he flopped top set against three opponents. Voisnis stayed in the top spot until there were just three hopefuls remaining. Anas Tadini, third in the Moroccan all-time money list, had to settle for 8th place this time and a short-stacked Louis Linard lost a flip with nine-seven suited versus pocket fours a few moments later.
Rachid Am had dominated the early stages of the day, but the second local player on the final table bowed out in 6th place. Am's last hand saw him lose a flip with ace-eight suited against the pocket sixes of Aleksandras Voisnis. While Am flopped an eight, a six followed on the turn to leave the Moroccan drawing dead. Mathieu Papineau also lost a flip when his pocket jacks ended up second best to king-queen and the Frenchman was gone the very next hand.
Down to four players, PMU.fr Team Pro Johan Guilbert made an incredible call with just queen-ten high to best the flush draw of Rati Vale Il Dieko, but both were the next two to fall. Guilbert called the shove of Aleksandras Voisnis with ace-eight and got it in good as the Lithuanian only held ace-four, but Voisnis got there thanks to a four on the flop. Il Dieko, who had survived plenty of all in situations throughout the day, was a cat with nine lifes and the Spaniard eventually sent over his stack to [Removed:44]. The latter limped with ace-jack suited and Il Dieko shoved with jack-ten. A ten on the flop gave Il Dieko the lead, but Ahoor turned the nut straight to enter heads-up with a slight lead.
Both remaining players agreed to a deal that left the winner's trophy and MAD 60,000 up for grabs, and Aleksandras Voisnis doubled in one of the first hands with pocket sevens versus pocket fours to take a commanding lead. [Removed:44] then shoved seven-deuce suited soon after and ran into ace-king suited. Two aces on the flop all but sealed it, while running clubs were still an option. Just one club followed and Voisnis was crowned as High Roller champion.
In just a few hours, the cards will be back in the air in the poker room of the Casino de Marrakech as the only starting day of the MAD 13,200 (€1,200) Main Event kicks off at noon. Some 50 players qualified on PMU.fr and the PokerNews live reporting team will provide updates until a winner is crowned on Sunday October 8th 2017.
"You will finish second, that's still a good result," the French-speaking rail of [Removed:44] joked earlier on and indeed that's where he would finish. After giving up the next hand in heads-up, Ahoor shoved for around 650,000 and Aleksandras Voisnis snap-called from the big blind.
[Removed:44]:

Aleksandras Voisnis:
Even Voisnis jokingly cheered for the suited deuce seven of his opponent, he was as delighted about the flop of
. Ahoor picked up a flush draw with the
turn, but the
river was a blank. According to the deal the two struck before heads up started, Ahoor takes home 510,000 MAD while Voisnis receives the trophy, the bottle of Chivas and 550,000 MAD for his efforts.
The winner shots will be taken tomorrow and some sleep is now overdue before the Main Event kicks off at noon. A recap of today's action is to follow.
While [Removed:44] won the first hand of heads-up, he would take a massive hit in the second hand to see Aleksandras Voisnis get a full double. The Lithuanian three-bet all in for 2,380,000 and Ahoor called.
Aleksandras Voisnis:

[Removed:44]:
The flop of
left little hope for Ahoor to finish the tournament right there and Voisnis locked up the double with the
turn to make the
river a formality. Ahoor dropped to fewer than 12 big blinds as a result.
Both remaining players agreed to a deal and left 60,000 Dirhams as well as the winner's trophy and bottle of Chivas up for grabs. There is also a trophy for the second place finisher, albeit not as shiny.
Below are the deal numbers:
[Removed:44]: 510,000 MAD
Aleksandras Voisnis: 490,000 MAD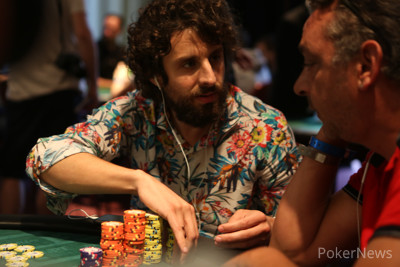 [Removed:44] limped in from the small blind and Rati Vale Il Dieko shoved for what appeared to be 800,000. Ahoor snao-called and his rail jumped out of their seats to check the showdown.
Rati Vale Il Dieko:

[Removed:44]:
"Come on," Ahoor said before the flop fell
to give the Spaniard the lead. "Give me a queen," Ahoor demanded and his wish was immediately granted with the
turn. A blank
river let the French-speaking rail celebrate and Il Dieko was eliminated in 3rd place for 300,000 MAD.
Both remaining players asked for a brief break to look into possible ICM numbers right after.
In a battle of the blinds, Rati Vale Il Dieko bet the flop of
and Aleksandras Voisnis called from the big blind. The
turn was checked before the Spaniard bet the
river for 240,000. Voisnis called and Il Dieko showed
for a busted straight draw. Voisnis claimed the pot with
and let out a loud "vamosss."
The next hand, the Lithuanian shoved the small blind and [Removed:44] checked his big blind before announcing a quick call.
[Removed:44]:

Aleksandras Voisnis:
The flop of
gave Voisnis a gutshot along with his two live cards, but the
turn and
river were of no help to let Ahoor double for 1,100,000.
Rati Vale Il Dieko limped the small blind, having won a pot one orbit ago in the same spot against Aleksandras Voisnis. The latter checked from the big blind and there was no betting action on the
flop either. On the
turn, Il Dieko bet 140,000 and that forced a fold.
Voisnis limped the next small blind and [Removed:44] checked. The flop came
and a bet of 85,000 by Voisnis won the hand right there.
Level: 27
Blinds: 40,000/80,000
Ante: 10,000
[Removed:44], not vice versa, was in the big blind and checked his option to a limp of Aleksandras Voisnis in the small blind. On the
flop both players checked and Voisnis bet the
turn for 65,000, which Ahoor called. The
river was checked and Voisnis turned over
for a bluff and Ahoor won the pot with
.