Main Event
Day 3 Completed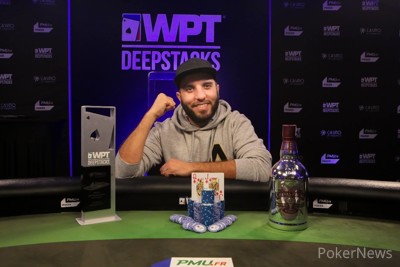 The 2017 PMU.fr WPT DeepStacks Marrakech MAD 13,200 (€1,200) Main Event has crowned a champion in the biggest field of the tournament series outside of American soil. Ultimately, a field of 433 entries created a prize pool of MAD 4,949,600 (approximately €445,177) and it was Smain Mamouni who emerged victorious well after midnight local time.
Mamouni started the day in the top spot before experiencing a roller coaster day and the Frenchman defeated Pablo Redrado in heads-up. While the Spaniard started the duel for the title and first-place payout of MAD 1,000,000 first-place payout and WPT DeepStacks trophy with a slight lead, it only took Mamouni half an hour to not only turn things around but accumulate all chips.
Speaking after his victory, Mamouni said he was feeling very proud of his play today.
"I didn't make a lot of mistakes today. I lost a big pot with pocket Kings against pocket Aces, but I was not afraid of coming back in the tournament.
"I have a lot of experience, so when I was very short stacked I wasn't afraid.
Mamouni said that the atmosphere surrounding the Casino de Marrakech really added to his deep run.
"When you play in Marrakech there's a lot of fun, it's not like other tournaments where nobody is talking with eachother. In Marrakech it's something better, something good. I've played maybe 5-10 WPT tournaments, and obviously this was a really good one."
| Place | Winner | Country | Prize (in MAD) | Prize (in USD) |
| --- | --- | --- | --- | --- |
| 1 | Smain Mamouni | France | 1,000,000 | 105,000 |
| 2 | Pablo Redrado | Spain | 700,000 | 73,500 |
| 3 | Daniel C | Spain | 450,000 | 47,250 |
| 4 | Anas Belatik | France | 320,000 | 33,600 |
| 5 | Anthony Cruz | France | 245,000 | 25,725 |
| 6 | Julien Lemonnier | France | 200,000 | 21,000 |
| 7 | Louis Linard | France | 163,000 | 17,115 |
| 8 | Damien Lhommeau | France | 132,000 | 13,860 |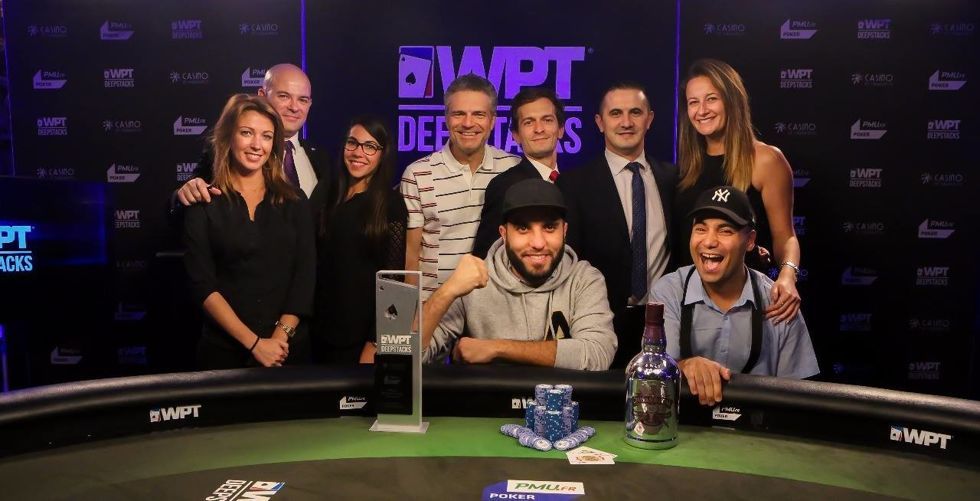 Action of the Final Day
With several short stacks among the 16 finalists, it was just a matter of time for the action to kick off and Fernando Pons, who started the day at the bottom of the counts, would be the first to join the rail. The 2016 November Niner moved in from under the gun with king-nine off suit and Daniel C from Spain snap-called out of the big blind with pocket kings. "I am dead, he has kings," Pons immediately said to his rail and he indeed had no shot at winning the hand anymore after the turn already.
Next to fall wa Jean-Jacques Chantalat over on the main feature table. He put his hopes on king-eight and shoved the river of a king-high board only to see Pablo Redrado snap-call with pocket kings to reveal a turned full house. Argentina's Pedro Cairat was left short with very few big blinds and managed to double up once before his three-bet shove with ace-jack came at the wrong time. Redrado quickly called with ace-king suited and there was no help on a queen-high board.
By the time the first break of the day had come, there were just 10 players remaining as another three players bowed out in quick succession. Ludovic Moryousef, who finished 9th in the MAD 20,000 High Roller a few days ago, had to settle for 13th place this time. Moryousef got it in ahead with ace-four against the king-queen of Anthony Cruz, but a queen on the flop spelled the end for Moryousef. Marek Grabsi lost a flip with pocket fives versus ace-nine and Spanish casino regular Javier "Tsunamy" failed to get there with ace-five suited against the ace-king of Anas Belatik.
Cedric D flopped trips sixes in a three-way hand with six-seven off suit and got it in after the river, while Daniel C called with seven-eight suited for a turned straight to reduce the field to the last nine hopefuls and set up the following unofficial final table.
| Seat | Player | Country | Chip Count | Big Blinds |
| --- | --- | --- | --- | --- |
| 1 | Pablo R | Spain | 2,550,000 | 85 |
| 2 | Louis Linard | France | 1,695,000 | 57 |
| 3 | Damien Lhommeau | France | 260,000 | 9 |
| 4 | Daniel C | Spain | 2,125,000 | 71 |
| 5 | Elizabeth Tedder | United States | 495,000 | 17 |
| 6 | Anthony Cruz | France | 1,385,000 | 46 |
| 7 | Smain Mamouni | France | 1,570,000 | 52 |
| 8 | Anas Belatik | France | 2,495,000 | 83 |
| 9 | Julien Lemonnier | France | 415,000 | 14 |
Elizabeth Tedder, last woman standing, started well into the final table and immediately boosted her stack. However, the American who made the trip over to sunny Morocco from Oregon, would become the first casualty of the final table. Tedder's shove with ace-eight on the button was called by Anthony Cruz in the small blind with pocket queens and there was just one eight on the board, failing to improve Tedder.
A mere ten minutes later it was game over for former PMU.fr Team Pro and current online qualifier for this event, Damien Lhommeau. The Frenchman was all in and at risk with the jack-ten suited and picked up a call by Daniel C before Anas Belatik three-bet to isolate succcessfully. Belatik turned over pocket queens and a queen-ten high flop wioth two spades provided a big sweat for both players. A spead indeed appeared there on the river, but the five also paired the board to eliminate Lhommeau in 8th place.
After coming into the Day 2nd in chips, Louis Linard had to settle for 7th place, the same position he also held in the MAD 20,000 High Roller a few days ago. After halving his stack he just called with ace-ten against a raise by Anas Belatik. Linard check-called a continuation bet and turned a pair of tens before check-calling the shove with second pair. Belatik turned over king-ten for top two pair and jumped into the lead.
The second PMU.fr online qualifier, Julien Lemonnier, had to settle for 6th place after. As far shortest stack he got it in with pocket sevens and Smain Mamouni called with ace-jack to find a jack on the flop. More than two hours passed without elimination before Anthony Cruz then lost a flip with queen-jack versus pocket nines. Daniel C flopped middle set and turned a full house to eliminate the Frenchman.
Down to four players there were two players from Spain and France left. Smain Mamouni shot to the top of the leader board before a failed bluff attempt with king-queen high cost him almost all of his chips. With some fortune, Mamouni got back up and doubled twice, one of which was against Anas Belatik. All of a sudden he found pocket kings and was again reduced to dust as Pablo Redrado picked up pocket aces for a massive double.
Anas Belatik then bowed out in 4th place. Second in chips at the time, Belatik limp-shoved with ace-queen and Pablo Redrado called for half of his stack with pocket fives. The first card on the flop was a five, followed by two aces, two blanks later the Spanish rail was able to celebrate.
Smain Mamouni was the short stack with three players remaining and doubled through Daniel C, leaving the Spaniard with just three big blinds. One double up later Daniel C jammed with king-seven once more and this time Pablo Redrado's ace-eight dealt the final blow. While Redrado entered heads-up with a slight lead, he lost two massive pots against Smain Mamouni - two pair versus superior two pair and a turned second pair with sercond nut flush draw versus flopped flush - and was down one to four in chips. In the final hand Redrado limp-shoved the ace-eight suited and Mamouni called with queen-jack suited, also of diamonds. A queen on the turn improved the Frenchman and his rail stormed to the feature table to celebrate.
Mamouni receives not only a cool Million Moroccan Dirhams for his efforts, but also a €2,000 package for the upcoming WPT DeepStacks Final in Berlin in January. The tournament has a buy-in of €1,500 and features a guaranteed prize pool of €500,000, furthermore the first televised WPT Main Event in Europe in five years will be part of the schedule also.
The WPT DeepStacks series heads to the Holland Casino in Valkenberg next in just a few days from now, from October 12th to 15th 2017. This marks the end of the PokerNews live reporting here from the beautiful Casino de Marrakech and a busy time at the World Series of Poker Circuit and World Series of Poker Europe at the King's Casino in Rozvadov lies ahead.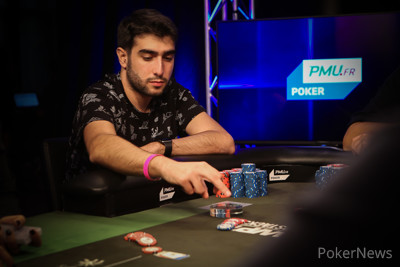 Pablo Redrado limped in and Smain Mamouni raised to 350,000 shortly after the blinds went up. Redrado moved all in for 2,025,000 and Mamouni asked for a count before calling with brief consideration.
Pablo Redrado:

Smain Mamouni:
Nothing much changed on the
flop, but the
turn improved Mamouni. A blank
on the river changed nothing anymore and Redrado was eliminated in 2nd place for MAD 700,000.
Mamouni will receive a payday of MAD 1,000,000 and a €2,000 package for the WPT DeepStacks Final in Berlin this upcoming January.
A recap of today's action is to follow.
Level: 32
Blinds: 75,000/150,000
Ante: 25,000
In a limped flop, Pedro Redrado limped the
and Smain Mamouni checked the
. Redrado check-called a bet worth 125,000 on the
flop before they checked down the
turn and
river. Once again it was Mamouni that had all the momentum and scooped another pot.
Redrado limped the
and folded to Mamouni's raise, the Frenchman held
and claimed a four-to-one chip lead.
Mamouni limped the
and Redrado checked with
. On the
flop, Redrado check-called a bet worth 130,000 before the
turn triggered another check and a bet of Mamouni. No call followed and the next chips were sent to the right side of the table.
Pablo Redrado bet one street with the
versus
on the board of
to even out the stacks without too much of a hassle.
In a limped pot the flop fell
and Mamouni checked, then called a bet of 125,000 with the
. Redrado only had the
for bottom pair and the duo subsequently
turn and
river.
Mamouni raised to 270,000 with the
and Redrado called with the
. The flop fell
and Redrado check-called a bet of 330,000 by Mamouni. After the
turn, Redrado check-called another bet of 730,000 and the
river completed the board.
Redrado checked once more and Mamouni bet two million and Redrado called to lose another massive pot, dropping to just 24 big blinds.
Pablo Redrado limped in with the
and Smain Mamouni checked with
. On the
flop, Redrado called a bet of Mamouni and improved to two pair on the
n turn.
Mamouni bet 565,000 and was called to see the
appeared on the river. Mamouni bet 1,250,000 and Redrado immediately irked in his chair. Half a minute passed and he tossed in a chip for the call to lose almost 30% of his stack.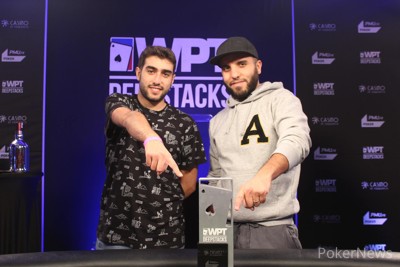 The players are back in their seats and the cards are in the air.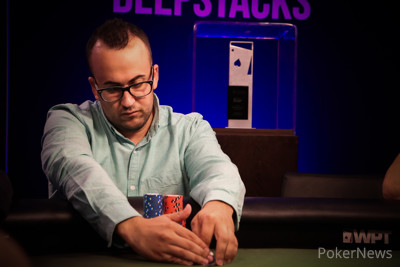 Daniel C:

Pablo Redrado:
Pablo Redrado open-shoved the small blind and Daniel C called all in for 260,000 from the big blind.
Daniel C flopped top pair, then dodged the straight draw on the turn of a board
to double up.
Right after, Daniel C was all in again, this time for 520,000, and Redrado called.
Daniel C:

Pedro Redrado:
The
board sent the Spaniard to the rail and that set up the heads up duel for the title here in Marrakech. A short break is to follow before the battle one-versus-one kicks off.
Daniel C limped in from the small blind and Smain Mamouni shoved the big blind for 2,360,000, which resulted in a snap call by the Spaniard.
Smain mamouni:

Daniel C:
The flop of
let the French rail erupt and they had reason to continue celebrating, as the
turn and
river were both blanks. Daniel C was cut down to three big blinds only and needs a miracle going forward.