Event Info
| | |
| --- | --- |
| Buy-in | $1,500 |
| Prize Pool | $512,160 |
| Players | 352 |
Level Info
| | |
| --- | --- |
| Level | 31 |
| Blinds | 40,000 / 80,000 |
| Ante | 10,000 |
Main Event
Day 3 Completed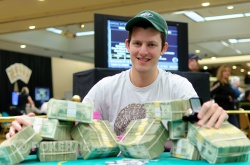 The final nine players returned to the ballroom inside Harrah's Atlantic City today to play it out for the title of champion at the World Series of Poker Circuit Main Event. After just about eight hours of play, Matthew Waxman took the crown, pocketing $117,797, the gold ring, and a golden ticket to the season-ending National Championship in May.
Brandon Croft came into the day with the big stack, but he could not manage to hang on to his chips. Croft would't be the first player out, but it was close. It was Manish Patel who fell first, getting his 10 big blinds in with
against Waxman's
. The
flop all but ended Patel's hopes, and he was out the door in ninth place to give Waxman the chip lead once again with close to 2 million. A few minutes later, Croft lost his last 309,000 chips when his
ran into Jesus Cabrera's
to send him out in eighth place.
Once the knockouts began, they did not relent. Tam Ly lost a flip to go out in seventh place, and Mike Summers followed him right out the door when his flush draw failed to materialize against Waxman's pocket aces. Just a couple hands later, Waxman woke up with aces again, and this time Dave Cubeta gave him all-in action with
. A
board full of blanks sealed Cubeta's demise, relegated to the rail in fifth place.
It was only another few hands before Chris Bonita was ushered to the door in fourth place, and Mark Sykes went right behind him in third. He had about 12 big blinds when he went with
, but Cabrera had the chips to call with
. No ten on board ended Sykes' day early and concluded a brutal Level 28 that was responsible for five eliminations.
When the match went heads up, Matthew Waxman had about a 3:2 lead over Cabrera, and the battle was a good one. Cabrera drew even with a couple quick pots, but Waxman recovered to once again whittle Cabrera down toward the felt. After about 45 minutes of dueling, the big one finally came. Waxman opened the pot with a raise, and the betting action ended with him calling a five-bet shove for Cabrera's last 2.11 million. The
of Waxman was dominating Cabrera's
, and the first four board cards were blanks (
). There were a few chop outs to be had, but there would be no chop. The
slammed the river, saving Cabrera's tournament life and stealing the ring off Waxman's finger.
That pot turned the tables and gave Cabrera the 3:2 lead, but Waxman worked it back to all square within a few hands. The duel continued for more than three hours, and Cabrera got himself short on a couple different occasions before finding a tournament-saving double up.
Just before 8:00, the final hand was dealt. A preflop raising war saw Matthew Waxman's
up against Cabrera's
, and it looked like another double up was going to give Cabrera life once again. The flop was a miraculous
to all but end it, and the
turn meant the at-risk player was dead to a six. The river was the
, though, and Waxman and crew celebrated his first Circuit win. Along with it comes the gold ring, a ticket to the National Championship at Caesars in May, and $117,797 in cash.
Here's the full list of payouts for the finalists:

| Place | Player | Payout |
| --- | --- | --- |
| 1 | Matthew Waxman | $117,797 |
| 2 | Jesus Cabrera | $72,824 |
| 3 | Mark Sykes | $53,126 |
| 4 | Chris Bonita | $39,406 |
| 5 | Dave Cubeta | $29,685 |
| 6 | Mike Summers | $22,704 |
| 7 | Tam Ly | $17,618 |
| 8 | Brandon Croft | $13,869 |
| 9 | Manish Patel | $11,073 |
That wraps up our coverage for this Main Event, but we're not done at Harrah's Atlantic City just yet. The $10,000 Northeast Regional Championship kicks off right here next Sunday, and we'll be back in these seats to bring you some high-stakes action and crown our final ring winner of the 2010 calendar year.
As we depart for now, we send our congratulations go out to Matthew Waxman for a fine performance here in the Main Event!
Matthew Waxman raised to 180,000 on the button and Jesus Cabrera re-raised to 500,000 from the big blind. Waxman four-bet shoved and Cabrera called all in for his tournament life.
Cabrera:

Waxman:
It was looking bad for Waxman until the flop came down
to give him the lead with a set of threes. The turn card was the
, leaving Cabrera just two outs to survive. The river brought the
, no help to Cabrera, out in second place.
Matthew Waxman's standard opening raise is 180,000 now, and we pick up another pot that he entered first. Jesus Cabrera called out of postion, and they watched the dealer flop
on board. Cabrera checked and called a bet of 160,000, and they arrived on the
turn. Waxman bet again, doubling it to 320,000, and this time Cabrera was forced to surrender his hand.
Waxman - 4.535 million
Cabrera - 2.52 million
Level:

31
Blinds:

40,000/80,000
Ante:

10,000
The players are taking a quick five-minute break before the next level.
| | | | | | |
| --- | --- | --- | --- | --- | --- |
| Matthew Waxman | | | | 4,175,000 | -240,000 |
| Jesus Cabrera | | | | 2,880,000 | 240,000 |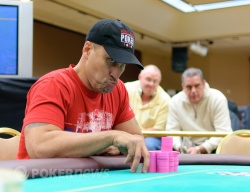 Matthew Waxman opened to 140,000 from the button, and Jesus Cabrera called.
The flop was
, and both players checked to the
river. Cabrera bet 200,000 there, and he bet another 260,000 following the
river. Waxman paid off both bets, and Cabrera showed him
for the nut straight. It was good; Waxman returned his cards to the muck, and Cabrera has picked up a few more fightin' chips.
Waxman - 4.055 million
Cabrera - 3 million
Matthew Waxman raised to 140,000 from the button, and Jesus Cabrera came along with the call. The two of them watched the flop come
, and they check-checked to the
turn. Cabrera put out 100,000, and Waxman called, and Cabrera fired another 200,000 after the
river. Waxman needed some time in the tank to make sure, but he eventually put in the call with
.
Two pair was good; Cabrera surrendered his cards into the muck, and Waxman is once again beginning to assert his growing chip stack.
Waxman - 4.415 million
Cabrera - 2.64 million
Jesus Cabrera limped the button, and Matthew Waxman took a free flop from the big blind.
It came
, and Cabrera called a bet of 80,000. The
saw both men check, and Cabrera called another 140,000 chips on the
river.
Waxman tabled his
, and he and Cabrera's
split the pot in half with no damage to either player. Waxman has been winning the majority of the small pots lately, and he's once again taken a bit of a chip lead.
Waxman - 4.005 million
Cabrera - 3.05 million
Jesus Cabrera has won a few small pots in the last few orbits to stretch his chip lead out a bit, but Matthew Waxman has just recouped his losses. It was Cabrera opening the last pot to 140,000 from the button, and Waxman came along from the big blind.
The two men checked through the turn on the
board, and Waxman fired a bet of 300,000 on the
river. Cabrera called, and Waxman tabled
for quads.
Cabrera - 4 million
Waxman - 3.055 million