Regional Championship
Days: 1
Regional Championship
Day 1 Completed
Level 8 : 250-500, 50 ante
| Player | Chips | Table | Seat |
| --- | --- | --- | --- |
| Jon Aguiar | 41,175 | 1 | 1 |
| Barbara Smith | 29,250 | 1 | 2 |
| Dan Heimiller | 55,375 | 1 | 3 |
| Chad Brown | 60,500 | 1 | 4 |
| Kido Pham | 103,200 | 1 | 5 |
| Vitor Coelho | 10,900 | 1 | 6 |
| Shannon Shorr | 73,550 | 1 | 7 |
| Allie Prescott | 50,875 | 1 | 8 |
| Jeremiah Vinsant | 69,250 | 1 | 9 |
| | | | |
| Adam Levy | 30,275 | 2 | 1 |
| Scott Lipschutz | 44,400 | 2 | 2 |
| David Paredes | 44,800 | 2 | 3 |
| Grayson Ramage | 38,850 | 2 | 4 |
| David "Bakes" Baker | 25,450 | 2 | 5 |
| Brian Roberts | 81,775 | 2 | 6 |
| Harry Cullen | 125,925 | 2 | 7 |
| Matthew Waxman | 39,600 | 2 | 8 |
| Fred Sigur | 45,650 | 2 | 9 |
| | | | |
| Brian Senie | 46,950 | 3 | 1 |
| --empty-- | -- | 3 | 2 |
| Kyle Bowker | 69,400 | 3 | 3 |
| Brandon Adams | 136,150 | 3 | 4 |
| Jeremy Gaubert | 39,975 | 3 | 5 |
| Corey Burbick | 78,950 | 3 | 6 |
| Allen Kessler | 30,625 | 3 | 7 |
| Charles Belcher | 38,450 | 3 | 8 |
| Kunal Patel | 57,600 | 3 | 9 |
| | | | |
| Carl Sheddan | 2,775 | 4 | 1 |
| Jospeh Cheong | 17,300 | 4 | 2 |
| Gary Friedlander | 35,225 | 4 | 3 |
| John Holley | 13,400 | 4 | 4 |
| Byron Kaverman | 38,025 | 4 | 5 |
| James Arruebarreena | 61,150 | 4 | 6 |
| David Diaz | 35,450 | 4 | 7 |
| Will "The Thrill" Failla | 21,800 | 4 | 8 |
| Steve Brecher | 49,575 | 4 | 9 |
| | | | |
| Tommy Vedes | 19,375 | 5 | 1 |
| David Peters | 26,575 | 5 | 2 |
| Jack Schanbacher | 35,800 | 5 | 3 |
| Maurice Hawkins | 38,000 | 5 | 4 |
| Brian Lemke | 25,500 | 5 | 5 |
| Lawrence Jacobs | 49,975 | 5 | 6 |
| John Dolan | 61,200 | 5 | 7 |
| A.J. Jejelowo | 21,350 | 5 | 8 |
| Ben Thomas | 64,000 | 5 | 9 |
Player
Chips
Progress

Brandon Adams

136,150

96,050

Red Pro

Harry Cullen

125,925

Kido Pham

103,200

Brian Roberts

81,775

Corey Burbick

78,950

Shannon Shorr

73,550

Kyle Bowker

69,400

39,400

Jeremiah Vinsant

69,250

Ben Thomas

64,000

John Dolan

61,900

Red Pro

James Arruebarreena

61,150

Chad Brown

60,500

Kunal Patel

57,600

17,600

Dan Heimiller

55,375

25,375

Allie Prescott

50,875

20,875

Lawrence Jacobs

49,975

Steve Brecher

49,575

Red Pro

Brian Senie

46,950

Fred Sigur

45,650

David Paredes

44,800

Scott Lipshutz

44,400

Jon Aguiar

41,175

Jeremy Gaubert

39,975

Matt Waxman

39,600

Grayson Ramage

38,850
Level 8 : 250-500, 50 ante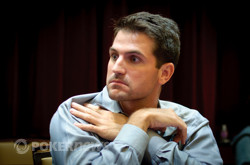 Day 1 of the 2010-11 World Series of Poker Circuit Southern Regional Championship has come and gone. A field of 70 came to play today and after eight levels, 44 of them remain. Leading the way is Brandon Adams with a stack of 136,150.
It may be a small field, but it certainly is not lacking in skill. Among those that will be returning tomorrow include Shannon Shorr, David "Bakes" Baker, Adam Levy, and David Peters. On the flipside, tournament studs Dwyte Pilgrim, Darren Elias, David Williams, and Todd Terry failed to make it to Day 2.
Registration is still open throughout the night and into tomorrow. Players will be able to register through Level 9, about 2:00pm local time here in New Orleans and one level into Day 2. While it is no certainty the field will hit 81 players, all who make the final table will earn a seat in the World Series of Poker Circuit National Championship to be held in about a week's time.
Play resumes with Day 2 at 1:00pm local time tomorrow, so we'll see you then!
Player
Chips
Progress

Kido Pham

93,000

44,000

Shannon Shorr

80,000

14,500

Kyle Bowker

60,000

-10,500

Allie Prescott

54,000

9,000

Steve Brecher

51,775

1,750

Red Pro

Chad Brown

45,000

-25,000

Jon Aguiar

45,000

15,000

Dan Heimiller

39,000

16,500

David Baker

37,000

8,000

Grayson Ramage

35,300

-3,200

David Peters

33,000

Adam Levy

28,000

-14,500

Allen Kessler

23,000

-3,800

Joseph Cheong

20,000

2,000

Red Pro

Tommy Vedes

20,000

Will Failla

19,500

-500
Level 8 : 250-500, 50 ante
In a battle of the blinds, Dwyte Pilgrim got his short-ish stack into the middle with
against big-stacked Brandon Adams'
. Unfortunately for Pilgrim, the board ran out
and ended his tournament with about 25 minutes left in Day 1.
Adams, meanwhile is commanding a stack of about 115,000.
Level 8 : 250-500, 50 ante
From the cutoff, Dan Heimiller raised to 1,400. David Diaz was in the small blind and popped it 4,250. When action was back on Heimiller, he shoved for 18,600. Diaz called and showed
, flipping with Heimiller's
.
The board ran out
, safe for Heimiller to up his stack to about 40,000. Diaz, meanwhile, is down to about 10,000.
Player
Chips
Progress

Brandon Adams

85,000

24,700

Red Pro

John Dolan

80,000

-13,000

Red Pro

Kyle Bowker

70,500

3,500

Chad Brown

70,000

10,000

Shannon Shorr

65,500

-2,500

62,500

4,500

Steve Brecher

50,025

-5,475

Red Pro

Kido Pham

49,000

14,000

Allie Prescott

45,000

13,000

Kunal Patel

43,000

-24,500

Adam Levy

42,500

-500

Grayson Ramage

38,500

17,500

David Peters

33,000

-500

David Miscikowski

30,500

14,500

Jon Aguiar

30,000

-10,000

David Baker

29,000

-7,000

Allen Kessler

26,800

-2,700

Dwyte Pilgrim

23,500

500

Dan Heimiller

22,500

-7,500

Tommy Vedes

20,000

-6,000

Joseph Cheong

18,000

-12,000

Red Pro

David Singer

10,500

-4,500

Red Pro
Level: 8
Blinds: 250/500
Ante: 50
Player
Chips
Progress

Harry Cullen

115,000

55,000

John Dolan

93,000

12,000

Red Pro

Corey Burbick

90,000

-6,000

Brian Senie

85,000

-2,000

David Paredes

53,000

16,000

Jeremy Gaubert

42,000

2,000

41,000

Jeremiah Vinsant

36,000

16,000

Kido Pham

35,000

4,500

32,000

-4,000

David Diaz

31,000

-28,000

Tommy Vedes

26,000

11,000

Brian Lemke

22,000

4,000

17,000

-13,100

Carl Sheddan

17,000

-11,500

John Holley

Busted