Regional Championship
Day 2 Completed
Gabe Patgorski

729,000
-53,000

Curt Kohlberg

704,000
4,000

David Paredes

538,000
18,000

Justin Smith

Full Tilt Red Pro

491,000
86,000

Dan Perper

482,000
334,000

Keven Stammen

400,000
-10,000

Steve Zolotow

Full Tilt Red Pro

371,000
5,000

Mark Owens

343,000
-15,000

David 'Bakes' Baker

339,000
11,000

Shannon Shorr

328,000
32,000

Brandon Adams

Full Tilt Red Pro

269,000
24,000

Jim Anderson

252,000
-14,000

Dave Sands

247,000
-23,000

Chris Klodnicki

236,000
16,000

Ryan Julius

215,000
-30,000

Adam Levy

146,000
-14,000

Bernard Lee

142,000
-6,000

David Adkison

141,000
20,000

Tony Hartmann

111,000
-12,000

Jeremy Schwartz

68,000
32,000

Ryan Austin

66,000
-20,000

Shawn Busse

59,000
-16,000

Kevin Dooley

51,000
11,000

Mohsin Charania

50,000
-15,000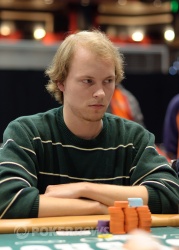 Day 2 is in the books here in Hammond, Indiana for the World Series of Poker Circuit Regional Championship. Play lasted until the money bubble broke and that was long into the night, with play finishing at 2:45 a.m.
The final 24 players are led by John Patgorski, who wrapped up the day with 729,000 in chips. There are plenty of big names still left in the field, including Justin Smith, Steve Zolotow, Shannon Shorr, David "Bakes" Baker, Dave "Doc" Sands and David Paredes.
Play resumes tomorrow at 1:00 p.m. here in Hammond and the plan is to play from 24 down to the final table of nine is set. It shouldn't be too long of a day tomorrow, but it will be a fun one. Be sure to come back to PokerNews tomorrow after all the action from the felt from this first-ever WSOP-C Regional Championship event!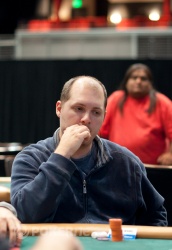 Schwartz Doubles - 2:43 AM
From the cutoff seat, jeremy Schwartz raised all in for 30,000. John Patgorski called blind from the big blind and the hands were tabled.
Patgorski:

Schwartz:
The board ran out clean for Schwartz,
and Schwartz doubled to stay alive on the bubble.
Zuccarello Bursts the Bubble, Ends the Day - 2:44 AM
Justin Smith opened to 13,000 from early position, and Cero Zuccarello moved all in for 42,000. Smith quickly called, and he was dominated:
Smith:

Zuccarello:
The flop was a disaster for Zuccarello as it came
to put him in a big hole with two to come. the turn
was no help, and neither was the
river, and we've found our bubble boy. Cero Zuccarello got his money in good, but it was no use. He's out in 25th place, and the chip bags are out on the tables.
Level:

20
Blinds:

3,000/6,000
Ante:

1,000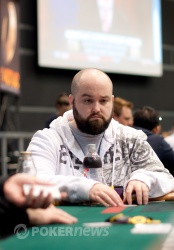 Parker's Exit Cues Hand-For-Hand - 1:18 AM
We picked up the action on the flop as the dealer spread out
. Brock Parker was heads up with a short stack, and he led out with a bet that pot-committed him. Steve Zolotow went ahead and raised enough to put Parker to the test, and he called off his remainder to put himself at risk.
Parker tabled his
, but he was well behind. Zolotow showed up the
, two cards from a knockout. The turn
maintained his edge, and the
on the river ushered Parker out the door in 26th place. He's come up two spots shy of the money, and the tournament is now being dealt hand-for-hand as we're squarely on the money bubble with 25 players left.
One more unfortunate knockout and Day 2 is history.
The Perp Takes One - 1:47 AM
David Paredes raised to 12,000 from early position and Brandon Adams called on the button. Dan Perper called from the big blind and the flop came down
. Perper checked and Paredes fired 25,000. Adams folded and Perper called.
The turn brought the
and both players checked. The river was the
and Perper fired 38,000. Paredes tank-folded and Perper won the pot.
Paredes Check-Raise-Folds - 2:01 AM
In middle position, Keven Stammen opened to 12,500, and Brandon Adams called from the hijack seat. Big blind David Paredes came along from the big blind as well, and it was three-handed to the
flop.
Paredes checked, and Stammen bet 16,500. That folded Adams, but Paredes check-raised to 51,500. Stammen promptly reraised all in for just over 100,000 total, and Paredes could not call. He mucked, dropping his stack down to 510,000. Stammen is up to 265,000.
Lee Can't Buy This One - 2:25 AM
From under the gun, Bernard Lee raised to 12,500. Keven Stammen called from the cutoff seat and the two players saw the flop come down
. Lee fired 15,500 and Stammen called.
The turn card was the
and Lee fired 24,500. Stammen made the call again and the turn was the
. Lee fired 46,000 and then put his head down and sat motionless behind his sunglasses. Stammen tanked for several long minutes and then tossed in the call. Lee turned over the
, but was beat by Stammen's
.
Level:

19
Blinds:

2,500/5,000
Ante:

500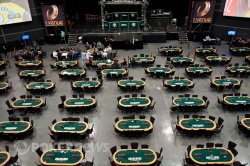 Powell KO'd - 11:50 PM
Brian Powell was all in preflop with
, and big stack Curt Kohlberg called him down with
.
A king on the flop was pretty much all she wrote for Powell, and he has been eliminated in 28th place.
Down to 27 now, the field is being redrawn down to the final three tables. Each of the players left are now points earners, guaranteed at least 50 of them in the WSOP-C National Championship leader board.
Play was scheduled to last only until the money was reached and that's now only three eliminations away.
Smith Folds to Parker - 11:53 PM
While everyone else was racking up their chips for the redraw to three tables after the last elimination, Table 1 was still in the middle of a hand. Brock Parker was in the cutoff and tanking after Justin Smith three-bet to 36,000. Parker moved all in for 235,500 total and Smith went into the tank for a couple of minutes. He eventually folded his hand and dropped back to 190,000.
Final 27 Redraw to Three Tables - 11:55 PM
Table 1
Seat 1: Anthony Hartmann
Seat 2: Justin Smith
Seat 3: Mohsin Charania
Seat 4: Cero Zuccarello
Seat 5: Curt Kohlberg
Seat 6: Mark Owens
Seat 7: Timothy Morgan
Seat 8: Ryan Austin
Seat 9: David Adkison
Table 2
Seat 1: David Paredes
Seat 2: James Anderson
Seat 3: Shannon Shorr
Seat 4: Adam Levy
Seat 5: Keven Stammen
Seat 6: Brandon Adams
Seat 7: Ryan Julius
Seat 8: Dan Perper
Seat 9: Bernard Lee
Table 3
Seat 1: Kevin Dooley
Seat 2: Jeremy Schwartz
Seat 3: Steve Zolotow
Seat 4: David "Bakes" Baker
Seat 5: John Patgorski
Seat 6: Shawn Busse
Seat 7: Brock Parker
Seat 8: Chris Klodnicki
Seat 9: Dave "Doc" Sands
Three-Bet for Charania - 12:01 AM
Timothy Morgan raised to 10,000 and then Mohsin Charania three-bet jammed for 77,500. Morgan folded and Charania won the pot.
Three-Bet for Zolotow - 12:02 AM
Dave "Doc" Sands raised to 10,500 and then Steve Zolotow reraised to 45,500. Sands thought for a bit and Zolotow said, "I like the fact that you're thinking." Sands then folded and Zolotow won the pot.
A Little Suck, Re-Suck Action - 12:12 AM
Shawn Busse was all in for pocket sixes and up against the
for Brock Parker. The board ran out
and although Busse fell behind on the flop, he found a six on the turn to double up.
He moved to 170,000 while Parker dropped to 163,000.
Kohlberg Takes Out Morgan in 27th - 12:18 AM
Curt Kohlberg raised to 11,000 under the gun and Timothy Morgan went all in for about 60,000 from middle position. Action folded back to Kohlberg and he called with
, racing with Morgan's
. The board came down
, ending Morgan's tournament. Kohlberg is second in chips with 680,000.
Lee Four-Bet Shoves - 12:53 AM
From middle position, Bernard Lee raised to 11,500. Adam Levy was on the button and reraised to 31,500. Lee then asked how much Levy had left and moved all in. Levy mucked right away and Lee scooped the pot.
Double or Nothing for Austin - 12:55 AM
First in from the button, Curt Kohlberg made it 10,500 to skate. Two seats over, big blind Ryan Austin flatted, and it was heads up the rest of the way. Austin checked the
flop, then check-raised from 12,000 to 33,500. Kohlberg has fightin' chips, and he moved all in to put the heat on Austin. It's a tough spot for
, but that's what Austin eventually called with, and he was in the lead. Kohlberg tabled
, drawing at his open-ender for the chance at the knockout.
The turn
added another few outs for him (plus nine more diamonds for the chop), but he would miss everything. The raggy
river filled out the board, safe for Austin's double up.
He's back to 222,000 now, while Kohlberg slips under 600,000.
Patgorski Makes a Good Call - 12:59 AM
From the hijack seat, John Patgorski raised to 10,000. Shawn Busse called from the cutoff seat and then Dave "Doc" Sands called from the big blind. The three of them saw the flop come
. Sands checked the flop and Patgorski fired 14,500. Busse called and Sands folded.
The turn brought the
and Patgorski fired 27,000. Busse called and then the river was the
Patgorski checked and Busse fired out 29,000 with 75,000 behind. Patgorski tanked for a while. Several minutes went by and then he finally made the call.
Busse acknowledged he was good and Patgorski tabled the
. Busse mucked and Patgorski moved to 640,000 in chips.
Level:

18
Blinds:

2,000/4,000
Ante:

500