Main Event
Day 3 Completed
Level 29 : 25,000-50,000, 5,000 ante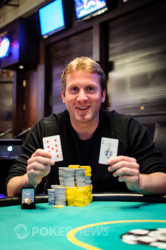 Well, it's all over but the taking of the pictures and the celebratory drinking.
Twelve days ago, the World Series of Poker arrived in Council Bluffs, Iowa with twelve rings to give out. Three days ago, the $1,600 Main Event kicked off with 290 players in the hunt for the ring. Eight hours ago, the final nine of them returned to the felt for the final showdown with Scott Stanko leading the way. And just a few minutes ago, Stanko put the final punctuation on his run to the ring, topping Charles "Woody" Moore in the heads-up duel to snag the title.
Early on, Stanko tasted blood for the first time when he sent Jeremy Jagoda to the rail in ninth place. Jagoda got his short stack in with
, but Stanko's
ended up best as the board ran out
. He ran pocket nines into pocket queens shortly thereafter to give Mark Bonsack a big double, but the latter wouldn't be around for much longer.
With four players left, Stanko found pocket aces and laid out a trap for Stephen Ma. Stanko flatted a raise preflop, then check-raised a nine-high flop. Ma called off the rest of his chips on the turn with
for top pair, but Stanko's aces earned the knockout one river card later.
During three-handed play, all three of the remaining players had their hands on the chip lead at one point or another. For a long while, it looked like Moore was seizing control of the table, and Stanko and Casey Cavanaugh appeared to be battling for second place. Moore took care of Cavanaugh in third, and he took the chip lead into heads-up play.
But the final duel was (almost) completely one-sided. Moore did manage to find one big pot with aces, and that allowed him to retake the chip lead briefly. But Stanko turned the tides in a hurry.
During the last break of the night, the two men talked briefly about making a deal, but we're not sure anything ever came of it. When they returned to the felt, Stanko really began to turn the screws on Moore, and it wasn't long before Woody found himself approaching the danger zone with less than 20 big blinds.
The final hand saw Moore out-flop his opponent with king-eight, but Stanko's ace-nine caught right back up as the pretty
peeled off the deck. Stanko was one card from victory, and the
river improved him to the winning two pair and slipped the ring onto his finger.
Stanko is a 33-year-old pro from Scottsbluff, Nebraska. How's that for a hometown? Before that, though, he was a cowboy and a ranch manager in Wyoming. He tells us he has a new focus on live tournaments nowadays, and this result is a darn good start. He's got some more regal WSOP jewelry on his mind now, and he'll have a chance to snag a bracelet this year as he's gained entry into the WSOPC National Championship by virtue of this performance.
So then, we send our congratulations to Scott Stanko, the Circuit's newest champion!
We're headed to St. Louis next, and the Main Event runs from April 21-23 at Harrah's. We'll see you there next week, but for now, goodnight and farewell from Council Bluffs!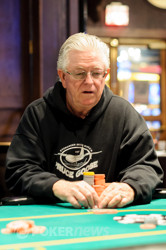 The final hand began when Charles Moore limped from the button and Scott Stanko raised to 250,000. Moore moved all in and Stanko snap-called.
Stanko:

Moore:
The peeled off the flop of
and Moore took the lead with his pair of eights. The turn card gave the hand back to Stanko when it came
. Moore needed to a king or an eight to double up but the river fell
and handed the title to Scott Stanko.
Over the course of the last few passes of the button, Charles Moore has racked up a net chip deficit of about 700,000 chips. That takes him all the way down around the million-chip mark, and Stanko is really opening up a gap now.
It sure does feel like the all-in-and-call is coming soon as Moore has to do something to stop the bleeding.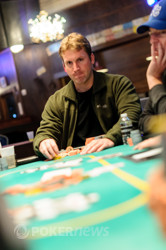 In a limped pot, both men checked through a
flop. The
was the turn card, and it drew a bet of 75,000 from Stanko. Moore check-called. The last card off the deck was the
, and Moore knocked the table again. Stanko put out 200,000, and Moore quickly called.
"Just a straight," Stanko said, tabling his
. It was good, and he's opened up a 2-to-1 chip lead over "Woody" now.
This level has thus far been won by Scott Stanko, and he's managed to begin to grow a bit of an advantage over Stanko. Apart from the all-in pot, none of them have been particularly significant, but Stanko is winning the lion's share of them. A hundred thousand here. Two hundred there. A few of those little chip grabs have given Stanko a lead of about a million now as a new dealer pushes in.

Level 29 : 25,000-50,000, 5,000 ante
Five of the last six hands have seen a limp-check preflop from the two players, followed by a bunch of checking.

Level 29 : 25,000-50,000, 5,000 ante
Charles Moore limped from the button and Scott Stanko raised to 250,000. Moore called and the flop came
. Stanko bet 150,000, Moore raised to 550,000 and Stanko wasted little time announcing all in. Moore took a few moments to think and then elected to fold.
Charles Moore limped his button, and Scott Stanko was content to take a free flop from the big blind.
It came
. Check-check to the
river, and now Moore got a bet of 100,000 into the pot. Stanko check-raised to 300,000, though, and Moore came along with a call.
The river brought the
. Moore was holding his cards slightly up off the felt as if he were prepared to muck, but he was not mucking. Stanko made a bet that the dealer never counted — it looked like 350,000 — and Moore snap-called with
.
It was good.
Level: 29
Blinds: 25,000/50,000
Ante: 5,000