Main event
Day 3 Completed

Level 32 : 40,000/80,000, 10,000 ante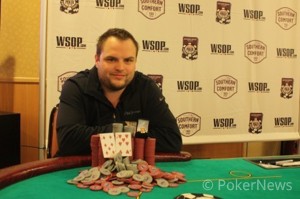 On Monday, the World Series of Poker Circuit presented by Southern Comfort 100 Proof Harrah's Philadelphia Main Event crowned a new champion. Fourteen players returned for Day 3, but after an intense 14-hour day of poker, National Championship points leader Rex Clinkscales came out on top to win his first WSOP Circuit ring and the $121,097 that accompanies it.
WSOP Circuit Harrah's Philadelphia Results
| Place | Player | Prize |
| --- | --- | --- |
| 1 | Rex Clinkscales | $121,097 |
| 2 | Mike Jukich | $74,863 |
| 3 | Ken Silberstein | $54,614 |
| 4 | Andrew Rudnik | $40,509 |
| 5 | Michael Assante | $30,516 |
| 6 | Leonardo Palermo | $23,340 |
| 7 | Tony Natale | $18,112 |
| 8 | Jonas Wexler | $14,258 |
| 9 | Beverly Cheney | $11,383 |
For Clinkscales, this was not just another WSOP Circuit Main Event, but rather it was a shot at redemption. Just one short year ago, Clinkscales made a deep run in this very event, only to bust in 10th place and miss out on making the official final table. This year, however, Clinkscales was able to avenge his poorly-timed bustout and emerge as the sole remaining player in the Harrah's Room.
The day began slow-going as none of the 14 returning players wanted to budge from their seats. After four hours of play and the eliminations of George Zinaty, Dave Moersdorf, Matthew Weber and Kris Bradshaw, the unofficial final table of 10 was reached. That bubble was quickly burst this year when Patrick Friday's pocket jacks ran into the pocket kings of Michael Assante. Friday failed to improve and our final nine were officially set.
The last woman standing was Beverly Cheney, and she was the first casualty of the final table. She moved her very short stack all in before the flop only to have Clinkscales re-ship all in over the top of her. Cheney meekly tabled the
and was crushed by Clinkscales
. Cheney flopped two clubs but was ultimately unable to get there. Her ninth-place finish earned her $11,383 in prize money. Interestingly enough, this is the second year in a row that a woman has finished in ninth place at the Harrah's Philadelphia Main Event (that distinction last year went to Georgia Robinson).
After Cheney's elimination, the final table began to go a little crazy, and Ken Silberstein, last year's runner-up in this very event, became a magnet for all of the chips. It all began with a hand that crippled Jonas Wexler. Wexler shipped all in before the flop into Silberstein's
. This hand saw Silberstein double up to around 1.19 million. The very next hand, Silberstein got all of his chips in the middle once more. This time he held the
and destroyed Leonardo Palermo's
. Silberstein earned another full double up and became commanding chip leader of the table while crippling two major opponents in the process.
It was the first-crippled Wexler who was next to fall when he moved his short stack all in before the flop holding the
. Wexler clung to a glimmer of hope as he raced with Silberstein's
. It seemed it was not meant to be, however, as the board ran out
, and Wexler was sent home in eighth place.
Tony Natale was the next to fall when he decided to run the gauntlet by moving all in before the flop from under the gun. His hopes of taking down the blinds and antes preflop were quickly dashed, however, when Andrew Rudnik re-shipped all in over the top from the next seat over. Rudnik showed the
and was in the lead against Natale's
. Natale failed to improve and was forced to settle for $18,112 in prize money.
Immediately following Natale's elimination, Palermo moved all in before the flop for his last 360,000. It folded around to Rudnik in the big blind and he was once again the one to dash someone's dreams of winning the Harrah's Philadelphia Main Event. Rudnik flipped over the
and was racing against Palermo's
. Rudnik paired the board on the
flop and never looked back as the
turned and the
rivered.
Five-handed play then wore on for roughly an hour before Assante saw his last hand of the tournament. With blinds at 15,000/30,000/5,000, Assante opened to 60,000 from the button, and Mike Jurkich called from the small blind. Silberstein three-bet to an unknown amount, and Assante four-bet right back over the top for all of his chips. Jurkich folded, and Silberstein snapped him off.
Silberstein;

Assante:
The two were racing for Assante's tournament life. The dealer rapped the table and produced a flop that read
. Gasps of surprise filled the final table area as the crowd realized that Silberstein suddenly clinched a death grip on the hand. The
appeared on the turn, and that meant it was all over for Assante. The meaningless
fell on the river, and Assante took to the rail as the fifth-place finisher.
Rudnik was the next to fall, and it was another elimination at the hands of Silberstein. Last year's runner-up opened with a preflop raise to around 80,000, and it folded to Andrew Rudnik who shipped all in for 690,000 from the small blind. It folded back to Silberstein who went into the tank for roughly a minute.
"I call," Silberstein quietly said.
Rudnik let out a sigh and flipped the
onto the felt. Silberstein showed the
and was in a slight lead heading to the flop. The dealer delivered a board that read
and Silberstein's king-high remained as the best hand. Rudnik was sent home in fourth place with $40,509 to console him.
Three-handed play began with Silberstein holding 73% of the total chips in play. However, as the hours wore on, Silberstein became more and more incapable of closing the deal. It all began when Clinkscales scored a key double up through Silberstein fairly early on in three-handed play. Less than an hour later it was Jukich's turn to double through Silberstein when he won a crucial race for his tournament life. Jukich doubled once more soon after when he flopped trip eights against Silberstein's pocket kings, and suddenly Silberstein's chip lead no longer existed.
Eventually, Silberstein fell when he open shoved all in for his last 900,000 on a flop of
. Clinkscales snapped him off and showed the
for top pair, which was crushing Silberstein's
. Silberstein's cries for a ten were of no help to him as he bricked out on the turn and river and was forced to settle for a third-place finish — one spot under what he finished in this event last year. Despite this, Silberstein seemed satisfied with his back-to-back top three finishes and was all smiles as he graciously exited the tournament area.
Clinkscales and Jukich were roughly even in chips when heads-up play began. The two played very small pots with one another for over two hours. Rarely was a pot ever built up over 1 million in chips. Clinkscales, though, continued to win at the crucial showdowns and chipped away slowly at Jukich's stack. The match came to a sudden head when Jukich opened to 160,000 from the button at 40,000/80,000/10,000. Clinkscales three-bet to 410,000, and Jukich replied by four-betting all in. Clinkscales called and the hands were rolled over.
Clinkscales:

Jukich:
The flop brought
and Clinkscales' pocket pair was still out in the lead. Jukich picked up additional straight outs when the
turned, but the
on the river sealed his fate as the second-place finisher. Jukich collected $74,863 in prize money, while Clinkscales, on the other hand, was giddy to realize that after years of grinding and 15 total WSOP Circuit final tables, he finally won his first gold ring.
With Harrah's Philadelphia in the books, only one stop remains on the 2012-2013 WSOP Circuit. Be sure to join us starting May 18 as we dive deep into coverage of the Harrah's New Orleans Main Event as well as the WSOP National Championship. Until then!

Level 32 : 40,000/80,000, 10,000 ante
Mike Jukich had the button. He opened to 160,000. Rex Clinkscles three-bet to 410,000 and Jukich announced all in. Clinkscales quickly called and the hands were tabled.
Clinkscales:

Jukich:
The flop brought
and Clinkscales was still out in the lead. The
on the turn gave Jukich additional outs heading to the river, but it was not meant to be for the Virginia native, as the
hit the river and he was officially eliminated in second place.
Level: 32
Blinds: 40,000/80,000
Ante: 10,000

Level 31 : 30,000/60,000, 10,000 ante

Level 31 : 30,000/60,000, 10,000 ante
Players are now on a 10-minute break.

Level 31 : 30,000/60,000, 10,000 ante
The board read
and Mike Jukich check-called a 120,000-chip bet from Rex Clinkscales.
Fifth street finished off the board with the
. Jukich checked again and Clinkscales bet 195,000. Jukich took a moment before tossing in a single chip which signified a call. Clinkscales showed
for a flopped straight and took down the pot. He's now sitting on about 4.07 millino.

Level 31 : 30,000/60,000, 10,000 ante
Rex Clinkscales called from the button and Mike Jukich checked his option. The flop brought
and it went check-check. The
turned and Jukich bet 60,000. Clinkscales min-raised to 120,000 and Jukich called.
Fifth street was the
and Jukich checked. Clinkscales bet 315,000 and Jukich thought for quite some time. He moved what looked like 800,000 away from his stack but in the end he ended up folding his hand. The pot was pushed to Clinkscales.

Level 31 : 30,000/60,000, 10,000 ante

Level 31 : 30,000/60,000, 10,000 ante
Mike Jukich had the button. He raised to 130,000. Rex Clinkscales slid out a three-bet to 305,000 and Jukich called.
The flop brought
and Clinkscales continued for 170,000. Jukich folded and Clinkscales took the pot.