Main Event
Day 3 Completed
Level 31 : 75,000/150,000, 150,000 ante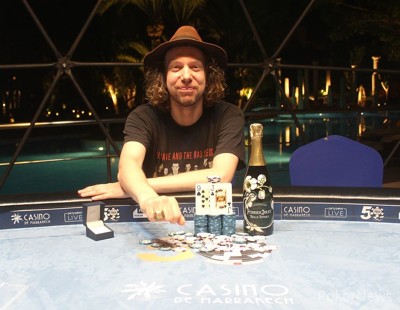 The 2019 WSOP International Circuit 50th Anniversary Marrakech 15,000 MAD (€1,350) Main Event is over, and it was a player with no history in Morocco who managed to take it down.
Philipp Huxley enter the winner's circle during is first visit in Marrakech, after a deal with Portuguese André Marques. The British poker pro booked is main victory, the third of is carrer, a ring and a $10,000 ticket for the WSOP Global Casino Championship which is set to take place during the Harrah's Cherokee August Circuit series in August.
Huxley won the biggest prize of the event and earned 817,780 dirhams before the head's up, adding 130,000 dirhams to his total after a duel of only one hand. Huxley misses the 6-figures score in US dollars as he won $99,632... but it's still his biggest score. André Marques secured 732,220 dirhams during the deal, he is going back to Portugal with $81,435 for his deep-run.
"Fifteen years of poker and finally I won a Big one", said Huxley who confessed he was "very tense" at the beginning of the Final Table. "I played OK but I was last at one point, you got to get lucky to win", he added before detailling his resume a little bit more.
"I'm playing for a living for eleven years, I used to work for the BBC for 4 years... I'm not a super crusher, I try to pay my bills [...] But i tried to go for it, Joseph Cheong style", he said humbly.
Hats Off !
With the big boost to his bankroll, Phillip will first buy a good dinner to his girfriend. "It's a rule, i'm going to meet her tomorrow then I'll think about the future", he said before confirming he'll go to North Carolina and maybe play the WSOP Main Event for the fourth time.
Coming from Birmingham, Huxley "loves to try different places", that's why he chose Marrakech over a destination like Rozvadov he had already visit. "The casino is beautiful, the nature is great, the setup of the Final Table is reminding me the WPT and that duel with Haxton in the Bahamas. The nature is great, I certainly will come back in Marrakech", concluded the champion who was right to fire a second bullet in that tournament !
2019 WSOP International Circuit 50th Anniversary Marrakech 15,000 MAD (€1,350) Final Table
| Position | Player | Country | Prize (MAD) | Prize (USD) |
| --- | --- | --- | --- | --- |
| Winner | Phillip Huxley | United Kingdom | 947,780 MAD | $99,632 |
| 2 | André Marques | Portugal | 732,220 MAD | *81,435 |
| 3 | ROMI | Spain | 455,000 MAD | $47,830 |
| 4 | David Vergnes | France | 330,000 MAD | $34,690 |
| 5 | Javier Tsunamy | Spain | 255,000 MAD | $26,805 |
| 6 | Anthony Marchetti | France | 195,000 MAD | $20.498 |
| 7 | Florian Geiger | Germany | 155,000 MAD | $16,309 |
| 8 | Souhayl Fjer | France | 125,000 MAD | $13,153 |
| 9 | Sammy Berrehail | France | 105,000 MAD | $11,048) |
Deal HU - First prize doesn't include $10,000 ticket for WSOP Global Championship
| Year | Entries | Winner | Country | Prize |
| --- | --- | --- | --- | --- |
| 2019 | 359 | Phillip Huxley | United Kingdom | €87 542 |
| 2019 | 544 | Sonny Franco | France | €140 140 |
| 2018 | 486 | Vladimir Shabalin | Russia | €118 182 |
| 2017 | 511 | Arron Fletcher | United Kingdom | €130 755 |
| 2016 | 446 | Mathieu Selides | France | €95 479 |
| 2015 | 484 | Ricardo Manquant | France | €122 330 |
Action of the final day
There was a super fast start as sixteen players (and 8 French players) came back for the Final Day. Among them was the last WSOP bracelet winner of the field, Giovanni Rosadoni. The Frenchman lasted less than 15 minutes and was the first to hit the rail in 16th position ($5,050).
The Last Moroccan standing departed shortly afterward on a flip. Ali Mechiche finished 14th ($5,892) and Morocco is still waiting for a win in the WSOPC Main Event. Mega chipleader after Day 1A, Jose Luis Reconquista went out in 13th place ($6839) before the first break also.
At the restart Karim Abgar tripled then Busts to exit the tournament in 12nd position ($6839). Usually a cash-game player, the French was playing his first tournament after he invited Thomas Meignan for a birthday trip in Marrakech. He outlast Meignan who busted late on Day 2 (20th), saturday.
Then Javier Tsunamy busted the german Michael Allmrodt to go back in the Top of the leaderboard. Allmrodt is now nicknamed "Mister Eleven" after finishing with this ranking both in the High-Roller and the Main Event ($7,891).
It was time for Anthony Marchetti to rise. The Frenchman showed a big bluff and made a very disciplined fold to surge at the top of the leaderboard. Franck Lelong was very solid during the all event, he bubbled the Final Table after losing all-in preflop with the best hand against Florian Geiger ($9,259)
At this point, Souhayl Fjer was in trouble and Philipp Huxley was at the middle of the pack... with very little difference between the stacks of the players. Huxley, who started the Day in 7th position with 40 blinds, launched his success by winning two crucial flips.
The Final Table was on during almost 7 hours but Souhayl Fjer and Florian Geiger missed the dinner break. It was a firework at the restart with the tournament going to 6 survivors to a winner in three hours.
Anthony Marchetti busted in a monster pot where 3 players were all-in right after the begnining of that phase. As a result of this battle, Marchetti was out and Javier Tsunamy in trouble. Chipleader at the end of the Day 2, David Vergnes was suddently in good shape again and the last french standing.
Local Hero here in Marrakech where he has live a very long time, Tsunamy went out minutes later against Vergnes. After two consecutives doubles up for ROMI, everytime against the future runner-up Marques, the hand that made it real for Huxley took place.
The Brit woke-up with Aces after an open of Vergnes UTG... and his 3-bet was answered by a 4-bet shove ! Huxley called to see
for Vergnes. Huxley Held to gather a third of the chips in play and the momentum.
After the departure of Vergnes ($34,690), ROMI lose ground quickly and Huxley continue his destruction of the table. Commited after he raised it with
, Huxley called ROMI to flush him directly at the flop ($47,830).
Seconds after his departure, Huxley and Marques started a discussion for a deal. In great shape, Huxley agreed on a deal which let the $10,000 ticket for the WSOPC Global Championship and 130.000 dirhams (($13,665) on the table.
The head's up last only one hand after the restart. It was all over very suddenly in Marrakech, the last stop of the WSOP International Circuit.
Next up on the WSOPC schedule is a stop in Oklahoma and then it will be the 2019 WSOP Global Casino Championship.
Stay tuned on PokerNews to follow the action. We will see you at the next event !
Level 31 : 75,000/150,000, 150,000 ante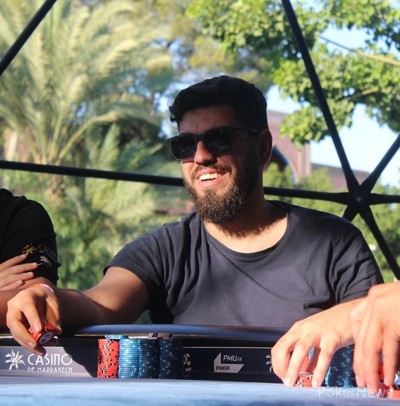 One Hand and done !
André Marques limped
and Philipp Huxley checked in the Big Blind.
Huxley check-raised the board
for 650,000 chips after André bet one Blind.
Andres called and the dealer delivered a turn
which started a firework. Huxley checked for a second time... and jammed when Marques fired for 500,000 chips.
André Marques elected to call and discovered he was playing 5 outs to survive when Philipp Huxley showed
. The river
wasn't one of them and André Marques busted in 2nd place of the tournament for 732,220 dirhams.
A recap of today's action is to follow.
Level 31 : 75,000/150,000, 150,000 ante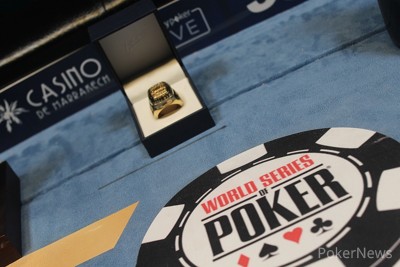 The last survivors are playing for the ring, 130,000 dirhams ($13,665) and a $10,000 ticket for the WSOPC Global Championship.
Philipp Huxley earns 817,780 dirhams ($85966) right now. André Marques secured 732 220 dirhams ($76972) before the head's up.
Level 31 : 75,000/150,000, 150,000 ante
Play will resume after the deal is confirmed by the players
Level 31 : 75,000/150,000, 150,000 ante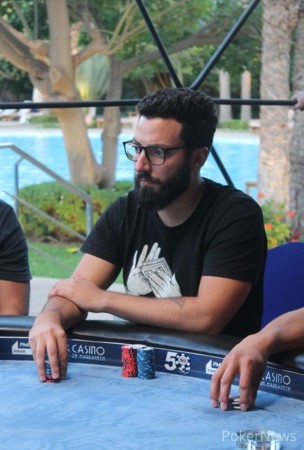 Philipp Huxley raised 350,000 chips on the button and asked for a count when ROMI pushed from the Big Blind. He elected to call with
when the dealer announced 875,000 chips.
Romi revealed
and busted after the completion of a board
.
"Do you want to talk some business?" asked Huxley as soon as Romi leaved the table. "Yes of course", answered André. Action is suspended, the two last survivors are trying to make a deal...
Player
Chips
Progress

Philipp Huxley

7,825,000

1,375,000

ROMI

Busted
Level: 31
Blinds: 75,000/150,000
Ante: 150,000
Level 30
Player
Chips
Progress

Philipp Huxley

6,450,000

1,350,000

André Marques

3,350,000

750,000

ROMI

1,025,000

-647,000
Level 30 : 60,000/120,000, 120,000 ante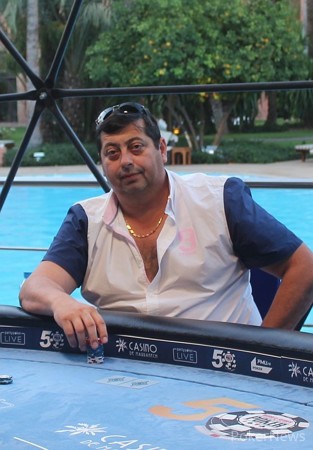 "I was a little tilted by Huxley when I shoved but i'm pretty happy, it was a great experience", said David Vergnes on his way to the cashier to collect 330,000 dirhams.
David Vergnes checked on the Big Blind with
after a limp under the gun by André Marques. The duo checked on
and David check-raise on the turn
for half is remaining stack of 900,000 chips. André Marques put him all-in and David called for his last 450,000 chips.
André revealed
and dodged the bullets when a
completed the board.
Break: 15 min.