$2,200 High Roller
Day: 2
$2,200 High Roller
Day 2 Completed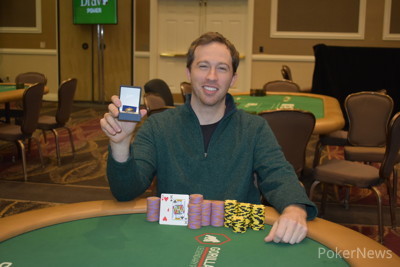 The second day of the World Series of Poker Circuit $2,200 High Roller at Harrah's Las Vegas came to an end and when the dust settled it was WSOP bracelet winner Brett Apter who became the latest gold ring winner after topping a field of 86 entries. Apter, who captured his second gold ring of the year, overcame a tough lineup to take home the $52,084 first-place prize.
"I'm feeling on top of the world," Apter said after his victory, "I'm so passionate about this game, I love it."
Apter came into the final table tied for third in chips with 380,000 and gradually built his stack from there. It was another long day but the newest ring winner found a way to close it out brining his WSOP earnings to over $700K.
"Somehow I get really lucky that I have my friends here when I win as well, it's honestly the best feeling in the world," he added.
High Roller Final Table Results
| Place | Player | Hometown | Prize |
| --- | --- | --- | --- |
| 1 | Brett Apter | St. Petersburg, FL | $52,084 |
| 2 | Partick Truong | Pflugerville, TX | $32,188 |
| 3 | Ryan Awwad | Ann Arbor, MI | $21,576 |
| 4 | Ryan Hohner | South Plainfield, NJ | $15,001 |
| 5 | Joo Park | Fullerton, CA | $10,834 |
| 6 | Pavel Milanov | Concord, CA | $8,139 |
| 7 | Frederick Conforti | Owensboro, KY | $6,370 |
| 8 | Peter Park | Wheaton, IL | $5,205 |
Final Day Action
The final day of the high roller saw 30 players return to action and an additional nine jumped in as the late registration period was open until the start of play. Those players brought the total to 86 entries for the event, which created a total prize pool of $172,000 with the top 13 landing a payday of at least $3,745.
Play started with players getting new seating assignments as the first elimination brought about the three-table redraw within minutes. After the prize pool was released, it didn't take long for players to start dropping at a rapid pace before the bubble.
After the bubble burst eliminations continued like wildfire as Asher Conniff (13th - $3,745), Kevin Ayow (12th - $3,982), Ricky Guan (11th - $3,982) and Marle Cordeiro (10th - $4,447) busted shortly after players were in the money setting the stage for the unofficial fianl table.
Final Table Action
Once the final table was set, all eight players were trailing Ryan Awwad. Play was tight for a few orbits after the elimination of Peter Park (9th - $4,447) until Frederick Conforti ran his king-nine suited into Patrick Truong's Big Slick. All the chips were in the middle preflop and Conforti couldn't find a way to come out on top as he was the first to exit in eighth place.
The next level would see the next elimination as Charlie Dawson got his short stack in holding a suited ace-seven but was dominated by the suited ace-nine of Ryan Hohner. Hohner turned a staright leaving Dawson praying to a chop but it wouldn't be as he took home a seventh-place finish good for ($6,370).
Pavel Milanov was next on the chopping block after losing a flip holding pocket nines to the ace-ten of Hohner.
Five-handed play saw Joo Park start a reign of terror as he was picking up hands while getting lucky. Unfortunately, his luck wouldn't last long as his back-to-back made hands fell short ending his night in fifth place ($10,384).
The next two eliminations happened one after another when Hohner moved his short stack in holding suited connectors but was dominated by Truong's made hand of sixes. Hohner was unable to find any help from the runout and his night ended in fourth place ($15,001).
The very next hand saw Awwad take his leave after flopping a top-pair of queens but had kicker issues as Apter held the better hand ending Awwad's night in third place for $21,576.
The heads-up match started with Apter holding a 2:1 chip advantage but he saw it slip almost instantly.
"It was brutal," stated Apter. "I started with a 2:1 chip lead but lost every hand to start the match and saw it reversed really quick."
The beginning of the heads-up battled only lasted 20-minutes before the two players went on a quick 15-minute break, one that Apter recalls was very helpful.
"The break was really key for me," Apter explained. "I washed my face in the bathroom and told myself I wanted it more. I kind of drew in the mentality from my bracelet run where I was going to do anything to win because I want this more than anything right now."
Once the two players returned from the break they would continue a back-and-forth battle that lasted over two hours in length. Both players would get a huge chip lead, then give it back after doubling up the other opponent until Truong missed his flush draw after Apter flopped a set of fours, leaving Truong with less than five big blinds.
It wasn't long after that point all the chips were in Apter's possession leaving Truong to take his exit in second place for a respectable $32,188 while Apter took home the $52,084 first-place money along with his second gold ring.
"I'm really lucky all my friends are hard workers," Apter said after his win. "Each of them holds the same passion for the game as I do and I think when you surround yourself with the best players it just raises your game."
Apter continued to say, "I think you are who you surround yourself with and I know a big part of this last year's success has to do with these amazing people around me."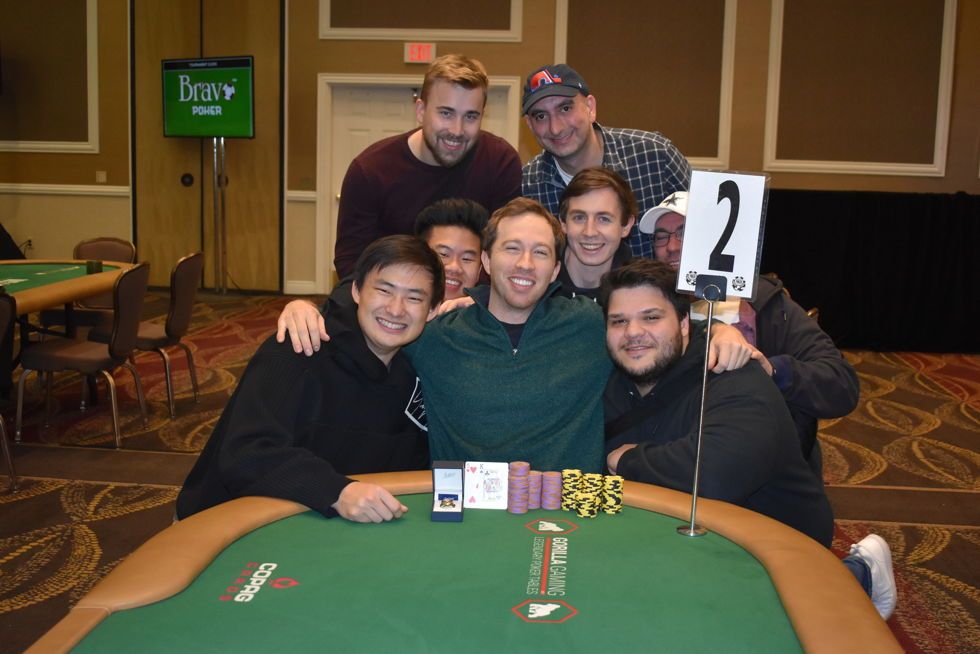 WSOP Circuit Harrah's Las Vegas Ring Winners
| Tournament | Entries | Prize Pool | Winner | Prize |
| --- | --- | --- | --- | --- |
| Event #1: $250 NLH Multi-Flight | 362 | $72,400 | Joe Walters | $14,838 |
| Event #2: $400 NLH Multi-Flight | 219 | $75,000 | Haresh Thaker | $17,520 |
| Event #3: $600 NLH Multi-Flight | 188 | $100,000 | Jon Aldalur | $24,298 |
| Event #4: $400 NLH Monster Stack | 225 | $74,250 | Mark Liedtke | $17,309 |
| Event #5: $400 NLH Bounty | 86 | $19,780 | Steve Foutty | $6,042 |
| Event #6: $250 Seniors Event | 219 | $43,800 | Wayne Keller | $10,301 |
| Event #7: $400 HORSE | 120 | $39,600 | Christina Hill | $10,956 |
| Event#8: $400 NLH Double Stack | 331 | $109,230 | Ashraf Chehata | $23,575 |
| Event#9: $400 NLH Turbo | 170 | $56,100 | Al Cutler | $14,100 |
| Event #10: $2,200 NLH High Roller | 86 | $172,000 | Brett Apter | $52,084 |
That wraps it up for the PokerNews live coverage of the $2,200 High Roller but check out the $1,700 Main Event tomorrow at noon local time for Day 1b.
.
Brett Apter raised all in and Partick Truong called for less.
Brett Apter:

Partick Truong:
Both players had live cards but Apter was ahead and nothing changed after the
runout eliminating Truong in second place.
Both players saw a
flop after no initial raise preflop and Partick Truong check-raised Brett Apter's 105,000 bet to 380,000, Apter called.
The
came on the turn and Truong moved all in and was quickly called by Apter.
Brett Apter:

Partick Truong:
Apter was ahead with his set of fours but still had a sweat as Truong held the flush draw.
Luckily for Apter, The river paired the board with the
improving his hand to a full house and securing his double up for 710,000.
Level: 27
Blinds: 25,000/50,000
Ante: 50,000
Partick Truong min-raised to 80,000 and Brett Apter called to see a
flop.
Apter check-called Truong's 60,000 continuation bet to the
turn.
Apter check-raised Truong's 160,000 bet all in and was called.
Brett Apter:

Partick Truong:
Truong was drawing to an ace but the river fell the
to give Apter the full house and the double up worth 665,000.
Brett Apter limp-called Partick Truong's 80,000 min-raise to see a
flop.
Apter check-called Trungs 60,000 bet and did the same for 300,000 after the
fell on the turn.
The
completed the board on the river and Truong took down the pot after he lead out with an all in bet.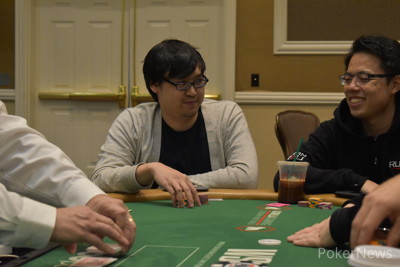 Partick Truong limped in and Brett Apter raised all in, Truong called putting his stack at risk.
Brett Apter:

Partick Truong:
Truong was ahead and nothing changed after the
runout giving Truong the double up for 670,000.
There was no initial raise before the
flop that was checked to the
turn where Partick Truong check-called Brett Apter's 40,000 bet.
The
completed the board on the river and Truong check-called Apter's 195,000 bet.
Apter turned over
for the nut-staright to scoop the pot and add to his chip lead.
Level: 26
Blinds: 20,000/40,000
Ante: 40,000