€1,700 Main Event
Day 3 Completed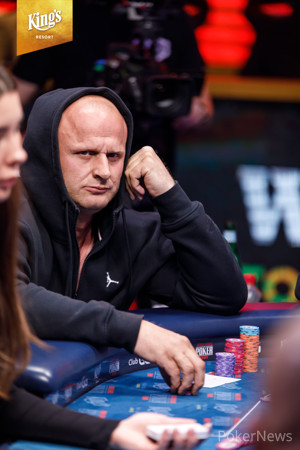 Day 3 of the Spring Edition of the 2022 WSOP International Circuit at the King's Resort in Rozvadov has concluded which has seen a day full of blow-ups and tantrums. The 57 players played down to the final table where nine competitors from six different nations will compete for the €160,500 prize. Each player has already locked up an entry to the WSOP Europe Main Event worth €10,350 and a minimum payout of €14,500.
Kosovo's Besnik Lalinovci currently leads the way with 6,200,000 chips while his compatriot Rama Mulaj is not far behind in third place with 5,200,000. Germany's Luc Ta is sandwiched in-between with 5,385,000.
German Vincent De Neve will be making his second appearance at a WSOP Circuit event final table on Tuesday, he finished 3rd for € 114,709 in the September 2021 edition.
Czech native Lukas Zaskodny is no stranger to the bright lights of the main stage at King's Casino but comes into the day 7th in chips and will need some early spin-ups to be within contention to claim the coveted WSOP Circuit Ring.
2022 WSOP Circuit King's Spring Edition €1,700 Main Event Final Table
| Seat | Player | Country | Chip Count | Big Blinds |
| --- | --- | --- | --- | --- |
| 1 | Luc Ta | Germany | 5,385,000 | 90 |
| 2 | Nedeljko Todorovic | Slovenia | 5,100,000 | 85 |
| 3 | Tom Cohen | Israel | 3,355,000 | 56 |
| 4 | Volkan Alkan | Germany | 765,000 | 13 |
| 5 | Ruslan Volkov | Ukraine | 3,435,000 | 57 |
| 6 | Rama Mulaj | Kosovo | 5,200,000 | 87 |
| 7 | Vincent De Neve | Germany | 890,000 | 15 |
| 8 | Besnik Lalinovci | Kosovo | 6,200,000 | 103 |
| 9 | Lukas Zaskodny | Czech Republic | 2,195,000 | 37 |
Play will resume on April 19th at 2 p.m. local time with the blinds at 30,000/60,000 and 60,000 big blind ante and 21:52 remaining on the clock. Due to King's Casino broadcasting the final table on Twitch and YouTube, PokerNews will be providing updates on an hour delay to stay in sync with the stream.
Action of the Day
Day 3 was jam-packed with drama with several blowups along the way. Coming into the third day with one of the biggest stacks was Daniele D'Angelo who lost the vast majority of his stack in the first three hands of the day when a bluff went wrong.
Martin Kabrhel proved to be a constant thorn in the side of many, but none more so than Nadir Kinno who had several battles throughout the day with Kabrhel. The Czech WSOP Europe champion amassed a huge stack to take the chip lead with three tables left to ultimately finish in 22nd place.
One of the most sickening bad beats occurred on the feature table where Jan van der Stroom's pocket aces were cracked by Alfredo Cuti's pocket aces. Cuti made a flush on the turn to eliminate van der Stroom who took defeat with humility where many others wouldn't.
Fausto Tantillo had a rollercoaster of a day and came into the session second in chips. He steadily grew his stack up to 5,000,000 chips before dusting them off in the space of a one hour level.
Symeon Alexandridis was the last casualty of the day busting in 10th place which was good for a cash prize of €12,000 and a seat at WSOP Europe Main Event in the fall.
Remaining Payouts
| Place | Winner | Country | Prize (in EUR) |
| --- | --- | --- | --- |
| 1 | | | €160,500 |
| 2 | | | €100,900 |
| 3 | | | €72,300 |
| 4 | | | €56,900 |
| 5 | | | €44,700 |
| 6 | | | €34,900 |
| 7 | | | €26,300 |
| 8 | | | €18,300 |
| 9 | | | €14,500 |
The PokerNews team will be on hand to cover all of the final table action at King's Resort Rozvadov. Cards will be in the air at 2 p.m. and updates will be provided on an hour delay.
Player
Chips
Progress

Besnik Lalinovci

6,200,000

-300,000

Luc Ta

5,385,000

-15,000

Rama Mulaj

5,200,000

100,000

Nedeljko Todorovic

5,100,000

-200,000

Ruslan Volkov

3,435,000

Tom Cohen

3,355,000

Lukas Zaskodny

2,195,000

1,095,000

Vincent De Neve

890,000

-405,000

Volkan Alkan

765,000

65,000
Ruslan Volkov was moved tables to balance the final ten contenders and he started the action with an open raise soon after. Tom Cohen defended the big blind and check-called a bet on the
flop. He then check-called for another 375,000 on the
turn and both checked the
on the river.
Cohen was shown the
by Volkov and mucked the
, presumably with a very bad kicker. After that hand wrapped up, the players bagged up their chips as a casualty on the feature table reduced the field to the final nine.
The action on the live stream is still running on a delay of one hour, and the final chip counts will be published once the action has caught up in order to not spoil anything.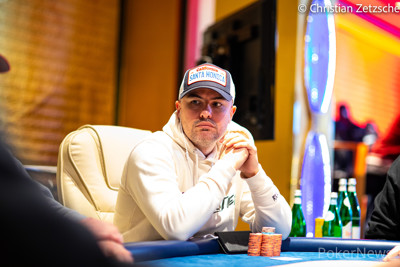 After stealing the blinds on the previous hand, Symeon Alexandridis pushed all-in again from under the gun for 860,000. This time he had a customer in Luc Ta who made the call.
Luc Ta:

Symeon Alexandridis:
With a board of
, Ta's Jacks held on to send Alexandridis to the rail who just missed out on claiming a seat for tomorrow's final table.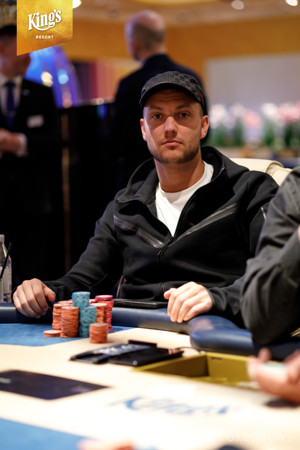 Volkan Alkan got a shove through on the outer table and then raised to 125,000 as second player to act. Tom Cohen moved all-in and Alkan folded.
In the next hand, Cohen raised to 125,000 on the button and Rene Crha jammed for 830,000 in the small blind. Besnik Lalinovci in the big blind asked for a count and then called while Cohen folded.
Rene Crha:

Besnik Lalinovci:
"I don't need a four, I need small cards," Crha said in table chat but immediately sighed when he spotted the window card. The
flop improved Lalinovci, who retained the lead on the
turn and
river. Crha's run came to an end in 11th place for a payday of €12,000.
Most pots on the outer table after the break were small and didn't bring any significant chip changes.
Rama Mulaj then raised to 125,000 on the button for Tom Cohen in the small blind and Rene Crha in the big blind to call. The
flop was checked to Mulaj and he bet 235,000. Cohen called and Crha folded.
Both remaining players checked down the
turn and
river. Cohen tabled the
and that won the pot as Mulaj flung his cards into the muck.
Player
Chips
Progress

Besnik Lalinovci

5,250,000

25,000

Rama Mulaj

5,100,000

-435,000

Tom Cohen

4,000,000

400,000

Rene Crha

950,000

-370,000

Volkan Alkan

900,000

-150,000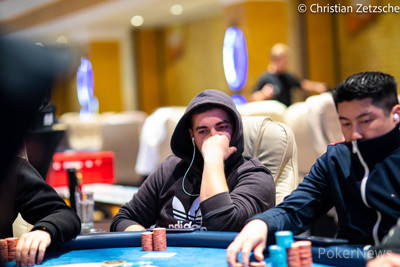 Soon after coming back from the break on the outer table, Tom Cohen raised to 120,000 and Ciprian Paunescu pushed all-in from the small blind. Volkan Alkan forfeited his big blind and Cohen instantly called the shove for what appeared to be just under one million in chips.
Ciprian Paunescu:

Tom Cohen:
While the
flop gave Cohen a set of jacks, Paunescu had a huge redraw. The
turn changed nothing and the
river only improved Cohen to a full house. Paunescu's run has come to an end in 12th place for a payday of €10,275.
Player
Chips
Progress

Rama Mulaj

5,535,000

-115,000

Besnik Lalinovci

5,225,000

-75,000

Tom Cohen

2,150,000

Rene Crha

1,320,000

325,000

Volkan Alkan

1,050,000

-550,000

Ciprian Paunescu

1,050,000

150,000
Level: 26
Blinds: 30,000/60,000
Ante: 60,000