Event 19 - $2,500 No Limit Holdem
Days: 2
Event 19 - $2,500 No Limit Holdem
Day 2 Completed
Here are the official standings for Wednesday's final table, which will start at 2:00 pm PDT:

1. Devin 'TranquilChaos' Porter - 819,000
2. John 'The Razor' Phan - 445,000
3. Humberto Brenes - 343,000
4. Alex Bolotin - 382,000
5. Marcus Obser - 679,000
6. Bertrand 'ElkY' Grospellier - 416,000
7. [Removed:326] - 787,000
8. Francois Safieddine - 302,000
9. Lars Bonding - 882,000

Humberto Brenes has played in six WSOP tournaments so far this year, and tomorrow he plays at his third final table. He won two WSOP bracelets back in 1993, and has spent the last 14 years trying for a third.

Return to PokerNews.com on Wednesday at 2:00 pm PDT for all the action.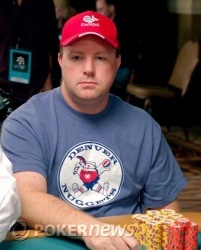 Matt Gilsdorf moves all in from late position, and Marcus Obser calls from the cutoff with
. Gilsdorf shows
, and he'll need to improve to stay alive.

The board comes
, and Obser's queens hold up to win the pot.

Matt Gilsdorf is eliminated in 10th place, earning $21,435.

The final nine players are set for tomorrow's final table. Stay tuned for official chip counts.

This is the third final table of the 2007 WSOP for Humberto Brenes, who is an early contender for WSOP Player of the Year.
The blinds increase to 15,000-30,000, with a 4,000 ante. Play continues without a break.
Level: 19
Blinds: 15,000/30,000
Ante: 4,000
Alex Bolotin raises from the small blind to 80,000, Matt Gilsdorf moves all in from the big blind, and Bolotin calls all in for 183,000 with
. Gilsdorf shows
, and has him dominated here. Bolotin needs to improve to stay alive.

The board comes
, and Bolotin flops a pair of fives to win the pot and double up in chips.
[Removed:326] raises from middle position to 60,000, John Phan reraises from the button to 180,000, and [Removed:327] moves all in. Phan goes into the tank -- and he's there so long, he needs scuba gear.

The tension mounts for several minutes with an unexpectedly large post-Matusow crowd still following the action. After several minutes, Phan starts studying his card again, and then holds them so loosely that everyone behind him can clearly see his hand --
. He sets his cards behind his chips, leaning against the stack to face the crowd. Everyone behind him can still see the cards, but nobody on the other side of the table can -- including [Removed:327].

Bertrand 'ElkY' Grospellier, sensing a fold when Phan started waving his hands around, was sitting nearby away from the table, and started to lean in for a peek. But when Phan laid his cards down and continued to think, he seemed to be in a bit of a quandry -- was it ethical to look at Phan's hand while the hand was in progress, even if Grospellier wasn't involved? He decided to hold back.

Phan talks to himself for a few more minutes, saying he didn't want to race, and didn't think [Removed:327] would bluff in this spot. Phan eventually folds face-up so everyone can see his
.

As the dealer pushes the pot to [Removed:327], Phan asks [Removed:327] to show his cards, "for the crowd." [Removed:327] thinks for a minute, and Phan asks him to show just one. Phan guesses that [Removed:327] has pocket fives. [Removed:327] relents, and briefly flashes -- the
.

[Removed:327] picks up the 420,000 pot, and Phan defends his fold, saying he wasn't interested in a race -- he can find a better spot. John Phan still has 400,000 in chips.

[Removed:326] takes the chip lead with over 900,000.
There hasn't been much action yet. But with 60,000 in the pot before anyone so much as limps, the pots can get big in a hurry.

Chip counts will be updated often.
Level: 18
Blinds: 10,000/20,000
Ante: 3,000
Ten-handed play finally begins, with the blinds still at 10,000-20,000, and a 3,000 ante. Shuffle up and deal!

There are about 23 minutes left in this blind level.