Event 32 - $1,500 No-Limit Hold'em
Day 2 Completed
Action will recommence at 2 p.m. tomorrow.

Seat 1: Dean Bui 211,000
Seat 2: Justin Hoffman 138,000
Seat 3: Jose Luis Velador 1,898,000
Seat 4: Joseph Georges 1,086,000
Seat 5: Utsab Saha 961,000
Seat 6: Jae Chung 716,000
Seat 7: Shane Stacey 640,000
Seat 8: Osmin Dardon 660,000
Seat 9: Anthony Signore 636,000
The action today was fast and furious and the final table aspirations of some 156 players were lost in the chaos. We started the day with 165 players, all with their sights set on making their mark on the poker world. After almost nine full levels of play, only nine remain.

We saw a changing of the guard today as Andy Garza, who began the day as our chip leader, slowly lost ground and was later eliminated in 38th place. Picking up where Garza left off was a player by the name of Jose Luis Velador. By mid-day, Velador had amassed a huge chip lead. He took his big stack, and a little luck, and ran it into one of the the most dominant stacks in recent memory. At one point, he had over three times more chips than his closest competitor.

Will Velador be able to maintain his lead and emerge the victor? Or will one of the other eight finalists be the last player standing? Join us tomorrow at 2:00pm PDT as the final nine players return to battle for a coveted WSOP bracelet, their place in history, and $573,734.

As always, official chip counts and seating assignments will be posted as soon as they become available.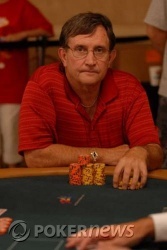 Joseph Georges raised to 55,000 from middle position. Ken Hughes reraises all in from the big blind for 170,000 total. Georges thinks for about a minute and a half and then tossed out the call. The players show:
Georges:
Hughes:
The flop came
giving Georges a flush draw and a backdoor straight draw to go with his overcard. The turn bricked, coming the
but the river
prompted cheers from all around. The supporters of all those who had just made the final table let out some applause as did Georges himself. Ken Hughes on the other hand, was not applauding. He was eliminated in 10th place and will take home $34,594 for his impressive finish.
Our 10 remaining players have consolidated to a single table. We'll continue playing until we lose one more. Here's the new lineup with updated chip counts:

Seat 1: Dean Bui 217,000
Seat 2: Justin Hoffman 150,000
Seat 3: Jose Luis Velador 2,050,000
Seat 4: Joesph Georges 870.000
Seat 5: Utsab Saha 964,000
Seat 6: Jae Chung 720,000
Seat 7: Shane Stacey 653,000
Seat 8: Osmin Dardon 487,000
Seat 9: Anthony Signore 701,000
Seat 10: Ken Hughes 176,000
Action folded around to Utsab Saha in the small blind and he raised to 45,000. Anthony Signore checked his hold cards, dropped a single yellow chip on them, and then announced a reraise.
Signore eventually slid out 90,000 total and Saha looked sincerely curious. He considered his options for the better part of two minutes and then announced "all in." Signore snap called and the players showed:
Signore:
Saha:
The flop was a mixed blessing for Signore, as it came
. He had flopped top set, but Saha essentially picked up one more out. The turn was the
and the river the
. Signore exhaled and took his seat. He is now sitting on a stack of 650,000 while Saha works with about 900,000 in chips.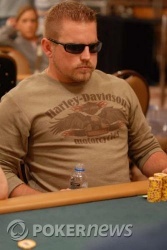 Shane Stacey opened for 43,000, Jesse Maupin moved all in for 95,000 and Stacey called.
Maupin
Stacey
The flop was
, and the turn was the
making Stacey a six-high straight to cries of "Whoa" and "That's so gross" from his fellow players and "Ship it!" from the rail. The river was the
and Maupin quietly headed to the rail in 11th place, collecting $34,594.
After the hand, Stacey was up to 640,000 in chips.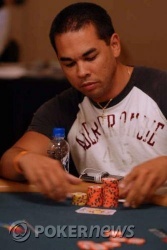 Action folded around to Anthony Signore in the cutoff seat and he pushed out his entire stack of 124,000. Dean Bui on the button went into the tank. He thought for about a minute and a half before finally calling. The blinds folded and Bui said, "I just have an ace." The players showed:
Bui:
Signore:
The flop came
and Signore, along with a couple of his supporters, let out a deep breath. The turn and river helped neither player as they came the
and
respectively.
After the river fell, Bui said, "Nice hand."
Signore nodded in thanks and mumbled, "Best hand I've seen in two hours." Both players are roughly even after the hand with approximately 255,000 in chips.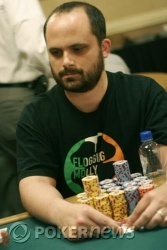 George Lind raised to 42,000 from the cutoff, Utsab Saha raised to 100,000, Lind moved all in and Saha made the call.
"You got aces?" asked Saha.
"No, your hand is good" said a dejected Lind as he turned over
. Saha tabled
.
The board ran out
and Lind hit the rail in 12th place. Utsab is now up to 1,280,000.
Level:

19
Blinds:

8,000/16,000
Ante:

2,000