Event 34 - $1,500 No Limit Hold'em
Days: 3
Event 34 - $1,500 No Limit Hold'em
Day 3 Completed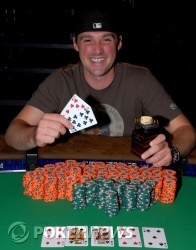 After successfully negotiating his way through a massive field of 2,095 entrants, Eric Baldwin of Beaver Dam, Wisconsin has collected all of the chips to win Event No. 34 and his first WSOP gold bracelet.

After two days of play, Baldwin and 20 others returned for the final day of action. As the short stacks fell early, Bertrand "ElkY" Grospellier emerged as the clear leader, and for a short while he enjoyed a huge chip lead over the rest of the field. Grospellier lost two key hands in quick succession, however, the second a huge one versus Steven Bradbury when he ran pocket kings into Bradbury's pocket aces, and Elky finished an unlucky 13th.

Two eliminations later and the last ten players assembled around the final table. Young Phan was on the short stack, and left early in 10th. Roland de Wolfe was also short on chips for much of today, including at the final table, though he would last all of the way to fifth place.

James Taylor next eliminated Benjamin Scholl in fourth place, leaving Taylor, and Baldwin, and Jonas Klausen. The trio had nearly even stacks for the first part of three-handed play, though eventually the aggressive Baldwin pushed out into the lead and Taylor became short. Finally Baldwin eliminated Taylor, and when heads up began he had a small chip lead over Klausen.

He'd increase that lead, but it only took Klausen a few hands to claim the advantage back. Then came a huge hand in which Baldwin flopped a set of fours while Klausen flopped top two pair, catapulting Baldwin to an 8-to-1 chip lead. A few hands later -- about forty into their heads-up battle -- Baldwin used pocket tens to take the title.

Congratulations to Eric Baldwin, and thanks for following our coverage on PokerNews.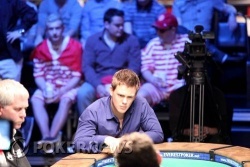 Eric Baldwin had the button, and he raised it up to 165,000. Without wasting any time, Jonas Klausen moved all in, and Baldwin instantly called.

Showdown
Baldwin:

Klausen:


Klausen was at risk of elimination, and the race was on! The crowd (which had grown hush over the last few orbits) came to life as everyone in attendance stood and took one step closer to the table. The dealer ran out the flop:
. Baldwin was still in the lead, but Klausen added a couple outs as the other two tens in the deck were now good for him as well.

Everyone in the gallery inched foreward once again, with a cacophony of cheers being yelled full throat: "Ten! Ace! Brick! Queen! Six! Ace! Ten!" in an overlapping chorus. The dealer turned fourth street:
. It was a safe card once more for Baldwin, and it took away those two outs that Klausen had picked up. A ten was no good now.

Left drawing to just an ace or a queen, Klausen peered down at the board to catch what would be the final river card of the night:
. An eruption of celebration came from across the arena as a throng of supporters rushed in on Eric Baldwin. The Danish side fell silent though, as they too made their way onto the stage to console their runner-up.

Jonas Klausen put on a fine performance in this event, and in particular, in this final day. He traded the chip lead back and forth all day, and his well-timed maneuvers put him in a good spot to win this event. He'll walk away with $322,371 but fall just one spot shy of claiming the gold bracelet.

Eric Baldwin raised to 190,000 from the button, and Jonas Klausen called. The flop came
, and Klausen checked. Baldwin bet 255,000, and Klausen check-raised to 805,000 total. Baldwin suddenly moved all in, and Klausen snap-called.

Another bit of bad timing for Klausen -- though potentially much more damaging here than in that previous hand when wasn't able to play his pocket aces -- as Baldwin showed
for the set, and Klausen
for top two pair.

The turn was the
and the river
, and now Baldwin has a commanding lead. He's up over 8 million chips, while Klausen tumbles down to about 1.35 million.

Eric Baldwin just folded a hand preflop -- something we haven't seen happen hardly at all here in the first two dozen hands of heads up -- and afterwards Jonas Klausen showed his hand:
.

Eric Baldwin limped from the button, and Jonas Klausen checked. The flop came
. Klausen checked, Baldwin bet 80,000, and Klausen called.

Both checked the
on the turn. The river brought the
. Klausen bet 205,000, and Baldwin looked out from beneath the brim of his black baseball cap, eyes darting back and forth between his opponent and the board. Finally, he folded.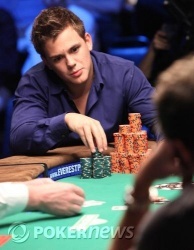 Jonas Klausen raised to 180,000 from the button. Eric Baldwin began stacking chips, and he slid out a stack of greens and oranges totaling 610,000. Klausen wasted little time calling.

The flop rolled out
. Baldwin reached for his stack again, and he slid out another 610,000 chips in the same green-and-orange tower as before. Klausen cocked his head to the side as he considered his action for a bit. After a minute or so, he very quietly announced, "I'm all in." Before the words were even out of his mouth, Baldwin's cards were in the muck.

After raking in a big pile of chips, Jonas Klausen has re-taken the chip lead with 5,550,000.

Eric Baldwin limped from the button, and Jonas Klausen called. The flop came
. Klausen checked, Baldwin bet 105,000, and Klausen called. Both checked the
on the turn.

The river brought the
. Klausen checked, Baldwin bet 305,000, and Klausen called.

Baldwin flipped over
for two pair, and Klausen mucked. Baldwin has 5.25 million, and Klausen 4.18 million.

Small steps here as these two players -- stacks nearly even -- enter into their heads up battle in earnest.

After trading the first few small pots following the break, Eric Baldwin limped from the small blind/button, and Jonas Klausen checked behind. The flop came
, and both checked. The turn was the
, and this time Klausen bet 80,000. Baldwin called.

The river was the
, and both checked. Klausen flipped over what appeared to be 8-2 for a pair of deuces, and took the pot.
Level: 28
Blinds: 40,000/80,000
Ante: 10,000