Event Info
| | |
| --- | --- |
| Buy-in | $1,000 |
| Prize Pool | $5,410,800 |
| Players | 6012 |
Level Info
| | |
| --- | --- |
| Level | 32 |
| Blinds | 100,000 / 200,000 |
| Ante | 30,000 |
After that last hand, Steve Sung moved his stacks over and is still stacking the chips...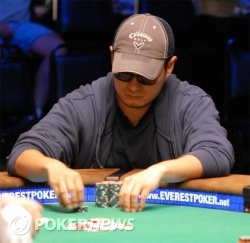 Nathan Mullen moves all-in for 1,580,000. Steve Sung makes the call from the button. Larry Sidebotham asks if he calls and is eliminated, who would go out first. When told he's the shorter stack, he folds.
Mullen:
Sung:
The flop is
and Nathan's fans erupt while the vocal friends of Sidebotham call for a ten. The turn
changes nothing but the
appears on the river to knock out Mullen.
Sung has about 60% of the chips in play, can he be stopped?
Steve Sung has huge chips now and everyone else is short at this point...
Seat 3: Nathan Mullen - 1,370,000
Seat 5: James Matz III - 2,095,000
Seat 6: Steve Sung - 10,400,0000
Seat 7: Panayote 'Pete' Vilandos - 2,885,000
Seat 8: Larry Sidebotham - 1,240,000
Level:

30
Blinds:

60,000/120,000
Ante:

15,000
Back in a couple of minutes.
Steve Sung raises to 250,000 from the button and Larry Sidebotham calls. The flop is
. Sidebotham checks and Sung bets 350,000. Sidebotham shows the
and folds.
It's all one way traffic here.
James Matz III raises to 300,000 from the button. Steve Sung makes it a cool 1 million to play from the small blind. Vilanos and Matz III both quickly folded.

Sung is now on 9.4 million.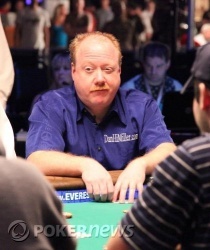 Dan Heimiller limps for 100,000 and Steve Sung raises to 350,000 from the small blind. Pete Vilandos makes the call, but now Heimiller moves all-in. Sung calls and Vilandos shakes his head and folds.
Sung:
Heimiller:
The rail is full of Mullen and Sidebotham fans, who call for queens and hearts so their guys will ladder up.
The board comes
and Heimiller, who dominated the late stages of this tournament, is gone in 6th place.
Steve Sung raises from the cutoff and takes the blinds and antes with a 250,000 raise.
The next hand he raises again. This time, Dan Heimiller calls from the small blind and the flop of
is checked around. The turn is the
and Heimiller bets 350,000. After a minute or two, Sung declares, "I'm all in," and Heimiller gives it up.
It really has been an incredible turn-around for Steve Sung. Earlier, he was the shortest stack and probably favorite to go out next, now he's dominating the table and looking most likely to win.