Event 4 - $1,000 No Limit Hold'em
Day 3 Completed
Seat 1: Dan Heimiller - 4,155,000
Seat 2: Jeff Oakes - 1,680,000
Seat 3: Nathan Mullen - 1,210,000
Seat 4: Phong Huynh - 1,310,000
Seat 5: James Matz III - 1,885,000
Seat 6: Steve Sung - 3,395,000
Seat 7: Panayote 'Pete' Vilandos - 1,940,000
Seat 8: Larry Sidebotham - 1,500,000
Seat 9: Danny Fuhs - 965,000
We were expecting to be here until the early hours bringing you all the action down to the winner of the largest field ever assembled outside of a Main Event. At 10pm we've managed to get down to a final nine from the fifty that started today shortly after 1pm. Even though players fell at great speed throughout the day it was felt the final would go on too late.

Being the largest field assembled the powers that be felt it a final table worthy of coverage on ESPN 360 and who would be awake watching at 4am? Therefore we will return tomorrow at 2pm where we will do our best to describe the final stages. Dan Heimiller will return as chip leader with over 4 million chips whereas the player with the most work to do is Danny Fuhs who has just under a million.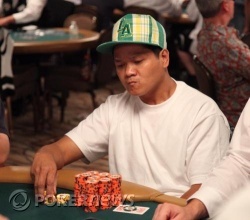 We almost had the final table but James Matz III doubled through Panayote Vilandos with
spiking a nine against
for a hugely important double up.
Soon after Steve Sung and Eric Chhor saw a
flop, Chhor led for 125,000 and Sung reraised to 425,000. Chhor now shoved for about for 975,000 more and after about a minute Sung made the call with
, Chhor needing to hit with
. The turn was the
and the river the
meaning we now have our final table!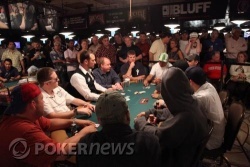 After one orbit of hands seven have taken the the blinds with a raise, two have been won with three bets and the final hand was taken with a continuation bet on a flop.

I think all the middle to short stack players really want to and are playing just to make it to tomorrow and be one of the "Wednesday Afternoon Nine".
Time to put the peddle to the metal...
Level:

26
Blinds:

25,000/50,000
Ante:

5,000
After an open discussion with all ten remaining players it has been decided that players will come back in 30 minutes and play to the final nine players and then finish for the night. They will all return tomorrow at 2pm where the final table with be featured on ESPN 360.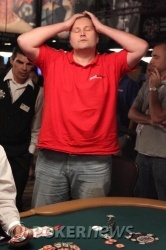 Toni Ojala is out in 11th place after he moved all-in against Dan Heimiller.
The Finn was holding
but the board favoured Heimiller's
much more, coming
.
With ten players left we're now moving to one table where we'll definitely play to nine players. Whether we finish tonight or come back tomorrow remains to be seen.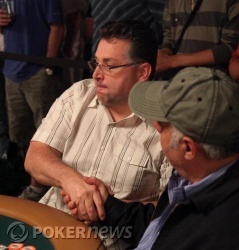 Michael Scalise found a hand to get his short stack in with and unfortunately for him Dan Heimiller found a dominating hand to call with.
needed help against
.
The board ran
to send Scalise home in 12th spot for $80,567