Level:

2
Blinds:

25/50
Ante:

0
Event 4 - $1,000 No Limit Hold'em
Day 1a Completed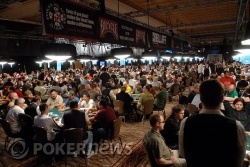 Play has finished for the day with 376 players remaining, not many big names made it through but Jason Mercier and Corwin Cole were two of them.

These remaining lucky few will join the survivors of Day 1b on Monday where they'll attempt to all make it into the money.

Until then, we'll see you all tomorrow from midday as we do this once more.
Just to let you know that with us having just 390 (and probably less) still in from the initial 3,000 or so would mean we've lost a staggering 87% of the field today. That is the scale of the carnage.
There will be no stopping of the clock with 10 minutes left today because the TDs' have decided they want both days to finish at exactly the same time.

With that in mind, there's about 7 minutes left on the clock.
'Captain' Tom Franklin -- 58,500
David Plastik -- 12,500
Connie Kim -- 7,700
Matt Woodward -- 23,000
Amanda Baker -- 31,500

Grayson Ramage looks to be (possibly) one of our chip leaders with around 79,000.
Yevgeniy Timoshenko has been knocked out of the tournament, pushing with
but losing out to
after the board completely bricked out.
'Name' pros from this tournament have now almost completey disappeared from the remaining players.
Jeff 'YellowSub86' Williams has been eliminated. He flipped
against
but the river made his opponent a flush.
James 'mig.com' Mackey has also been knocked out. There are about 420 players remaining from the initial 3,000 or so that started today.
David Williams, who had a tough day grinding, has finally been eliminated. It was a simple coinflip, he lost
to
after failing to catch anything on an unhelpful board.
And we're off, busting now after 12 hours will really hurt for some of these guys.