Event 4 - $1,000 No Limit Hold'em
Day 1b Completed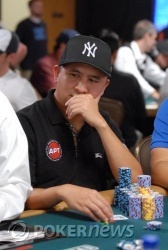 After ten levels of play, Day 1b has come to an end. 6,012 players started and now we're down to around 400. These players will return at 2pm tomorrow with the remaining 376 from yesterday, where we will burst through the bubble and make a sterling effort to get as close to the final table as we can.

We're unlikely to get that close, to be fair, but with our man of the day, JC Tran, involved anything is possible.

Good night from The Rio, hope to see you again tomorrow where things will really heat up.
Ladies and gentlemen, he'll probably be appearing here until Tuesday.
JC Tran was mistakenly told earlier that yesterday's chip leader finished on 130,000 chips. At the time, he was still located in the Brasilla room and sitting on less than 50,000. He looked around his table and said something along the lines of, "How am I going to reach that here, they need to break my table."
It wasn't too long after that Tran was moved to the Amazon room. And now, as we near the end of play, he has a stack not far off of 120,000! He's made a damned good effort of making the fictional target.
The last hand witnessed which he was involved in saw him call an early position raise of 2,200 while sitting on the button. The flop came
and Tran called a 2,200 bet. Both players checked the
turn and
river before Tran took the pot with
.
Whilst observing a hand at one table, there was a big uproar at another table where yells of delight were being heard. I began to scuttle over there to see what the commotion was all about when a floor man coming the other way told me not to bother as it was all over a player winning 1,100 chips.

Floor men around the table were busily trying to quiete them down. By my observation, a few too many beers had been consumed by a couple of the players to have any chance of that happening.
You can't keep a good man down too long. JC Tran has just eliminated the player he recently doubled up. Both players saw a
X flop before all the chips went in.
Tran tabled
and was up against a drawing
. The turn and river brought no hearts and Tran dragged in a huge pot, busting his nemesis in the process. He's probably our chip leader now on 85,000.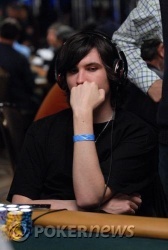 Jack "doctor_fun" Powell has gone under the radar somewhat today but he has quietly amassed a 70,000 stack which puts him right up there with the chip leaders at the moment.

Asked if he had any interesting hands on his journey he replied, "No, just mostly all-in confrontations."

Not surprising, really, seeing as all players started with 3,000 chips.
JC Tran called an early position raise before a flop came down
. Tran called a continuation bet before the turn came
.
This time the bet was a little larger for Tran to consider, as it was an all-in for 16,150. He made it though and quickly saw his
was behind his opponent's
.
The river came
and it dropped Tran to 36,000.
Level:

10
Blinds:

400/800
Ante:

100
The tables are less cluttered now as we play our last level.
Back in twenty minutes.